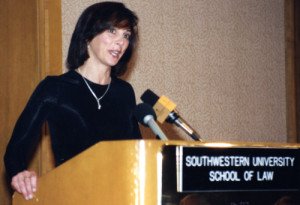 April 15, 2016
Southwestern and the "Trial of the Century"
FX Network's "American Crime Story: The People V. O.J. Simpson" recently concluded its 10-episode run and sparked a renewed interest in the case of the football star who was tried and acquitted in 1995 of murdering his ex-wife Nicole Brown Simpson and her friend Ron Goldman. Those who watched the limited series' finale may have noticed that in the where-are-they-now freeze frames of the key players, prosecutor Christopher Darden was said to have retired from the District Attorney's office and became a full-time professor at Southwestern Law School.  In fact, several attorneys who worked for both the prosecution and defense in the famous case have connections to Southwestern.
Darden (played by Sterling K. Brown) actually began teaching at Southwestern as an adjunct professor, while the trial was in progress, working in the courtroom by day, and teaching Trial Advocacy at the law school at night. He served on the full-time faculty during the academic year following the trial. Darden, who has written several books, currently has his own criminal defense practice. Marcia Clark (played by Sarah Paulson), the lead attorney for the prosecution, is a Southwestern alumna who graduated in 1979. She left the D.A.'s office after the trial (and serving as a prosecutor for 14 years) and went on to become a successful novelist and legal commentator for network news.  Another Southwestern alumna, Shawn Chapman Holley '88 (played by Angel Parker), was part of Jonnie Cochran's team for the defense. She would go on to become a prominent attorney, practicing both civil and criminal law, and representing numerous celebrity clients. She is also a prolific legal commentator for major media outlets. A number of other alumni were part of the prosecution and defense teams.
Now, two decades after a trial that gripped the nation's attention, several follow-up articles about Clark and Darden have shed light on their experience, and how their lives have changed since. In an in-depth interview with The Hollywood Reporter, Clark talks about the way the trial altered the course of her life and career.
The success of the series, which was a docudrama about the case, has paved the way for more related documentary and docuseries projects.
Latest from the SW LAW BLOG