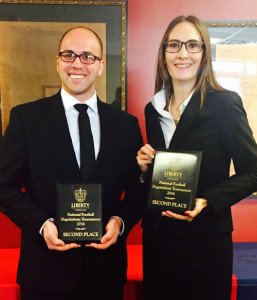 March 9, 2016
Negotiation Team Takes Second Place at Competition
Last month, at the NFL Football Negotiation Tournament hosted by Liberty University School of Law in Virginia, Southwestern's team of Sevan Movsesian and Nicole Pronk took Second Place.
In the semi-final rounds, the team defeated UC Hastings. Four teams made it to the final round, where Southwestern's team defeated Stetson University (4th place) and UC Davis (3rd place).
Once the facts for the preliminary rounds were released, Southwestern's team spent three weeks preparing. They analyzed the facts, and spent numerous hours researching their clients, the NFL, and any other important issues that were relevant. They also dedicated many hours to sparring with the other team members. (Southwestern sent two teams to the competition. In a tiebreaker, Nathan Brogden and Jessica Reid just missed out on the semifinal round.) The ability to prepare this way gave both teams a glimpse of what they could potentially be facing from their opponents. The Negotiation Honors Program (NHP) board collectively acted as the teams' coaches, with Amanda Figueroa taking the lead.
"I think our preparation is what gave us the edge," Pronk explained. "The countless hours we spent sparring and researching the problems prepared us for anything our opponent could say. We knew our strengths and weaknesses and we accurately anticipated our opponents' strengthens and weaknesses. The time we spent practicing also enabled Sevan and I to get to know one another, which translated into being a successful negotiating team.  All of our practice guided us in preparing a negotiation plan, but most importantly it enabled us to think on our feet during the competition, and roll with whatever came at us. Both Sevan and I knew that we could count on one another during the competition. This truly was a team effort and we would not have been where we are without the endless dedication and support of the entire NHP team, the Board Members and Professor Knolton."
In round one, the team represented Matt Forte in a negotiation with the Dallas Cowboys, and in round two they represented the Raiders in a negotiation to come to Los Angeles. The final round of the competition featured special guest judge Nathan Whitaker, a Harvard Law graduate who played on the Duke ACC Championship football team and who has represented both the Jacksonville Jaguars and the Tampa Bay Buccaneers in player contract negotiations.
Latest from the SW LAW BLOG