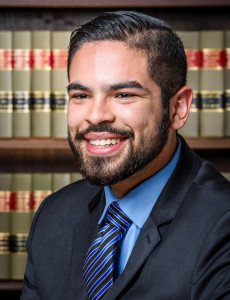 February 11, 2016
Southwestern alum selected for prestigious federal judicial clerkship
Andres Holguin-Flores '15 knows from firsthand experience that a great externship opportunity can make a big difference. During his last semester of law school at Southwestern, he served as an extern for the Hon. Terry J. Hatter, Jr., Judge of the United States District Court for the Central District of California. Now, he is serving as a judicial clerk for the prominent judge.
"I would not have the position I have now if I were not an extern," he said, "where I was able to learn what a law clerk's responsibilities are." Judge Hatter offered him the judicial clerk position while he was studying for the bar exam.
In this position, Holguin-Flores provides assistance to Judge Hatter by researching issues that have come before the court and in writing opinions. He also has the opportunity to assist the judge in making legal determinations. Judge Hatter presides over a variety of civil and criminal matters.  As his law clerk, Holguin-Flores has even had the opportunity to travel to the Idaho District Court for a week, where Judge Hatter sat as a visiting judge. Holguin-Flores follows in the footsteps of Kenneth Reichman (SCALE) '89, who has served as Judge Hatter's Senior Law Clerk for more than 26 years.
While he was a student, Holguin-Flores participated in Southwestern's Immigration Law Clinic. "This helped prepare me [for the externship and clerkship] because I was able to communicate with a number of high-level law enforcement officials, which has helped make me feel comfortable when I am speaking with members of the judiciary and other government officials," he explained. "The immigration system and rules are different here in federal court, but it was helpful being in the clinic, because I was required to interpret statutes and regulations and apply those to my cases." Holguin-Flores was also the recipient of Southwestern's Public Interest Law Service Award in 2015, and the Los Angeles Chapter of the Association of Business Trial Lawyers 2015 Law School Scholarship.
One perk of working for Judge Hatter was that in December, the judge conducted a private swearing in ceremony to the Federal Court for Holguin-Flores and fellow Southwestern alumni Karina Godoy '15 (also a former extern for Judge Hatter), and Yealee Song '14.
Holguin-Flores' advice to law students seeking similar opportunities is to "practice your writing as much as possible, and know the differences between the state and federal systems." Holguin-Flores will continue to serve as a law clerk for Judge Hatter until August. After that, he plans on practicing in the areas of civil rights and constitutional law.
"I love my job as a judicial law clerk because I learn so much every day," he said. "I get to learn and work under the supervision of one of the nicest human beings."