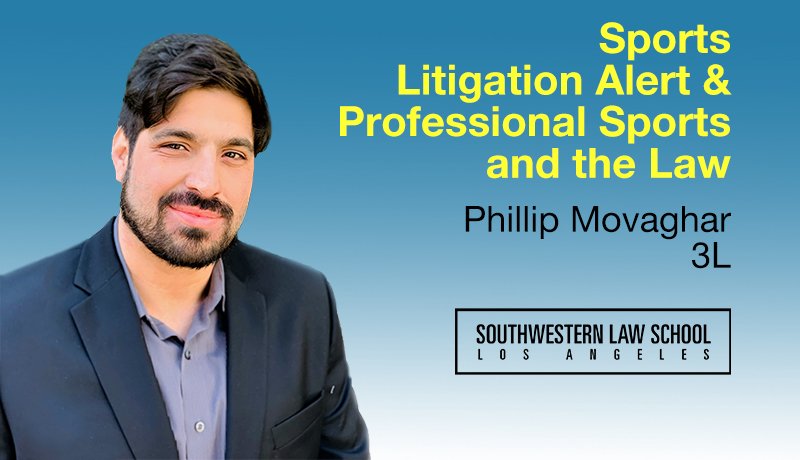 September 17, 2019
3L Phillip Movaghar and Professor Birren '85 Recount the Legal Fallout from The Infamous Saints v. Rams "Blown Call"
by Matthew Stein '21
Phillip Movaghar, an avid sports enthusiast, can now check off "published writer" on his resume! With the help from his coach, a.k.a. Southwestern's sports law professor, Jeff Birren '85, Phillip co-wrote an article featured in both Sports Litigation Alert and Professional Sports and the Law. The duo tackled (pun intended) another devastating defeat for Saint's fans; this time it was in the courtroom. Their article, "Federal Court Sends Two Saints Fans Marching Home in Defeat," covers the recently dismissed case, Ryan et al. v. The National Football League et al., in the U.S. District Court for the Eastern District of Louisiana. The case involved two Saints fans alleging that the NFL and its referees broke the fans' trust by failing to make a crucial call on a key play late in the 2019 NFC Championship Game. 
Let us refresh your mind with this riveting clip: 
Phillip had only words of praise for Professor Birren and his writing experience. 
"Working with Professor Birren, who worked closely with Al Davis during his time as general counsel for the Oakland Raiders, was a surreal experience. I learned so much about the legal and business aspects of every sport I love, especially the NFL. After co-authoring this article with Professor Birren and taking his class, I became enamored with the world of sports law. Getting published twice was quite the honor. I loved the experience so much I plan to write more articles during my final year at Southwestern. With my new-found interest in the sports industry, it is a field I am now seriously considering exploring after law school."
"For law students who are seeking a career in sports, this publication is a must in order to stay current."

 
Awesome job Phillip!
Read Phillip's article in Sports Litigation Alert, Volume 16, Issue 15 or Professional Sports and the Law (subscription required).