Biederman Entertainment & Media Law Institute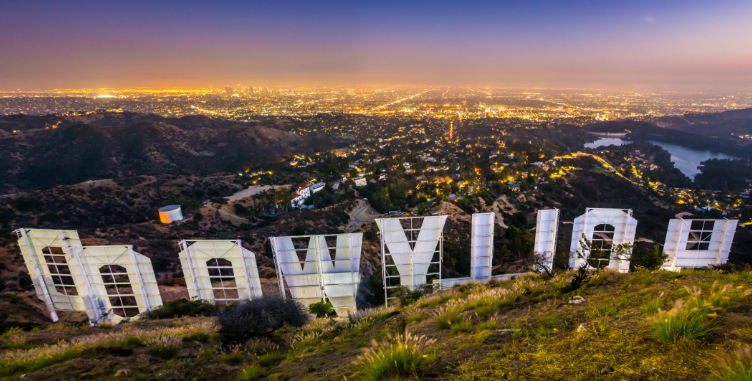 Southwestern's Donald E. Biederman Entertainment and Media Law Institute was established in 2000 to take advantage of the law school's long history of involvement with the entertainment and media industries. The Institute offers a rich spectrum of media and entertainment law courses and experiential learning opportunities under the direction of faculty who have tremendous practical experience in the field.
Southwestern has been recognized as one of the top ten law schools in the country for entertainment law by The Hollywood Reporter seven years in a row, and as #1 in the Top Law Schools for Entertainment Law by lawstreetmedia.com, among other honors.
"A Conversation With..." series resurrected by new Institute Director - Kudos Orly Ravid '14
These informative, insightful, and provocative "IRL living room"conversations with prominent entertainment and media figures.
2019 Guest Speakers
Jeff Biederman

Wednesday, January 30, 2019
Conversation with Jeff Biederman
Time: 7:30 p.m.
Location: BW 2nd Floor

Named one of the Top Music Lawyers by Billboard Magazine, Jeff Biederman explains the latest trends in music licensing, catalog sales, and related legal issues.  We will also take a moment to honor Donald E. Biederman's legacy as founding director of Southwestern's Entertainment and Media Law Institute and Vice President and General Counsel of Warner/Chappell Music, the world's largest music publishing company.

Jeff Biederman's practice focuses primarily on the representation of artists, entrepreneurs, and entities in the areas of music, film, television, fashion and branding, advertising, and digital media. Clients include major writers, producers, actors, recording artists, athletes, record labels, publishing companies, designers, apparel and accessory companies, studios, and advertising agencies throughout the U.S. and internationally.

Jeff is a regular lecturer on various entertainment, branding, and media law topics and regularly teaches a class in International Entertainment Law in London. He is co-author of the casebook Law and Business of the Entertainment Industries, Fifth Edition, 2007; Praeger Publishers.

Effie Brown

Monday, February 11, 2019
Conversation with Effie Brown
Time: 7:30 p.m.
Location: BW 2nd Floor
**No MCLE will be offered for this event

Effie T. Brown is an award-winning film, television, and digital producer, known for her highly acclaimed, multi-platform repertoire (Real Women Have Curves, Dear White People, WIGS, Everyday People, Star, Zombies, Stranger Inside, In the Cut, to name a few) as well as championing inclusion and diversity in Hollywood, both behind and in front of the camera. Ms. Brown has produced several Sundance films and films/series for studios and networks such as Fox, HBO, and the Disney Channel.

The magnetic, brilliant, and hilarious Effie Brown will walk us through the ins and outs of being an independent film and series producer with a commitment to diversity and inclusion and some key industry and legal lessons along the way.

Brown's long and illustrious career began as a Film Independent fellow in the prestigious "Project Involve" program. During her fellowship, she gained invaluable insight into the film industry. Her incredible work ethic and creative freedom allowed her to advance quickly through ranks becoming Director of Development for Tim Burton Productions in 1995. Decades later, Brown now serves as a Film Independent Board member and mentors the new generation of fellows. Her dream is to change the world through film and TV – celebrating our differences while bringing us all closer together.

Karin Pagnanelli '94

Wednesday, April 24, 2019
Conversation with Karin Pagnanelli
Time: 7:30 p.m.
Location: BW 2nd Floor

Karin Pagnanelli is a co-chair of Mitchell Silberberg & Knupp's Entertainment & IP Litigation Practice Group and is a member of the firm's Governing Board. As one of the country's top IP lawyers, she successfully defends clients against copyright, patent, and trademark infringement allegations, as well as affirmatively protecting her clients' intellectual property rights, either through litigation or a structured anti-piracy program focused on results with low overhead and fees. She regularly practices in federal court and the TTAB, in addition to counseling clients on how to avoid litigation.
Past guests have included:
Jeff Toobin, CNN legal and political analyst;
Arn Tellem, at the time the Vice Chairman and President of the Team Sports Division of Wasserman Media Group, now Vice Chairman of Palace Sports & Entertainment which owns the Detroit Pistons;
Paul Williams, renowned composer, performer and ASCAP President;
Leah Weil, Senior Executive Vice President and General Counsel for Sony Pictures;
Martin Garbus, renowned trial lawyer and First Amendment expert.
The Institute regularly co-sponsors symposia with the Entertainment and Intellectual Property Section of the Los Angeles County Bar Association, the Los Angeles Copyright Society, the Media Law Resource Center, and other organizations. In addition, the Institute conducts continuing legal education courses on entertainment and media law issues for alumni and other practitioners.
Connections to the Industry
The Biederman Institute is intimately connected to a plethora of entertainment and media companies, law firms and other organizations operating in every aspect of the industry. Lawyers and executives from many of these entities participate in various elements of the Institute's programs.
Journal of International Media and Entertainment Law
The Institute established the Journal of International Media and Entertainment Law through a joint venture with the American Bar Association's Forums on Communications Law and the Entertainment and Sports Industries. The first of its kind, the Journal addresses all aspects of international and comparative media and entertainment law, including topics related to content, regulation, intellectual property, distribution, publishing, internet and technology, and transactions. Students are selected to work with the Board of Editors, composed of Biederman Institute faculty and members of the Forum committees, and headed by Supervising Editor, Professor Michael Epstein.
Biederman Blog
Recognized as one of the internet's most informative legal news blogs on the entertainment industry, the Biederman Blog is created and maintained by students in the Entertainment Law Blog course. Participants in the class research, write, edit and post articles for the blog focused on developments in entertainment law. Learn more about the Biederman Blog.
Biederman Scholars
In an effort to recognize excellence in academic achievement, and encourage and facilitate career success, the Biederman Institute established the Biederman Scholars program to help expand opportunities for promising future entertainment lawyers. Each year, three or four outstanding students are selected for this honor. Biederman Scholars participate in a variety of Institute initiatives, including an industry mentor program, behind-the-scenes participation in Biederman Institute programs, and priority placement in entertainment and media company externships and law firm practicums. The Biederman Scholars can also participate in the entertainment and media law blog, the Biederman Awards event honoring outstanding members of the entertainment and media law community, and other Institute activities.
Distinguished Executive Board and SWEIP
The Biederman Institute has brought together prominent attorneys and executives from leading entertainment companies, law firms and institutions to serve on its Executive Board. The Institute also works closely with the Southwestern Entertainment and Intellectual Property Alumni Association (SWEIP) which has over 500 members. The Board and SWEIP play a critical role by helping to connect outstanding students with opportunities for industry experience and future job placement, shaping and focusing the curriculum, developing new programming concepts and expanding the Institute's access to speakers and resources. View SWEIP's LinkedIn group.
About Donald E. Biederman

The Donald E. Biederman Entertainment and Media Law Institute is named in memory of Professor Donald E. Biederman (1934-2002), a highly admired teacher, scholar and pioneer in the world of entertainment and media law and the Institute's founding director.

Prior to joining Southwestern's full-time faculty in 2000, Professor Biederman served for nearly two decades as Executive Vice President and General Counsel and Executive Vice President of Business Affairs at Warner/Chappell Music, Inc., the world's largest music publishing company. Earlier in his career, he was a partner in the law firm of Mitchell Silberberg & Knupp, Vice President of Legal Affairs and Administration for ABC Records, Inc., and a general attorney for CBS Records Group, among other positions in private practice and government.

Professor Biederman began his affiliation with Southwestern in 1983 as an Adjunct Professor of Law offering some of the law school's first entertainment law courses. Over the ensuing years, he taught a variety of popular cutting edge courses to hundreds of students. Upon his appointment to the full-time faculty as Director of the Institute, he devoted himself to enhancing recognition for the Institute and recruiting a cadre of leading entertainment law experts from around the world to serve on the Advisory Board, as adjunct professors in specialized entertainment and media law courses, and as guest lecturers. He also established the continuing series "A Conversation With..." that features lively interviews with prominent industry experts, and developed Southwestern's program for the Master of Laws in Entertainment and Media Law, the first post-J.D. degree of its kind in the country.

Professor Biederman was also the author or editor of some of the most comprehensive publications on entertainment and media law, including International Entertainment Law (with L. Sobel, Praeger Publishers, 2003) and Law & Business of the Entertainment Industries: Fourth Edition (with Silfen, et.al., Praeger Publishers, 2001). He also gave generously of his time to the legal profession and the community, and in March 2000, he was honored by the Beverly Hills Bar Association's Entertainment Law Section as the Entertainment Lawyer of the Year.

Professor Biederman earned his undergraduate degree from Cornell University in 1955 and his J.D. from Harvard Law School in 1958. In 1970, he earned his Master of Laws degree in taxation from New York University School of Law.

Donald E. Biederman was devoted to his students and to the Institute he nurtured. He will be remembered with great fondness and admiration by the Southwestern community and thousands of others whose lives he influenced throughout his career.