Journal of International Media & Entertainment Law
Feb 4, 2023 Conference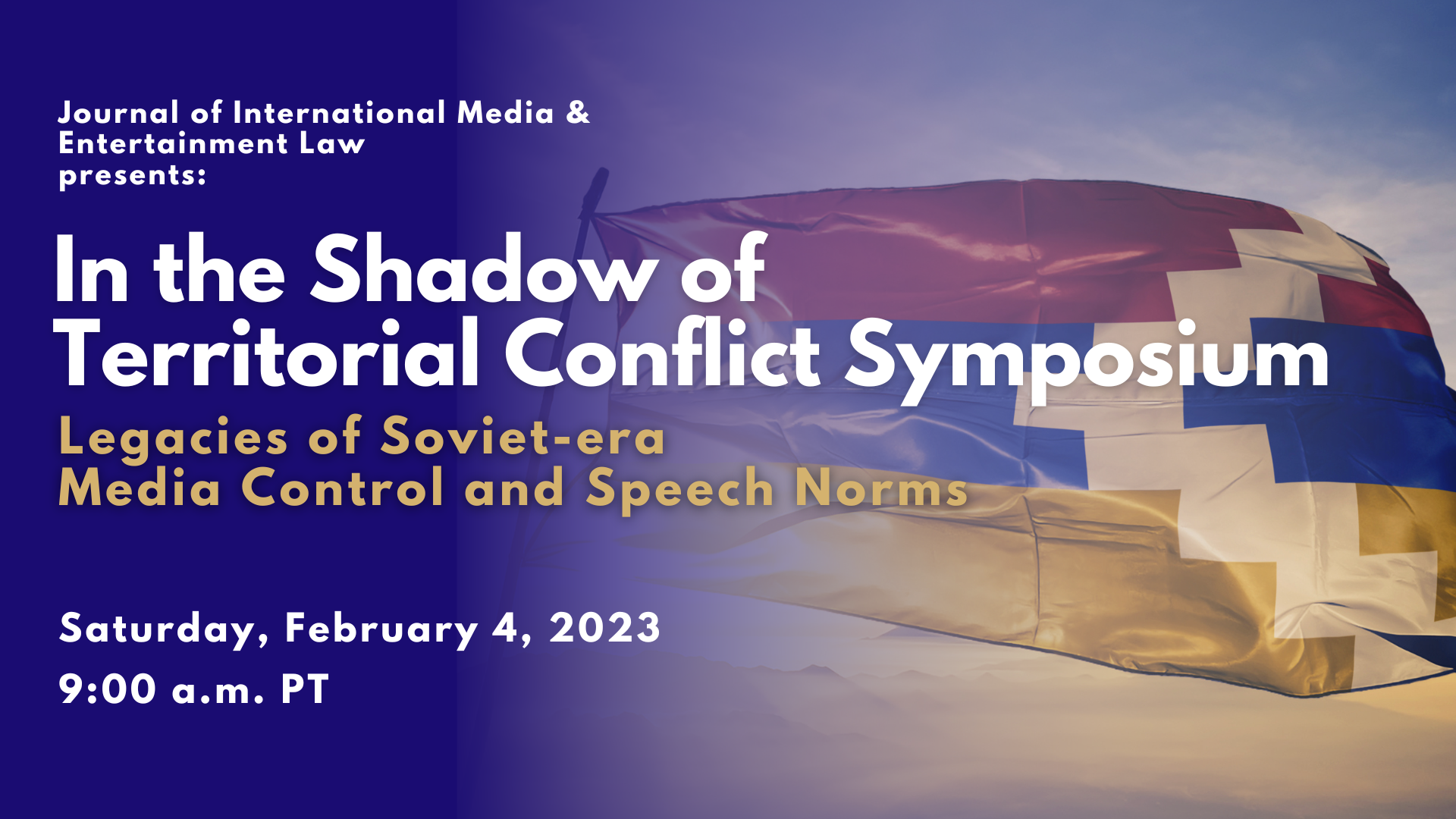 Saturday, February 4, 2023

9:00 a.m. - 4:00 p.m. PST

In-person at Southwestern Law School

4.75 hours of CLE credit
This symposium will examine the role of media institutions, government censorship, and social media speech norms in areas beset by post-Soviet-era disputes over land and ethnicity, examining the role institutions play before, during, and after the conflicts. 
Click here to view event details and the full list of speakers. 
Current Issue
Contents

Full Issue (PDF)

i

iii

v

vii

Cover (PDF)

First Pages (PDF) 

Masthead (PDF) 

Table of Contents (PDF) 

Editor's Note
Michael Epstein (PDF)

Back Cover (PDF)

Articles

171


 

Antitrust Confronts Big Data: U.S. and European Perspectives (PDF)
WARREN GRIMES

189

 

The Audience Problem in Online Speech (PDF)
JANNY H. C. LEUNG

235

Fixing FOIA: How Third-Party Intervention Thwarts Transparency (PDF)
AMY KRISTIN SANDERS & WILLIAM D. KOSINSKI

273

Fake News and the COVID-19 Pandemic (PDF)
RUSSELL L. WEAVER

 
Supervising Editor
Michael Epstein, Southwestern Law School

Board of Editors

Peter Bartlett
Minter Ellison Lawyers
Eric S. Brown, Franklin
Weinrib, Rudell & Vassallo, P.C.
Chunghwan Choi
Lee & Ko
J. Alexandra Darraby
Attorney at Law
Silvia Faerman
Southwestern Law School
Jeff Gewirtz
NETS Basketball/Brooklyn
Sports & Entertainment
Kevin Goering
Norwick, Schad & Goering
David Goldberg
University of Glasgow
Robert Lutz
Southwestern Law School
Michael Scott
Southwestern Law School
Nathan Siegel
Levine, Sullivan, Koch & Schultz
Mark Stephens
HowardKennedyFsi
John Tehranian
Southwestern Law School
Cydney A. Tune
Pillsbury Winthrop Shaw Pittman, LLP
Kurt Wimmer
Covington & Burling, LLP
Kyu Ho Youm
University of Oregon

Student Editors

Supervising Student Editor
Emily Rehm

Harmony Anderson
Lacey Chrabaszcz
Chiara Genovese
Josh Glocer
S. Elliot Hakakzadeh
Shelby Luchesi-Gallaher
Jessica Lusk
Inez Morales
Jaclyn Ponish
Ashley Ramos
Nadia Sokolova
Jason Souza
Christina Steele
Aldwin Tanala
Charlie Wang
Alexa Whiteside
Nikta Yazdi
Body
The Journal of International Media & Entertainment Law is a semi-annual publication of the Donald E. Biederman Entertainment and Media Law Institute of Southwestern Law School in association with the American Bar Association Forums on Communications Law and the Entertainment and Sports Industries.
The Journal provides a forum for exploring the complex and unsettled legal principles that apply to the production and distribution of media and entertainment in an international, comparative, and local context. The legal issues surrounding the creation and dissemination of news and entertainment products on a worldwide basis necessarily implicate the laws, customs, and practices of multiple jurisdictions. The Journal examines the impact of the Internet and other technologies, the often-conflicting laws affecting media and entertainment issues, and the legal ramifications of widely divergent cultural views of privacy, defamation, intellectual property, and government regulation.
Disclaimer: The opinions expressed in the articles published in the Journal of International Media & Entertainment Law are solely those of the authors and do not necessarily reflect those of the Donald E. Biederman Entertainment and Media Law Institute, Southwestern Law School, the American Bar Association, the Forum on Communications Law, or the Forum on the Entertainment and Sports Industries.
Subscriptions and Issues
Subscriptions
Print subscriptions are available at an annual rate of $US 50 (domestic) or $US 60 (foreign). Please direct inquiries to the Biederman Institute at Southwestern Law School, 3050 Wilshire Boulevard, Los Angeles, California 90010, (213) 738-6603, or send an email to institute@swlaw.edu. Back issues are available for $US 30.00 per copy plus $US 5.95 for shipping and handling.
Permission to Reprint: Requests to reproduce portions of this issue must be submitted by email to institute@swlaw.edu.