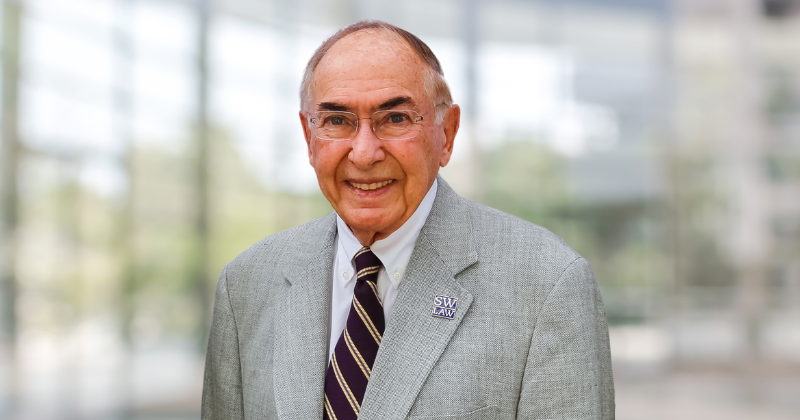 November 20, 2023
Robert Philibosian '67, Southwestern Law School Alum and Former Los Angeles County District Attorney, Passes Away
Robert Philibosian, born September 29, 1940, an iconic figure in California's legal and political scene, passed away on Monday, November 13, 2023. A former Los Angeles County district attorney and revered figure at Southwestern Law School, Philibosian's legacy is rooted in his commitment to service, mentorship, and family.  
Growing up in San Diego and the farming community of Selma, California as a first-generation Armenian-American, Robert Philibosian was inspired early on by his uncle, Everett H. Berberian, a successful Bay Area lawyer. This inspiration propelled him to earn a B.A. in history from Stanford University and, later, a law degree from Southwestern Law School. Committed to his education, Philibosian worked throughout law school, choosing Southwestern's evening program to balance employment with his studies.
After obtaining his law degree in 1967, Philibosian began his career as a corporate headhunter, but pivoted quickly to the District Attorney's office, beginning his career there in 1968. He  became Head Deputy in charge of the Van Nuys branch in 1979.
From 1979 to 1982, he was appointed Chief Assistant Attorney General for the Criminal Law Division, overseeing the state's criminal appellate prosecutions and leading significant initiatives against consumer fraud and antitrust issues. He then served as California's Chief Deputy Attorney General in 1982.   
In 1982, Philibosian was appointed Los Angeles County District Attorney, succeeding John Van de Kamp. As District Attorney, Philibosian actively shaped the legal landscape of L.A., championing causes like toxic waste disposal, environmental law, consumer law, antitrust enforcement, and victims' rights.
After leaving the D.A.'s office, Philibosian joined the firm of MacDonald, Halstead and Laybourne, which later merged with Baker & McKenzie, then the world's largest law firm. After Baker & McKenzie closed their Los Angeles office, Philibosian joined Sheppard Mullin, a prestigious global law firm, first as a partner, then as of counsel, where he remained until his death. Serving in their Los Angeles office, Robert became a pivotal figure in the Real Estate, Energy, Land Use & Environmental Practice Group, working across various sectors and notably leading Sheppard Mullin's Global Climate Change Team. 
Throughout his career, Philibosian generously mentored students at Southwestern Law School. His relationship with the Career Office and his service as a trustee since 1984 demonstrate his commitment to legal education and Southwestern's mission. Further deepening his ties to Southwestern, his daughter, Janet Philibosian, is a 2004 graduate and currently an associate professor.  
Beyond his career, Philibosian cherished his family. A devoted husband to Nancy Philibosian for  54 years, he remained a dedicated father to Janet and his son Rob Philibosian, a sales director for a health insurance company, and a cherished grandfather of five, with family always being his anchor.
Robert Philibosian's enduring legacy spans service, education, and dedication to the legal community. Southwestern Law School and the broader community mourn the loss of a remarkable figure, mentor, and friend. He will be deeply missed.
The family is planning a small, private service in the coming days but also anticipates a public celebration of Philibosian's life and career in the coming weeks.
If anyone would like to make a donation in lieu of sending flowers, please direct them to the Southwestern Law School Philibosian Family Scholarship, www.swlaw.edu/philibosian, or the Armenia Tree Project, https://www.armeniatree.org.