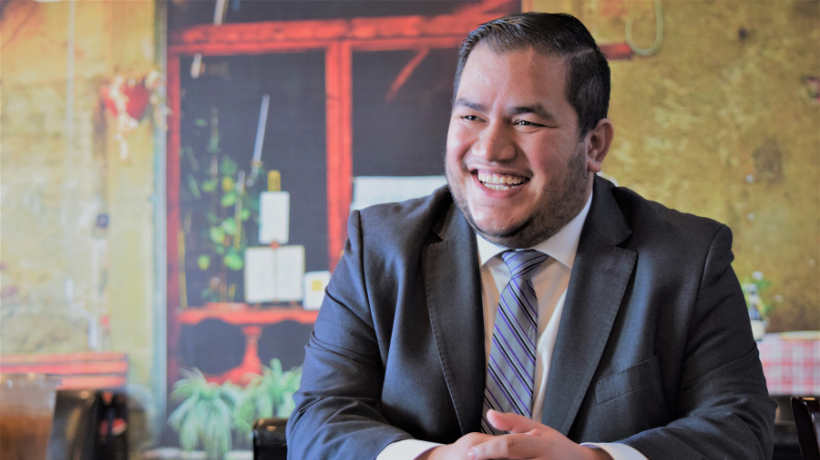 August 1, 2023
Yeison Soto Valdez '18 Awarded 2023 Judge Harry Pregerson Public Service Alumni Award
The Public Service Program has the privilege to honor outstanding recent graduates of Southwestern Law School whose professional lives and careers reflect the values of the late Harry Pregerson. These alumni have shown extraordinary commitment and leadership in producing demonstrable results or having undertaken exceptional efforts to help underserved individuals or communities through their professional or pro bono practice. This year, we proudly recognize Yeison Soto Valdez from the Class of 2018 as the recipient of the prestigious 2023 Judge Harry Pregerson Public Service Alumni Award.
Yeison Soto Valdez is a Staff Attorney at the Los Angeles Center for Law and Justice, where he represents survivors of domestic violence, sexual assault, and human trafficking in their immigration matters. Mr. Soto Valdez' decision to work with the immigrant community stems from his personal experience as an immigrant, after immigrating to the United States when he was 7-years-old.
Growing up undocumented, Mr. Soto Valdez faced the same barriers his clients face as undocumented immigrants. After learning that his parents had fallen victim to notario fraud and finding some stability in the United States after he was granted DACA, Mr. Soto Valdez decided to attend law school to help his community.
Mr. Soto Valdez was actively involved as a student at Southwestern, serving as president of the Immigration Law Students Association, on the Board of the Southwestern Chapter of the National Lawyers Guild, and co-president of Tax Law Society directing the Volunteer Income Tax Assistance (VITA) site at Southwestern in addition to clerking for various non-profit organizations providing legal services for immigrants and in Southwestern's Immigration Law Clinic, Community Lawyering Clinic, and Appellate Litigation Clinic. As a student, Mr. Soto Valdez has been recognized by Public Counsel with the Helen and Morgan Chu Public Interest Prize and by Southwestern's Public Interest Law Faculty Committee with the Woolverton Family Public Interest Award.
Mr. Soto Valdez continues to represent and serve his community as a Board Member of the Legal Aid Association of California and as a member of the Immigration Committee of the Los Angeles Chapter of the National Lawyers Guild.
After more than 20 years of living in the United States, Mr. Soto Valdez became a naturalized citizen, and he continues to volunteer on weekends to help lawful permanent residents apply for citizenship.