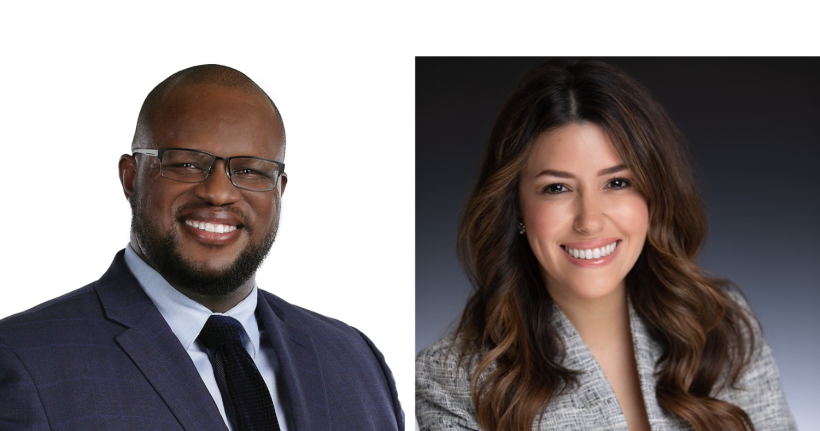 July 10, 2023
Jahmy Graham '14 and Camille Vazquez '10 Recognized as Rising Stars on Law360's 2023 Top Attorneys under 40 List
Southwestern Law School proudly celebrates the achievements of two esteemed alumni, Jahmy Graham '14 and Camille Vazquez '10, who have been named 2023 Rising Stars by Law360 and featured on their prestigious Top Attorneys under 40 list. This recognition highlights their outstanding career accomplishments within their respective disciplines.
Jahmy Graham, a litigation partner at Nelson Mullins Riley & Scarborough LLP representing clients across various industries and issues, has established himself as a go-to civil litigator and trial lawyer. His expertise encompasses a wide range of areas, including automotive, healthcare, retail, technology, contract, warranty, tort, securities, false advertising, and product liability claims. Graham's notable achievements include successful litigation of consumer class actions and significant victories in trial, class certification, and dispositive motion practice. Moreover, his commitment to pro bono work shines through his involvement in immigration, civil rights, and family law cases. Jahmy's contributions extend beyond his legal practice, as he also serves as a member of Southwestern Law School's Board of Trustees and was the subject of a Law360 profile. Read the full interview here.
Camille Vazquez, a partner in the Litigation & Arbitration Practice Group and co-chair of the Brand & Reputation Management group at Brown Rudnick, has excelled in plaintiff-side defamation suits. With extensive experience in litigating contract disputes, business-related torts, and employment-related claims, Vazquez possesses a deep understanding of offensive and defensive litigation strategies. She also adeptly handles reputation management and crisis communications issues arising from these engagements. Camille's talent and dedication have made her a formidable force in the legal field.
The recognition of Camille Vazquez and Jahmy Graham on Law360's Top Attorneys under 40 list underscores their remarkable talent, dedication, and commitment to excellence. Southwestern Law School commends them for their outstanding achievements and wishes them continued success in their legal endeavors.