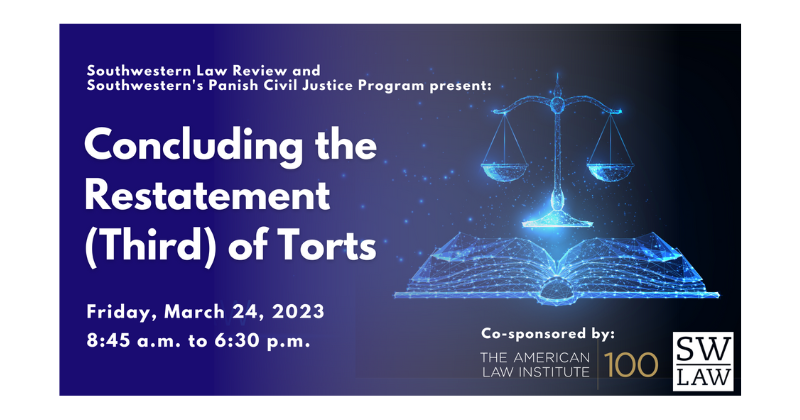 March 7, 2023
Southwestern Law Review and Southwestern's Panish Civil Justice Program Host "Concluding the Restatement (Third) of Torts" — March 24, 2023
The Southwestern Law Review and Southwestern's Panish Civil Justice Program invite you to a symposium on Concluding the Restatement (Third) of Torts, co-sponsored by The American Law Institute.
Friday, March 24, 2023
8:45 a.m. - 6:30 p.m. 
In-person at Southwestern Law School
6 MCLE Credits offered
REGISTER HERE

**RSVP by March 16, 2023
Since the early 1990s, the American Law Institute has been drafting the Restatement (Third) of Torts.  That effort, down to a handful of projects, is within several years of completion.  Leading scholars, judges, and practitioners, many of them Reporters or Advisers for the final portions of the Restatement, will gather at Southwestern Law School to discuss significant remaining issues.  Occurring during the drafting process, the symposium is designed to affect positively the Restatement, and, thus, the law. 
The symposium will commence with a welcome by Justice Goodwin Liu of the California Supreme Court and the Council of the American Law Institute and will also include a luncheon keynote address by Brian Panish '84, one of the nation's leading trial lawyers.
Click here to view the speaker list and event details.