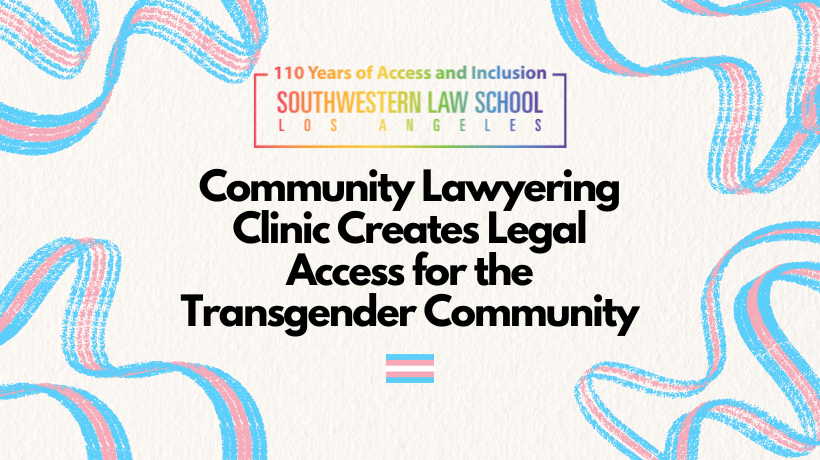 August 24, 2022
Community Lawyering Clinic Creates Legal Access for the Transgender Community
During the 2021-22 year, the Community Lawyering Clinic continued its dedication to creating access to justice for traditionally underserved communities. In partnership with the TransLatin@ Coalition, Community Lawyering Clinic law clerk and OUTLaw President Alixandra Powers '22 spearheaded and designed a volunteer training and opportunity Name and Gender Marker Change Clinic for transgender individuals. 
"Professor Vazquez empowered me to pursue an idea to start a clinic with the TransLatin@ Coalition. I received a lot of support from the clinic department who allowed me to develop my own plan and training program to assist the trans community with gender marker and legal name change petitions to submit to the courts."

- Alixandra Powers '22
Professor Vazquez remarked on Alixandra's leadership, "As a CLC student, Alix applied the skills that she developed in my clinic and transferred them to a project that was hosted by TransLatin@ Coalition's Legal Director, Andy Ruiz.  She let the community members lead and define their needs simultaneously creating a new volunteer opportunity for her fellow law students." 
Through the lessons learned and the skills developed with this partnership, the Community Lawyering Clinic continued to create access to legal services for the transgender community and rolled out a Legal Name Change and Gender Marker Clinic for the CSUN student community in spring 2022.  CLC law clerks Stevie Thackeray and Anna Pasano, under Professor Vazquez's supervision, created an interactive legal empowerment webinar that empowered the transgender CSUN community to understand the name and gender marker change process, walked them through each legal form, and even empowered them with options for fee waivers to cover court fees.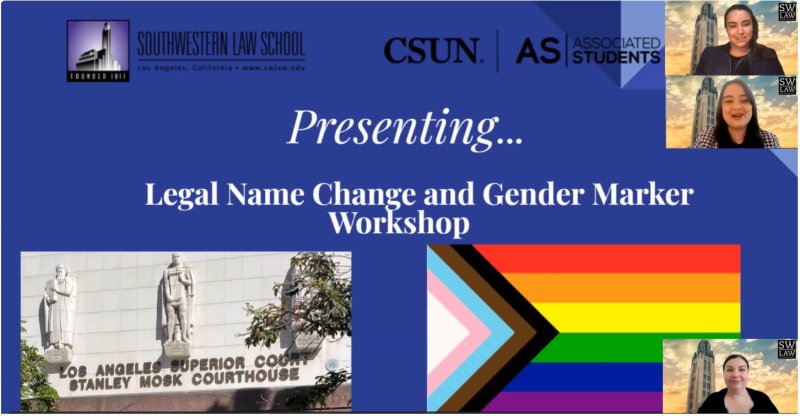 Professor Vazquez's commitment to teaching legal praxis--practice informed by theory--came to life as both Stevie and Anna demonstrated legal skills rooted in trauma-informed lawyering in order to provide access to legal services that both empowered and supported the CSUN transgender student community.
The Community Lawyering Clinic will continue to provide gender marker and name change legal services during the 2022–23 school year with the goal of continuing to provide access to justice for transgender community members.