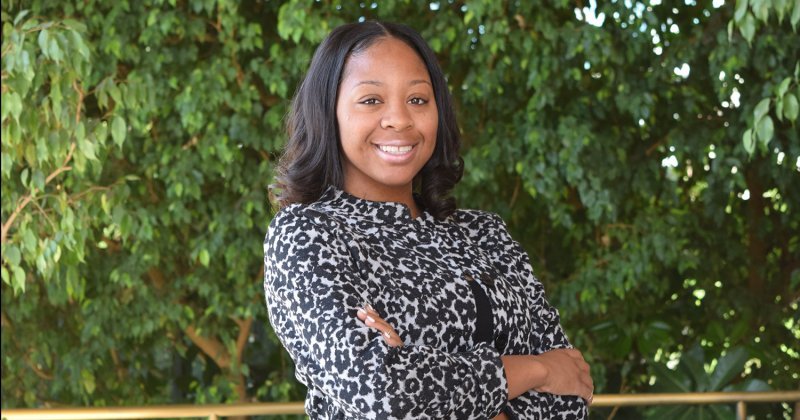 July 20, 2022
Meet Ashley Williams, the '22 Judge Harry Pregerson Public Service Alumni Award Recipient
Southwestern's Public Service Program is privileged to honor Ashley D. Williams with the Judge Harry Pregerson Public Service Alumni Award! Williams earned the award based on her extraordinary commitment and demonstrated leadership in helping the underserved. Her professional and pro bono work has substantially improved the lives of those in need.
Ashley D. Williams was born a product of rape and raised in the foster care system. She lived in 36 placements, with MacLaren Hall being the first of many, and attended 26 schools by the time she turned eighteen.
Ashley attended Dorsey High School, where she was enrolled in the Law Magnet Program. While at Dorsey, she participated in the Teen Court Diversion program, UCLA Street Law, and Young Lawyers. Upon graduating, she was honored with the dedication of the "Ashley Williams Computer Center" at Dorsey High School.
Ashley went on to attend UCLA, where she co-founded the Bruin Guardian Scholars Program, which assists former foster youth in navigating the university system. She was a UCLA Law Fellow, McNair Scholar, Jackie Robinson Foundation Scholar, and a Justice Corps Graduate Fellow.
She then attended Southwestern Law School, where she participated in the Associate for Corporate Counsel Diversity Pipeline Program, the Black Women Lawyers of Los Angeles Mentorship Program, the Street Law and Children's Rights Clinics, continuing her community activism and leadership work while honing her legal skills.
In law school she returned to the Teen Court Program and Street Law Clinic as a mentor and served as a Dean's Fellow and Chair of the Public Interest Law Committee. Due to Ashley's commitment to public service and advocacy she has been recognized with a multitude of awards from Sidley Austin LLP, the Southwestern Public Interest Law Committee, the California Change Lawyers, the Langston Bar Association, the Black Women Lawyers of Los Angeles Foundation, the Los Angeles County Public Service Distinction Award, the Hon. Justice Vaino Hassan Spencer Scholarship, the Justice Arleigh Woods Scholarship, and many more.
Ashley spent her final summer and fall semester as a certified law clerk for the Children's Law Center, advocating for foster youth at Children's Court. In 2016, Ashley was honored to be the keynote alumni keynote speaker at the 28th Annual Los Angeles County Department of Children and Family Services' Celebration Graduation Ceremony.
Professionally, Ashley served as a judicial extern with Judge Harry Pregerson in the Ninth Circuit Court of Appeals, and then as a Congressional Intern for Congresswoman Karen Bass. Inspired and informed by her own experiences in foster care, Ashley drafted a policy report and presented her results at a congressional briefing titled, "Fostering a Culture of Silence: The Need to Improve Reporting of Sexual Abuse in Foster Care."
In April 2019, while Ashley was preparing to enter the legal field, her mother's decades-long struggle with addiction ended her life. This motivated Ashley to use her lived expertise, work experience, and legal skills to represent parents like her own mother, many of whose children are in foster care just as Ashley was.
Since May 2019, she has worked at Los Angeles Dependency Lawyers, Inc. (LADL) as parents' counsel. She has gained experience all over the courthouse and is currently assigned to DREAM (Dedicated to Restoration through Empowerment and Advocacy) Court, a specialized courtroom serving minors who are victims of CSEC (Commercial Sexual Exploitation of Children). Because of her lived experience, academic achievements, and professional qualifications, Ashley is able to provide a unique voice and insight into the child welfare system.
In 2022, Ashley was awarded a Certificate of Special Congressional Recognition of Outstanding and Invaluable Service and nominated as the 2022 CCAI Angel of the Year by Congresswoman Karen Bass due to her extensive record of child welfare advocacy. Recently, she was selected to present as a Faculty Member at the National Child Welfare Law Conference and named Outstanding New Lawyer by the National Association of Counsel for Children (NACC).
Ashley enjoys the area of dependency law because she considers herself a successful product of this system. Her professional goal is to obtain a judgeship in the areas of juvenile dependency and delinquency law.
Latest from the SW LAW BLOG