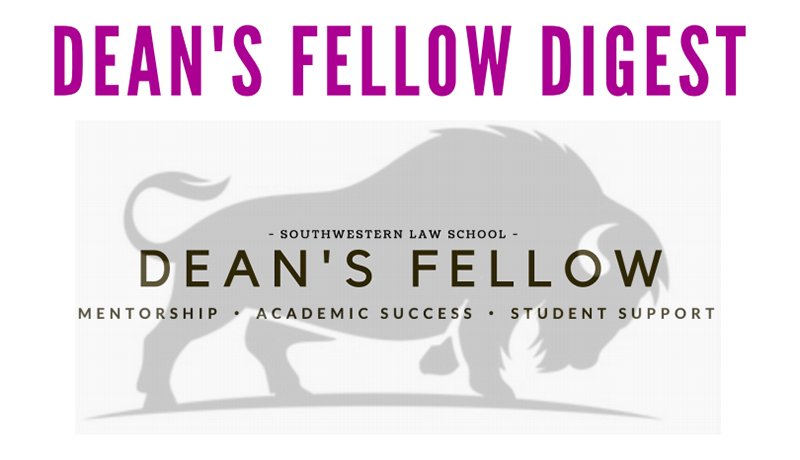 November 24, 2021
Dean's Fellow Digest Issue #38: Mapping a Southwestern Student's Route to Big Law Part 1 - Choosing to Pursue Big Law
Issue: 2021-11-24
Dean's Fellows consistently strive to support students in realizing their full academic potential, leading ultimately to success on the bar exam and in the workplace. To support all Southwestern students in this goal, the Dean's Fellows created this Digest as a way to check-in at critical times throughout the semester with helpful tips, strategies, and encouragement. 
IN THIS ISSUE:
Mapping a Southwestern Student's Route to Big Law Part 1 - Choosing to Pursue Big Law
---

Are Southwestern students' competitive applicants for big law firms? Many of our students fear that, competing with the rankings of neighboring law schools, we are not. However, this four part blog series serves to debunk that idea as four Dean's Fellows share their journey to receiving big law placements, each one touching on different routes and helpful tips that you, the reader, should know if pursuing a career in big law. 
What is 'big law'?
'Big law' refers to high-revenue law firms of over 100 attorneys, including firms as large as 1,000 attorneys or more worldwide. In comparison, small firms typically employ 25 attorneys or less, while mid-size firms tend to employ 26 to 100 attorneys. Each size—big law, mid-size, and small—provide for different:
Salaries: big law firms tend to provide a higher salary than mid-size and small firms. 
Billable Hours: big law firms often expect more billable hours than mid-size and small firms, though this varies depending on each attorney's personal workload.
Networking and Resume Opportunities: big law firm positions are more difficult to obtain and are typically seen as more prestigious than mid-size and small firms.
Work Environment: big law firms are known to have a more competitive or "cut-throat" atmosphere in comparison to mid-size and small firms.
Opportunities Available to Junior Associates: junior associates at mid-size and small firms may work on matters that a junior associate at a big law firm will not be able to until they obtain more experience or become a senior associate. This is due to the high number of attorneys at big law firms and the high monetary value of the cases being handled. 
The Recruitment Process
Although some mid-size firms engage in a similar process, big law mainly recruits entry-level attorneys through a summer associate program, meaning your interview with a big law firm will not be for a post-graduation placement. 
This is important to note for SCALE students, who must extend their graduation and transfer to a SCALE 2.5 program to qualify for a summer associate program.
To apply for a summer associate program, 2L students (or a 2L equivalent for non-traditional programs) apply in the Fall, and should they obtain the position, begin the summer associate program the following summer. It is not until that student completes the summer associate program and receives a permanent offer are they guaranteed a junior associate position after taking the bar. 
Below, we discuss three ways to obtain a summer associate position with a big law firm: 
Southwestern's On-Campus Interviews (OCI)
Southwestern's Career Services Office (CSO), and 
Good ol' Networking! 
Is too late to pursue big law?
As a student who's completed her summer associate position and received a permanent offer, I have learned that there are so many ways to reach big law later in life. If you do not end up making it as an entry-level attorney right out of law school, do not be afraid to get experience in a mid-size firm first and lateral to big law later!
As a current law student seeking a summer associate position, however, there are two questions to consider in deciding to apply. First, do you qualify? Whether your grade-point average and resume are competitive enough to apply is a question best answered by your CSO advisor. So, if you are curious enough to reach this point in the blog, go talk to them!
Second, if you feel as though your grade-point average and resume are competitive, is it too late to apply? For students in this position looking for that extra push to get after it, consider this your encouragement to try! Although big law firms tend to stick to their recruiting seasons, there may be more positions open (this blog names a couple of alternatives!).
When I decided to pursue big law, being 'late in the game' was an understatement. I was able to participate in Spring OCIs, but I was also a SCALE II student in the middle of a global pandemic with graduation only a few months away. My CSO advisor, Christine Tarr, had previously reached out wondering if I was interested in pursuing big law, to which I genuinely asked, "what is big law, exactly?" I was fortunate enough to have a competitive grade-point average, as well as campus involvement and legal experience on my resume—though much of it failed to exhibit an interest in the big law firms to which I applied.  Nevertheless, after a few more conversations with Christine, I decided to go for it!
From there, everything was in a tailspin. Applying to big law was nothing like my experiences in applying to judicial clerkships and the L.A. District Attorney's Office; the research, applications, and interviews demanded so much more. Naturally, I felt intimidated and ill-equipped throughout the entire process. It was not until the culture shock melted away in my screening interviews did I realize that my experience, although different, was transferrable. 
In the short few months before graduation, I prepared endlessly with the Career Services Office, met with attorneys from various firms, went through OCI, obtained a summer associate position, worked with an entire force of Southwestern Deans to change my SCALE schedule, and postponed my graduation only two months beforehand. 
As I wrap up my last couple of classes as a SCALE 2.5 student, I can honestly say that the anxiety and chaos were worth the last-minute pursuit of big law. 
---
*About the Author:
MEAGAN DRYE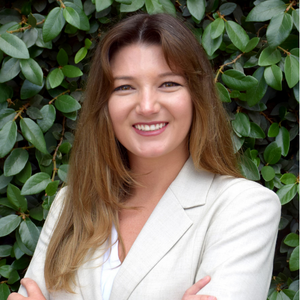 Meagan is a graduating SCALE II student seeking to practice civil litigation, although she has a lot of experience in criminal law as well. Meagan has worked for superior court and federal judges, externed at the Los Angeles District Attorney's Office at CT-15, and the Family Violence Division. 

In addition to being a SCALE ambassador, Meagan is involved on campus as a Law Review staff member, an advocate and board member for the Trial Advocacy Honors Program, a research assistant to Professor Bateman, a teaching assistant to Dean Rolnick, Professor Rodriguez-Fee, and Professor Gunning, and a Dean's Fellow to the current SCALE I class. 
---
Southwestern Law School Dean's Fellows | Scheduling and Booking Website
Dean's Fellows are upper-division students with strong academic skills who go through a rigorous application and training process. They are an integral part of the Academic Success and Bar Preparation Department. They are carefully selected based on their academic excellence and ability to teach other students best-practice study methods that will help them become acclimated to the study of law. Dean's Fellows meet with students as academic mentors.
Please click HERE to make an appointment with a Dean's Fellow.