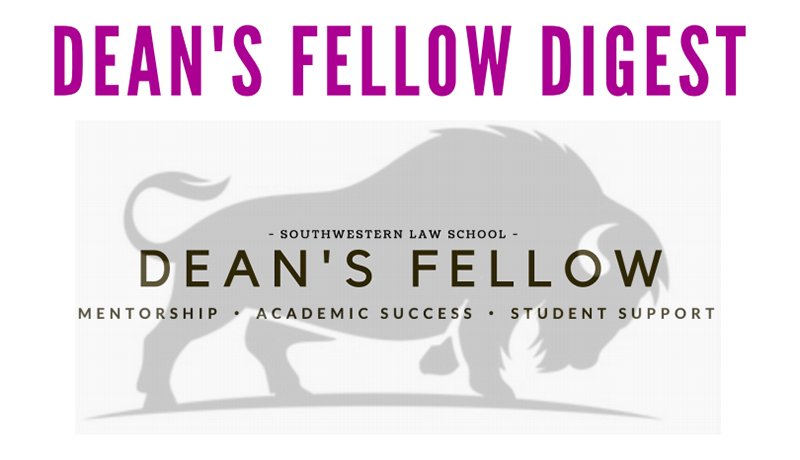 November 19, 2021
Dean's Fellow Digest Issue #37: Using Winter Break Productively
Issue: 2021-11-19
Dean's Fellows consistently strive to support students in realizing their full academic potential, leading ultimately to success on the bar exam and in the workplace. To support all Southwestern students in this goal, the Dean's Fellows created this Digest as a way to check-in at critical times throughout the semester with helpful tips, strategies, and encouragement. 
IN THIS ISSUE:
Using Winter Break Productively
---
Your Dean's Fellows have compiled a list of tips to help you start the new year off right and use your winter break productively. Check out the list below: 

Work on your cover letter, resume, and writing sample
Complete outside scholarship applications
Volunteer and get Public Service Program hours
Check out course listings for your 2L year, consider Summer 2022 classes, and research concentrations if any are of interest to you
Organize your outlines from the Fall
Note important deadlines and date for the Spring
Calendar your class schedule
Order your books for the Spring and return your rentals from the Fall

Take time to purposefully reflect on your first semester. What are you proud of? What might you adjust for the spring? 
Rest!
Read for pleasure
Take up a hobby
Catch up on life outside of law school before the new semester gets busy again
Network! Email, call, or set up coffee with past references, mentors, or potential employers

Review Themis questions (to familiarize with Spring subjects and to test knowledge of Fall subjects)
Get certified on Lexis and Westlaw
Familiarize yourself with Spring Syllabi
Note financial aid/FAFSA deadlines and budget appropriately for the Spring semester!
---
Southwestern Law School Dean's Fellows | Scheduling and Booking Website
Dean's Fellows are upper-division students with strong academic skills who go through a rigorous application and training process. They are an integral part of the Academic Success and Bar Preparation Department. They are carefully selected based on their academic excellence and ability to teach other students best-practice study methods that will help them become acclimated to the study of law. Dean's Fellows meet with students as academic mentors.
Please click HERE to make an appointment with a Dean's Fellow.
Latest from the SW LAW BLOG