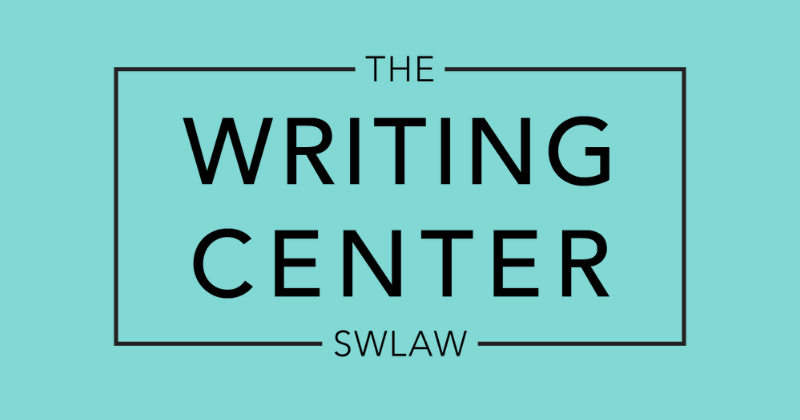 August 31, 2021
SW Law's Writing Center? WOW! Just, WOW!
To Clarify: The Writing Center (TWC) helps 1Ls on an individual basis with writing style, grammar, and punctuation. SW Writing Fellows and Writing Specialist will review any ungraded assignment, any graded assignment already submitted, and up to four pages of any work-in-progress.  Um, that's like having an editorial staff to assist on LAWS papers.
They make it fun! It might feel like a game, but TWC's Grammar Challenge assesses the core writing skills required to succeed in law school (and in practice).  YEP!!! They are the same skills. They can also help you write clear and easy-to-read essays on the bar exam.
Workshop It! TWC Director, Professor Alexandra D'Italia, has cleverly crafted eight 50-minute workshops for ILs covering essential topics like five errors your LAWS profs don't want to see; how not to lose "stupid" points, mastering basic citation; proofreading; writing concisely and precisely; and,  making every sentence count. I really could have used these back in the day!
Not Just for 1Ls: TWC presents (and records for future viewing) a Scholarly Writing Series designed to help upper-division students understand the basics of writing a scholarly paper whether it be for Law Review, Law Journal, or a seminar class, the Writing Center hosts a series of panel discussions with some of this school's best scholars. From testing out a topic to finessing your footnotes - TWC has your back. Alliterative description not approved (but hopefully appreciated) by Professor D'Italia. 
Storytelling Events: Conceived during the pandemic to create community across Zoom, this project began with a storytelling evening where five professors told personal stories in the style of The Moth (https://themoth.org/). It evolved into a speaker series based on the concept that all lawyers must tell stories. We continue this series of events for both alumni and students. 
About the Fellows: 
Tish Pickett - Writing Specialist 
A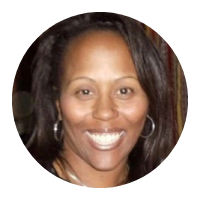 health care litigation associate at Polsinelli and a 2019 graduate of Southwestern. During her time as a part-time evening student, she was a Writing Fellow, a Research Assistant for Southwestern's Bar Prep Department, a member of Southwestern's Street Law Clinic, and a member of the Moot Court Honors Program. She loves teaching, so she became a Writing Specialist after sitting for the Bar. Tish also takes time to volunteer with her dog, Gizmo. Even though Tish and Gizmo are limited to volunteering via Zoom, they still enjoy warming hearts and spreading cheer to hospice patients and their families.
Andy De La Cruz - Senior Writing Fellow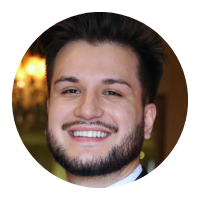 A 3L in the Traditional Day Program, Andy graduated from UCLA in 2017 with a B.A. in Political Science. He worked for the non-profit organization Neighborhood Legal Services of Los Angeles County (NLSLA) before starting law school. During his 1L year, Andy was a Runner-Up in the Trial Advocacy Intramural Brief Writing Finals and was recognized as a Notable Oralist in the 2020 Moot Court Intramural Competition. During his 3L year, Andy will serve as Associate Editor for the Southwestern Law Review and Co-President for the Latino Law Students Association (LLSA). Andy has completed two past judicial externships, one with Judge Philip S. Gutierrez of the U.S. District Court for the Central District of California and the other with Justice Sabrina S. McKenna of the Hawai'i Supreme Court. Over the summer he clerked at the civil defense firm Yoka & Smith, LLP, in Downtown Los Angeles. During his free time, he enjoys collecting sneakers and vintage clothing, watching Laker games, spending time with family, and trying new food spots.
Stephanie Scamman - Senior Writing Fellow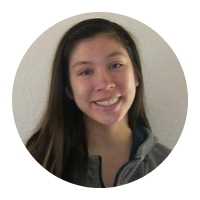 A 3L evening student. By day she works as the Director of Research and Project Management for a small finance company and by night a law student. She received her B.A. in Economics from Occidental College. Stephanie is a member of the Dean's Fellow Program and has two sport law articles she co-wrote with her professor published in different sport law journals. She is currently undecided on what area of law to pursue but is excited about all the possibilities she could take her career. As a collegiate athlete, Stephanie enjoys all things active, especially the outdoors. She loves spending time with her family, reading books, and wrestling with her puppy.
Kimberly Morosi - Writing Fellow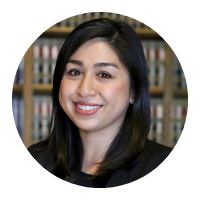 A 4L in the Part-time Evening Program and currently works full-time as a Community Resource Specialist for the Los Angeles City Attorney's Office. On-campus, she has the following roles: a Dean's Fellow, a Teaching and Senior Research Assistant for Professor Hart's Contracts course, a Teaching Assistant for Professor Wood's Civil Procedure course, a Teaching Assistant for Professor D'Italia's Remedies course, and a Notes and Comments Editor for Southwestern Law Review. She enjoys working with and mentoring 1L students, so she is excited to join the Writing Center as a Writing Fellow this year.  She looks forward to meeting with you (and your pets) over zoom!
Pinar Ozhabes - Writing Fellow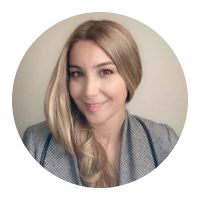 Grew up in Istanbul, Turkey, and graduated with an undergraduate degree in biology from Istanbul University. She moved to the U.S. in her early 20s where she lived in Boston for 8 years. She obtained her master's degree in project management from Northeastern University and worked as a project consultant in the pharmaceutical industry. She worked on global projects to improve supply chain and informational processing procedures for Merck Pharmaceutical, and she spent years working with global teams and traveling to different parts of the U.S. and Europe. To have more of an impact on people's lives, she decided to make a career shift to study law. She is a rising 2L and looks forward to sharing the law school experience with my colleagues and professors.
Jessica Smith - Writing Fellow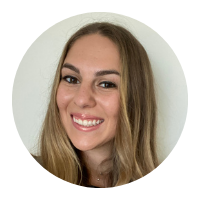 A 2L in the traditional day program. Jessica graduated from UCSB in 2018 with a B.A. in Communication and Philosophy, as well as with a minor in Professional Writing. Before she began law school, Jessica worked for United Entertainment Group as an Associate on the Talent and Influencer team. During her 1L year, Jessica and her partner won the 1L Negotiation Intramural competition. Over the summer, Jessica interned for a real estate development group to explore her interest in real estate law and business. This year Jessica is excited to be a Writing Fellow and to serve as the editor-in-chief for The Law Commentator.
Jennifer Eaton - Writing Fellow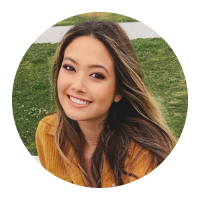 A 3L in the Traditional Day Program. Jennifer graduated from LMU in 2018 with a B.A. in Political Science and a minor in International Relations. During her 1L year, Jennifer was awarded Best Brief in the Negotiation Brief Writing Finals and received the CALI Award for both semesters of LAWS. Jennifer spent her 2L year negotiating as a member of the Negotiation Honors Program and assisting 1L students as a teaching assistant in LAWS. As Jennifer moves into her third and final year, she understands the practical importance of good legal writing skills. She hopes to provide writings tips that will help strengthen basic writing skills and to help other students find their unique writing style by creating good processes for writing and editing. In her free time, Jennifer enjoys wine tasting, boxing, and spending time with friends and family.
Please send your questions, comments, and compliments to WritingCenter@SWLaw.edu.
###
Latest from the SW LAW BLOG