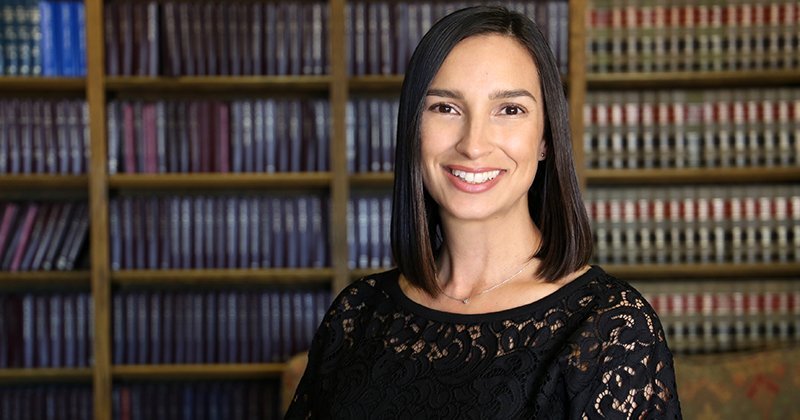 July 7, 2021
Dean Natalie Rodriguez '12 appointed to Blue Ribbon Commission on the Future of the California Bar Exam
The California Supreme Court and the State Bar have appointed Southwestern's own Assistant Dean of Academic Success, Natalie Rodriguez '12, to play a critical role in shaping the future of the California Bar exam. 
Dean Rodriguez joins The Joint Supreme Court/State Bar Blue Ribbon Commission on the Future of the California Bar Exam. The Commission is a group of 19 legal education experts tasked with evaluating and making recommendations about whether the bar exam accurately determines minimum competence to practice law. The Commission will also consider recommendations from the California Attorney Practice Analysis and the 2020 National Conference of Bar Examiners practice analysis and online exam administration.
California has long held one of the nation's most rigorous testing standards for individuals aspiring to practice law. But with little evidence to suggest that high exam cut scores yield a better crop of practicing attorneys, and mounting evidence showing it reduces diversity, many agree that the time to reevaluate the test has arrived.
Few understand the dynamics of the exam and the need for reform better than Dean Rodriguez, who was instrumental in guiding Southwestern's 2020 class to earn the institution's highest bar pass rate in decades. "I'm confident that the Blue Ribbon Commission will benefit from Dean Natalie Rodriguez's extensive experience, her collaborative spirit, and her determination to contribute to improving the exam," says former Dean and President, Susan Westerberg Prager. "Her appreciation of the twin goals of fairness to new generations of law school graduates and the Bar's interest in ensuring that new lawyers are qualified for practice make her a superb choice for the Commission."
Dean Rodriguez applauds the California Supreme Court's willingness to evaluate the efficacy of the exam and looks forward to a bright future of equity and fairness for future bar-takers. "There is a unified commitment to ensuring we have a pathway to licensure that is relevant and measures those skills and competencies required of today's new attorneys while balancing the need to have a bar that reflects the population California lawyers serve. I am honored to be a part of the Commission and involved in this important work."
The Southwestern community congratulates Dean Rodriguez on her well-deserved appointment!
Latest from the SW LAW BLOG