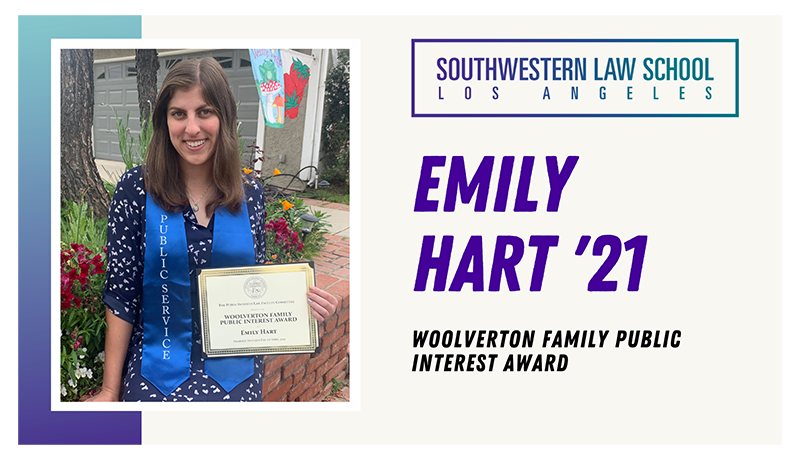 April 22, 2021
Emily Hart '21 Awarded the Woolverton Family Public Interest Award
Please join us in congratulating Emily Hart '21 on receiving the Woolverton Family Public Interest Award! 
The Woolverton Family Public Interest Award is given annually to one graduating student in recognition of demonstrated exceptional dedication to public interest law activities while at Southwestern. The Award is in the amount of $5,000.
Emily is a 3L Traditional Day student who is graduating this upcoming May. While attending Southwestern, Emily achieved over 200 public service hours by actively volunteering with Teen Court and various family law organizations, including LevittQuinn Family Law Center, Harriet Buhai Center for Family Law, and the Honorable Judge Amy Pellman's family law courtroom. After taking the bar this summer, Emily will begin employment at Tollner Law Offices, a special education law firm. At this firm, Emily will take the knowledge and experience she has gained through her various volunteering activities, including Southwestern's Children's Right Clinic, where she served as an advanced student, in order to help children with disabilities receive access to an adequate education.
---
 Meet Emily Hart '21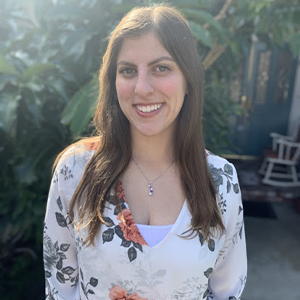 What is the most satisfying aspect of public service for you?
The most satisfying aspect of public service to me is seeing the impact my assistance has on a client's life.
In the Children's Rights Clinic, I was able to personally advocate for children who were not receiving adequate supports and services even though they have a disability entitling them to such services. With Teen Court, I am not only helping youth offenders pursue a rehabilitation process as opposed to pure retribution, but I am also educating high school students on a small area of the law.
With both the Children's Rights Clinic and Teen Court, I find the instances where I am able to speak one on one with a child and help them in some way the most satisfying part of my public service work.
---
What have been some of your favorite highlights of your service involvement during law school? 
One highlight of my service involvement is my participation in the Children's Rights Clinic. I entered the clinic with absolutely no knowledge in special education law, was given the tools to help clients throughout the semester, and now I am following this work in my future legal career.
This clinic laid the foundation for my passion for working with children and opened the doors for me to volunteer with other organizations which help children.
---
What words of advice would you have for future Southwestern students?
If you are interested in any specific area of law, reach out to Southwestern's Public Service Program to look for volunteering opportunities. By volunteering with various organizations, you can get a feel for the type of law being practiced and whether the organization is the best fit for you. During this process, you are also giving back to the community by helping others with their various legal issues, which is a very rewarding experience.
---
Congratulations on receiving the Woolverton Family Public Interest Award! Feel free to share a personal note to those you'd like to thank for supporting you during your law school career.
Thank you to George and Katrina Woolverton for funding this public service scholarship. I appreciate your generosity and interest in promoting public service participation by Southwestern law students.
I also thank my clinic professors, Professor Waterstone and Professor Rodriguez-Fee. Thank you for allowing me to participate in your clinic not once, but twice, and helping me further develop my passion for working with children.
Lastly, thank you to Michelle, Heidy, Angel, Brenda, and all of the other clinic faculty and staff. Your office has always been very inviting and helpful when looking for various volunteering opportunities.
Congratulations, Emily, on your outstanding achievement! We are so incredibly proud, and we look forward to seeing how you'll continue to grow in public interest law.