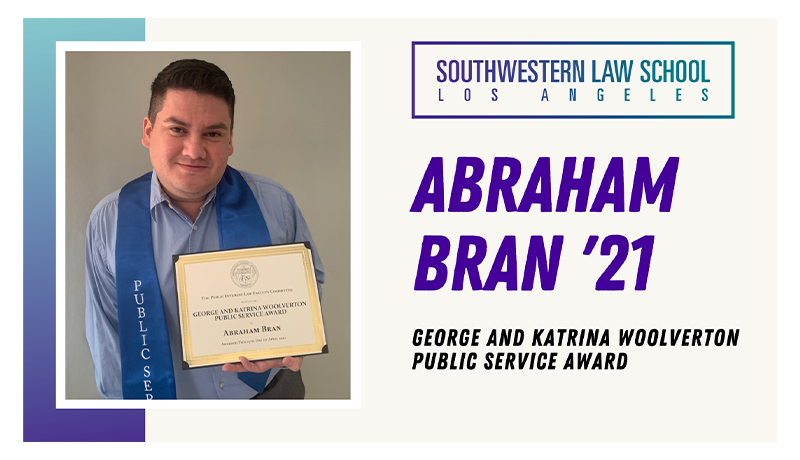 April 21, 2021
Abraham Bran '21 Awarded the George and Katrina Woolverton Public Service Award
Please join us in congratulating Abraham Bran '21 on receiving the George and Katrina Woolverton Public Service Award! 
He was selected for the Award in recognition of his demonstrated extraordinary dedication to public interest law activities while at Southwestern. Only one student is chosen for this prestigious honor annually. The Woolverton Award is in the amount of $10,000.
Abraham (Abe) Bran is a first-generation graduating 3L born from Honduran and Guatemalan immigrants. He obtained Bachelor's degrees in Economics and Spanish from Tufts University and worked as a supervising immigration paralegal prior to law school. At Southwestern, he served as President for the Student Bar Association, Special Projects Editor for the Law Review, Co-President to the Latino Law Students Association and the Environmental Law Society, and has participated in the Community Lawyering Clinic and the Appellate Litigation Clinic. In Fall 2021, Abe will start his Master's in Business Administration at the Peter Drucker School of Management concentrating in leadership and focusing on sustainable business models and social corporate responsibility. 
---
 Meet Abe Bran '21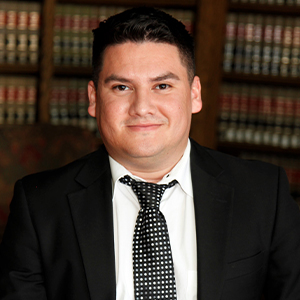 What is the most satisfying aspect of public service for you?
For me, public service means providing knowledge and access to individuals who might not otherwise have it.
Growing up, my parents were very transparent about the difficulties they experienced navigating life in the United States as immigrants. They told me how they relied on the guidance and support of my godmothers and other community members in determining how to best provide for me in this country.
My sincerest hope is that I, in turn, am providing people with the resources to live healthier and more equitable lives under their circumstances.
---
What have been some of your favorite highlights of your service involvement during law school? 
I was blown away by the adaptability and persistence of the public service community when COVID-19 forced us into lockdown. I have wanted to work with Al Otro Lado for years, but have been unable to commit to regular trips to the U.S.-Mexico Border. However, in light of the pandemic, the organization switched to a wholly virtual platform and continued to serve the immigrants under the inhumane "Remain in Mexico" policies. This gave me the opportunity to join the organization and work on intakes, risk evaluation, and asylum applications, all the while being available to switch back to my Southwestern responsibilities at a moment's notice.
Our very own Community Lawyering Clinic, refused to take a hiatus even when we were told that we could not return to our offices at Cal. State University Northridge (CSUN). Under the swift leadership of Professor Julia Vázquez, the students at CSUN continued to receive legal resources and assistance through the clinic. We were also able to incorporate virtual programmings such as the "Advocate For Your Health" empowerment workshop I put on with my classmates Leslie and Nanduo.   
---
What words of advice would you have for future Southwestern students?
Regrettably, much of law school and the legal practice is so focused on the end goal that we fail to take advantage of the opportunities around us. For instance, if your goal is to work in a civil litigation firm or at an entertainment studio, then you might think that the public service program doesn't have anything to offer you. This is far from the truth. The public service program is rich in opportunities to grow and train lawyering skills that are fully transferrable to any field of law. Further, in serving underprivileged communities, you show future employers and others in the legal community your values. We, as a legal profession, can always benefit from more mindfulness and empathy towards others. 
---
Congratulations on receiving the George and Katrina Woolverton Public Service Award! Feel free to share a personal note to those you'd like to thank for supporting you during your law school career.
Thank you to George and Katrina Woolverton for this support which will help me at Drucker and beyond. I am so grateful for the opportunities members of the Southwestern Community have given me. In that respect, it is incredibly difficult to thank all of the people who have supported me on this journey.
I am grateful to the many Professors and Deans I had the opportunity to shadow and learn from; but I would like to especially thank some of the often unsung administrators and staff members who supported me whenever I needed help: Nicolle Aranda, Cecilia Maciel, Mitzie Vitela, Elizabeth Bernstein, Angel Morales, Charlyne Yue, Christine Tarr, Aridai Martinez, Katrina Garcia, Lucia Rodriguez, Vivien Lewis, Heidy Caceres, Zachary Bruning, Marysol Garcia-Rendon, Suzanne Kunz, and the fabulous Co-Markies, to name a few of so so many.
Thank you for helping students like me, who otherwise would be unable to navigate law school, find their way. 
Congratulations on your well-deserved award, Abe! We look forward to seeing where your journey in public interest law will take you. 
Latest from the SW LAW BLOG