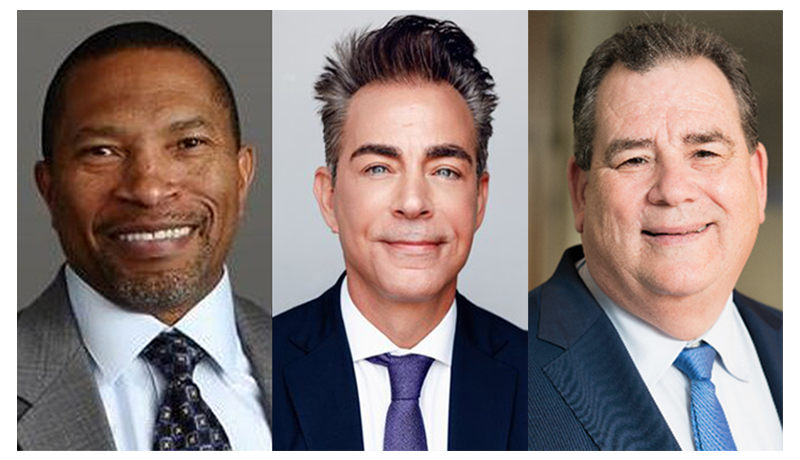 March 22, 2021
Southwestern Alumni on the Top 10: 2021 Super Lawyers in Southern California List
Please join us in congratulating Southwestern alumni J. Bernard Alexander III '86, Arash Homampour '92, and Brian Panish '84 on making the "Top 10: 2021 Super Lawyers in Southern California" list! Additionally, Brian Panish ranked 2nd overall on the list! 
Being in the Top 10 Super Lawyers in Southern California is a testament to their extraordinary professional work ethic and advocacy on behalf of their clients. All three alumni, J. Bernard Alexander III '86, J. Arash Homampour '92, and Brian Panish '84, are seasoned veterans on the list, having been honored with the distinction of being named a Super Lawyer since 2015, 2005, and 2004, respectively.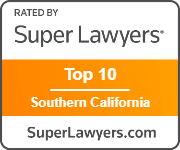 Each year, Super Lawyers recognizes the top lawyers in Southern California via a patented multiphase selection process involving peer nomination, independent research, and peer evaluation. The Southern California lawyers who receive the highest point totals during this selection process are then honored in Southern California Super Lawyers Top Lists.  This list recognizes no more than five percent of the lawyers in the State from more than 70 practice areas who have attained a high degree of peer recognition and professional achievement. 
---
J. Bernard Alexander III is a partner with Alexander Krakow and Glick LLP. He has tried approximately 50 cases to verdict, achieving six- and seven-figure judgments for claims of discrimination, harassment, and retaliation. He created the Annual CELA Trial College in 2014 and manages it yearly. He is an Executive Board Member of the National Employment Lawyers Association (NELA), President of Foundation for Advocacy, Inclusion, and Resources (FAIR), a lifetime member of the John M. Langston Bar Association and the UCLA Alumni Association, a member of the Los Angeles Consumer Attorneys Association of Los Angeles (CAALA), and the Consumer Attorneys of California (CAOC). He received the 2016 Joe Posner Award, was designated 2019 "Lawyer of the Year" Honoree: Employment Law, Best Lawyers Southern CA, and is an ABOTA associate. 
He was also recently named among the "2020 Top 100 Lawyers in California" by the Daily Journal. J. Bernard Alexander III has been recognized as a Top 100 Southern California Super Lawyer since 2015. 
---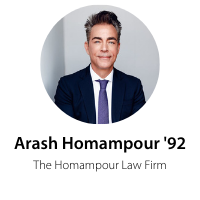 Arash Homampour is a trial attorney who, in the last five years alone, has obtained many successful trial results (ranging from $2.5 million to $60 million) against Sunbeam Products, the State of California, Costco Stores, Farmers Insurance Exchange, Allstate Insurance, and Louisville Ladder in a wide array of cases involving dangerous roads, dangerous ladders, dangerous premises, and unlawful employment practices. 
His firm exclusively represents Plaintiffs in catastrophic injury and death cases. His verdicts and his firm's settlements are routinely considered to be outlier and record-setting. His firm specializes in what they call "Underdog" or "David v. Goliath" litigation where they represent one individual client that is taking on a public entity, large employer, industry, or manufacturer in an effort to change and/or stop unlawful or unsafe conduct for the good of others and the community. 
Since 2016, he has been named one of the top 30 Plaintiff attorneys in the State by the Los Angeles Daily Journal. He was named CAALA 2010 trial attorney of the year and has been nominated as Trial Attorney of the Year every year since 2004. In 2017, he was named the Ventura County Trial Lawyer Association Trial Attorney of the Year. In 2018, he was named the Orange County Trial Lawyer Association as its product liability Trial Attorney of the Year. 
 
He has earned the distinction of being a "Super Lawyer" since 2005, with additional recognition as one of the top 100 Southern California Attorneys since 2010.
---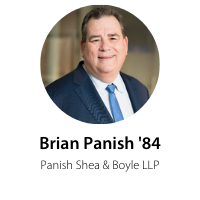 Brian Panish is a partner at Panish Shea & Boyle LLP and is one of the country's leading trial attorneys. Mr. Panish has obtained more jury verdicts in excess of $10 million in personal injury and wrongful death cases than any other lawyer in California. His courtroom victories include a $4.9 billion record verdict in the landmark products liability case Anderson v. General Motors, over 100 verdicts and settlements in excess of $10 million, six verdicts in excess of $50 million, and more than 250 verdicts and settlements over one million dollars in personal injury, car accident, wrongful death, and business litigation cases.
Mr. Panish has also been appointed to serve as a leading plaintiffs' counsel in numerous mass torts and major disaster cases, including train crashes, airplane disasters, pharmaceuticals, and defective product cases. He has been repeatedly named as a top lawyer in California and nationally by the National Law Journal, Daily Journal, and Recorder.
Brian Panish has been selected to the Super Lawyers List since 2004.
Congratulations to all three alumni on making the 2021 Top 10 Super Lawyers in Southern California list! See the full list here.