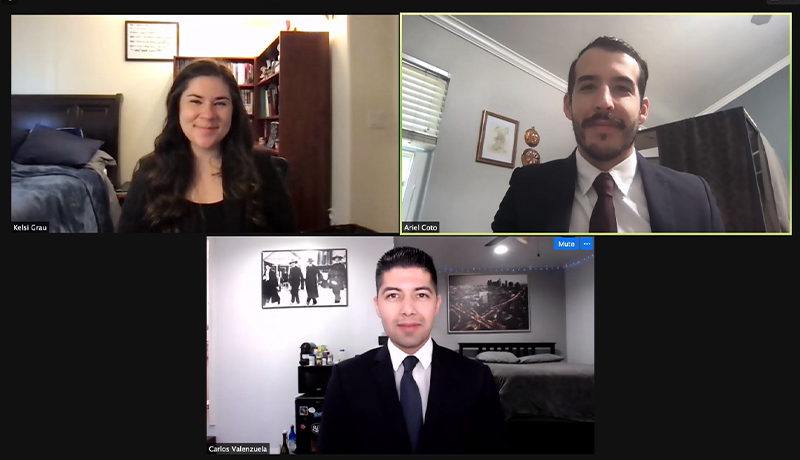 March 21, 2021
Moot Court Team Wagner Sweeps Awards at the 45th Annual Robert F. Wagner Sr. Labor & Employment Law Competition
Please join us in congratulating Moot Court Team Wagner, Ariel Coto, Kelsi Grau, and Carlos Valenzuela on their record-setting performance at the 45th Annual Robert F. Wagner Sr. Labor & Employment Law Competition! Moot Court Team Wagner made Southwestern history as they swept the top awards for the Preliminary Rounds, winning Best Team, Best Petitioner's Brief, and Kelsi Grau for Best Oralist.  
They competed against 39 other teams from law schools around the country and advanced out of the preliminary, octo-final, and quarter-final rounds as the top seed in each. This momentous occasion marked many new milestones for Southwestern. 
The first time Southwestern has won any Preliminary Round Awards of any type at Wagner. 
The first time Southwestern has swept the Preliminary Round Awards at Wagner.
The first time Southwestern has won Best Brief at Wagner. 
The first time Southwestern has won Best Oralist at Wagner. 
AND, last but not least, the first time Southwestern has had an all-Latino and all-Chicano Wagner team. Carlos, Kelsi, Ariel, and even Professor Cameron, who coached the team, are all Mexican-American!
"I am truly honored to have been a part of this historic Wagner sweep. The competition was fierce, but Professor Cameron prepared us to go against the best of the best, and it paid off. I am so grateful to the Moot program for this experience and for introducing me to my amazing teammates - Ariel and Carlos, who are two of the most talented advocates I have ever met. I would go to war any day with this dream team and can't wait to have another shot at it next year!"

- 2L Kelsi Grau
This year's Labor and Employment Law Competition centered around two interesting and novel issues. First, whether an employee has a common law claim against an employer for the employer's alleged violation of a public policy set forth in state law related to maintaining a safe work environment and, concurrently, whether an employee subjected to an unsafe work environment, in violation of public policy, may also pursue a common law claim for constructive discharge based on a single instance of being placed in an unsafe work environment. Second, whether an employee is barred from pursuing a claim of negligence under section 1240(2)(A) of the Wagner Workers Compensation Law (WWCL) when the employer allegedly failed to provide a safe work environment during a novel pandemic. 
Fun fact: the parties in the case were named after characters in the Netflix hit documentary "Tiger King." Moot Court Team Wagner represented the employer, Mr. Jeff Exotic, and the employee, Ms. Carole Buskin.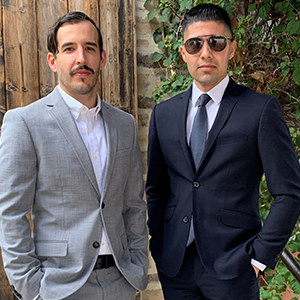 Ariel Coto, the team writer, shares, "The Wagner Moot Court Competition was a great and challenging experience from start to finish. Given that the team could not reach out to any outside parties for feedback during the writing process, it was difficult to know whether we were on the right track in terms of building the brief and our arguments. With that in mind, walking away with a winning brief was both surprising and vindicating. I want to thank Carlos and Kelsi for being the best teammates a writer could ask for, Professor Cameron for being a stalwart coach, Professor Carpenter for her guidance, and Professor D'Italia for setting me on the path to Moot in the first place. 
Likewise, his teammate, Carlos Valenzuela, wanted to express his thanks to their team, their coaches, and their supporters. Carlos says, "I truly could not have asked for a better team and such an amazing experience. After months of dedication, practice, and commitment, my team and I proudly swept the awards categories and earned Best Brief, Best Team, and Best Oralist. I am honored to be part of such an amazing Moot Court Family and to have experienced it all with my amazing team members, Kelsi Grau and Ariel Coto. Along my journey, I not only gained invaluable experience but formed amazing friendships. We truly could not have done it without Professor Cameron and his wisdom, dedication, and support throughout it all. A special thank you to our amazing Moot Court Directors, Professor D'Italia and Carpenter, who have dedicated their hearts and souls to this program. We will see you next year!"

Congratulations, Team Wagner! We are so incredibly proud! Thank you to the entire Moot Court Honors Program, their coaches, and their faculty directors for helping this team prepare.