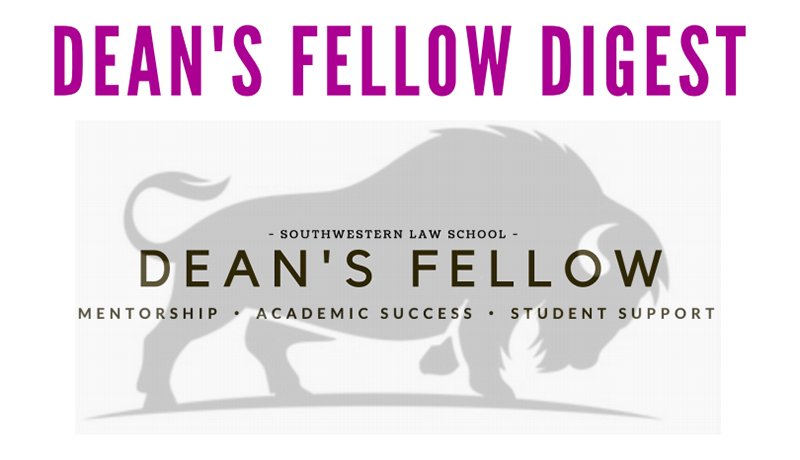 September 11, 2020
Dean's Fellow Digest Issue #14 - Balancing Your Social Life While in Law School (Learning When to Say 'No')
Issue: 2020-09-11
Dean's Fellows consistently strive to support students in realizing their full academic potential, leading ultimately to success on the bar exam and in the workplace. To support all Southwestern students in this goal, the Dean's Fellows created this Digest as a way to check-in at critical times throughout the semester with helpful tips, strategies, and encouragement. 
IN THIS ISSUE:
Balancing Your Social Life While in Law School (Learning When to Say 'No')
---
Balancing Your Social Life While in Law School (Learning When to Say 'No')
By: Antonino Patti*

 It can be hard to say 'no' sometimes. In law school, we learn to say 'no' a lot. After a while, one can begin to feel bad and isolated as a result. Some of our friends do not call us as much anymore. Let's face it: we like being around others. We want to be there for them. We always want to be a good friend and not let our family down. Other times, we just want to escape from it all, and reenergize by joining our pack. Balancing these conflicting forces can be a challenge. The problem is: we know how to be great to our loved ones, but we do not know how to be great lawyers yet. That is why we are here.
Some of us are better at saying 'no' to our friends and family than others. Like most of you, I am a social creature and constantly miss my loved ones. But the times when I overcommitted came at a price: I became anxious about falling behind and had to make up the study time with late nights and early mornings. Ultimately, this impacted my focus and was counterproductive.
Setting boundaries does not make you a bad friend, partner, or family member. Nobody recognizes better than you what the opportunity cost of attending law school is. Each of us has promised a great amount of time, energy, and money to becoming lawyers. We need to make our time at Southwestern the priority. I tell myself that the people who really matter should understand and support my commitment to law school.
However, this does not mean that we must focus only on school 24/7. With studying, there are diminishing returns after a certain point, and we all benefit from occasionally getting our minds off of school. The right social breaks can also work in our favor. For example, I try to commit to events that are supportive and constructive. Be around people that lift your spirits or to whom you can vent about this crazy challenge you have set for yourself.
I have found it easier to invite friends over or set up a Zoom happy hour when I know I have a short break (or have set one up on purpose). If I am asked to join a dinner on Friday when I am supposed to study, I propose an alternative like a coffee or quick lunch on Sunday to break up my reading sessions. I have invited friends over to study with me. This allowed us to catch up during breaks and still feel connected. At the same time, it gave them an opportunity to read the book they wanted to start or to focus on something they were procrastinating on.  
Saying 'no' gets even harder during finals, deadlines to submit papers, honors competitions, etc. These are certainly times where one should decline and offer an opportunity to spend time together soon thereafter. Offer to do something the following week and schedule a date and time so they know you are not just shrugging them off.
Another byproduct of law school is making more friends and connections at school. We all share a common thread and are navigating these waters together. There is an inherent level of mutual understanding and support because of it. Our classmates know what this whole thing is like. These connections can offer opportunities to study together and stay focused while still interacting socially. There are other times where it helps to remain connected to your friends and family outside of school, because they offer different perspectives and remind us why we are here. For many of us, they are (and will always remain) our anchors.
Ultimately, saying 'no' will be hard. After a while, we (and they) get more used to it. But the great news is that this is temporary. We have breaks in between semesters, and those breaks are the times to really enjoy the ones we have missed and to recharge. And before we know it, our friends and family will be at our graduations, witnessing our accomplishments and cheering us on. In the end, we are not forgetting who matters. We are working hard to change our lives (and many of theirs, too). I promise you that the ones that love us the most will understand and make this law school challenge ultimately easier.
---
*About the Author:
 ANTONINO PATTI
Nuccio is a 2L Evening student who graduated from U.C. Berkeley with a B.A. in Political Science in 2005, and from C.S.U. Northridge with an M.B.A. in 2011 and an M.A. in Urban & Regional Planning in 2018. Nuccio works as a nonprofit real estate developer building homeless and special needs housing. Recently, Nuccio joined the Moot Court Honors and Dean's Fellow Programs. 
Nuccio is very excited to be a Dean's Fellow and would love to chat with you about your law school experience. In his free time, Nuccio enjoys spending time with friends and family, reading, cooking, cycling, Formula 1, and learning on YouTube. 
---
Southwestern Law School Dean's Fellows | Scheduling and Booking Website
Dean's Fellows are upper-division students with strong academic skills who go through a rigorous application and training process. They are an integral part of the Academic Success and Bar Preparation Department. They are carefully selected based on their academic excellence and ability to teach other students best-practice study methods that will help them become acclimated to the study of law. Dean's Fellows meet with students as academic mentors.
Please click HERE to make an appointment with a Dean's Fellow.
Latest from the SW LAW BLOG