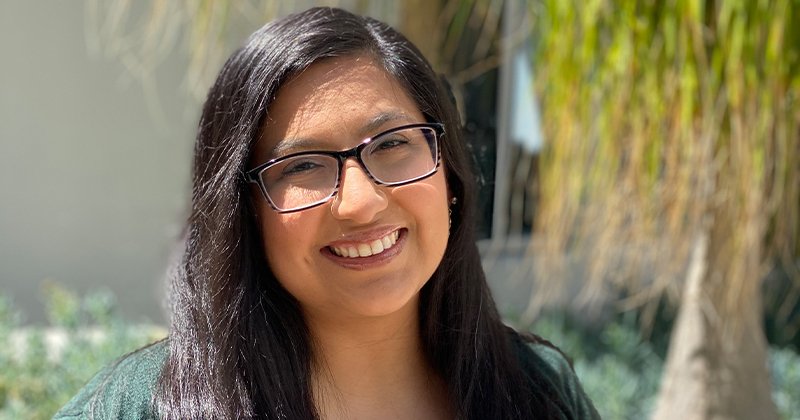 August 5, 2020
Angelica Beas-Martinez '20 Awarded 2020 Beverly Hills Bar Foundation Scholarship
Congratulations to Angelica Beas-Martinez '20! She was named a 2020 Beverly Hills Bar Foundation (BHBF) Scholarship recipient in recognition for her demonstrated commitment to public service.
Since 1970, the Beverly Hills Bar Foundation has awarded scholarships to academically qualified, economically disadvantaged law students who demonstrate an ongoing commitment to public service law and who attend UCLA School of Law, USC Gould School of Law, Loyola Law School, Pepperdine University School of Law, and Southwestern Law School. Over $975,000 in scholarship funds have been awarded to law students who have demonstrated their dedication to public interest law throughout their education.
Angelica is a first-generation and second-career student pursuing a career in public interest law, specifically in education advocacy. Before coming to law school, Angelica spent years supporting children and youth in low-income communities of color as a school social worker in New York City. She is fiercely passionate about providing representation and educational protection for underserved dual status youth placed under dependency and delinquency jurisdictions. Angelica intends to return to a career in child welfare advocacy as an educational rights attorney representing and serving children and youth in need. 
During her time at Southwestern, Angelica distinguished herself academically by ranking in the top twentieth-percentile of her class and serving as a law clerk with the Immigration Center for Women and Children, Southwestern's Children's Rights Clinic, and the U.S. Equal Employment Opportunity Commission. Through her various leadership roles in the Latino/a Law Students Association, Tax Law Society's Volunteer Income Tax Assistance Clinics, the Peer Mentor Program, Angelica organized service and pro bono projects, substantive programming, and practical trainings for Southwestern students. She also served as a research and teaching assistant to several faculty members. 
"It is a privilege to be a Beverly Hills Bar Federation Scholarship recipient. During these uncertain times, receiving this scholarship has truly been a blessing. Having BHBF's support will allow me to continue to serve my community within the public interest field. I am also grateful for the Southwestern community who has helped me learn the skills necessary to serve those that may not have access to legal resources."

- Angelica Martinez '20
Congratulations on your well-deserved recognition, Angelica! 
---
About the Beverly Hills Bar Association: 
The Beverly Hills Bar Association, founded in 1931, is the fifth largest bar association in California, with nearly 5,000 members.  Its mission is to serve its members, to lead the legal profession and to advocate for justice in the community.
The Beverly Hills Bar Foundation (BHBF) is the charitable affiliate of the Beverly Hills Bar Association.  Its mission is to promote equal access to Justice through support of law-related education and community service projects, designed to educate and assist youth, adults, and seniors.