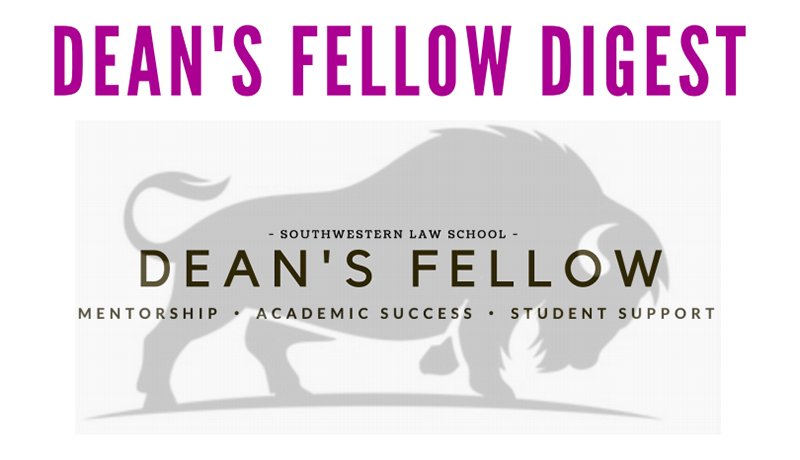 April 17, 2020
Dean's Fellow Digest Issue #7 - Take-Home Essay Exam Structure
​
Issue: 2020-07
Dean's Fellows consistently strive to support students in realizing their full academic potential, leading ultimately to success on the bar exam and in the workplace. To support all Southwestern students in this goal, the Dean's Fellows created this Digest as a way to check-in at critical times throughout the semester with helpful tips, strategies, and encouragement. 
IN THIS ISSUE:
Take-Home Essay Exam Structure
---
Take-Home Essay Exam Structure
By: Brittany Butler*
With the current pandemic, everything in our lives is changing rapidly.  We have transitioned to online learning and are quickly approaching take-home, open-book exams. This is going to be a first-time experience for many of us. But I want to assure you that you can bring normalcy to your at-home workstation, and you already have all of the tools you need to be successful on your exams this semester. If you are a 1L, you have been working on your IRAC skills since July, if you attended Bison Bootcamp and/or Intro to Legal Writing, or at the beginning of the academic year in August. You also were able to practice these skills on your fall semester exams and some spring semester midterms. You are more than capable to take these skills into this semester's final exams.
You should not approach take-home exams any differently than you would a proctored exam. The structure of your essay exam will not change, only where you take the exam. You should still begin with the issue statement, followed by the rule, then analysis, finishing with your conclusion. This applies to your study materials, as well. Now, more than ever, it is crucial for your outline to be as complete and organized as possible. Your outlines and study tools should be organized in IRAC form. This pandemic will pass, and you will need to take your IRAC structure with you into next semester, the bar exam, and practice.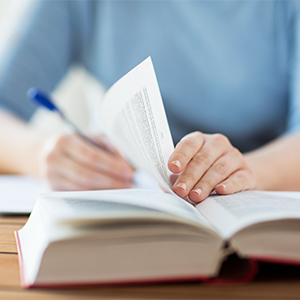 Do not let an "open book" exam sway you from studying for the exam as if it were closed book. You will be still taking the exam under time constraints. This means you will not have time to search through your materials for all of the answers. The key to doing well on an open book exam is preparedness and organization. I personally have taken one open book exam during my time at Southwestern, and I can attest to these points.
Professor Rodriguez attached a great resource to a recent email with tips on tackling these types of exams. For example, it suggests making a table of contents for your outline and number your pages (this will work with a hard copy or electronic outline, as you can hyperlink the table of contents' page numbers). Here is another great resource in preparing for open book final exams. When I took my open book exam, I had my outline printed, and it made it easier to find the exception to the exception in my table of contents (and a table of contents is also a great issue spotting checklist!).
Before my open book exam, I still completed every single practice exam that was available to me, and I attended office hours regularly. If you are practicing your IRAC structure and analytical writing in this way, it will speed up your exam-taking abilities on the final exam. This will give you time to go back and check certain things you are unsure about in your outline.  Related to practice exams, it can also be helpful to set up essay templates—focused on the topics/issues of each course.
Do not rely on "open book" as your crutch to stop reading, stop paying attention in class, or think that you do not need to take practice exams. Still make a study schedule for yourself for reading period and stick to it. Most of us are saving hours not having to commute to school, so use this time to your advantage. For example, I used this time savings to complete more Themis Quiz-Builder questions, and it has been hugely beneficial.
You are all capable of using the skills that you have learned over the past year(s). Don't decide now to resort to receiving credit/no credit in all courses. This is something to reserve for truly extenuating circumstances. You should be putting your best effort into these exams, and you will be rewarded for your hard work.
Academic Success and the Dean's Fellows are still here for you and available to answer any of your questions.
---
*About the Author:
  BRITTANY BUTLER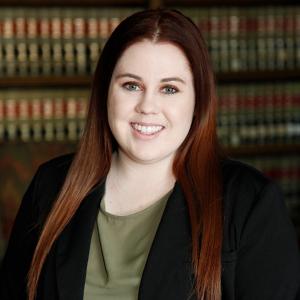 Brittany Butler is a 2L Traditional Day student. Along with mentoring students as a Dean's Fellow, Brittany is a member of PILC and the Criminal Law Society. Brittany is committed to public interest and is a future criminal defense attorney.

Last year, Brittany worked at the innocence project and will be a law clerk at the Los Angeles County Public Defender's Office in Summer 2020.

Brittany loves sports and, in her spare time, travels around the world. She also enjoys helping other students succeed.
---
Southwestern Law School Dean's Fellows | Scheduling and Booking Website
Dean's Fellows are upper-division students with strong academic skills who go through a rigorous application and training process. They are an integral part of the Academic Success and Bar Preparation Department. They are carefully selected based on their academic excellence and ability to teach other students best-practice study methods that will help them become acclimated to the study of law. Dean's Fellows meet with students as academic mentors.
Please click HERE to make an appointment with a Dean's Fellow.