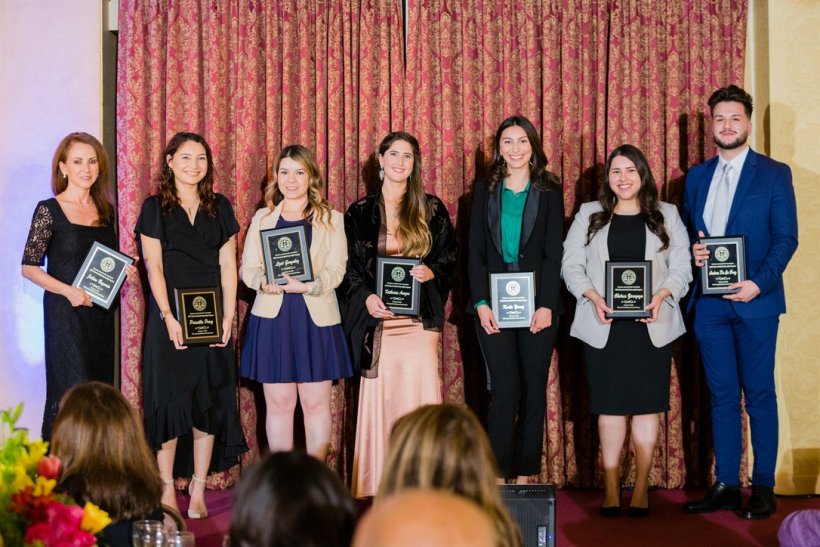 April 14, 2020
2020 Mexican American Bar Association Federal Judicial Externship Scholarship
Congratulations to 1Ls Andy De La Cruz and Chelsea Zaragoza! They were both awarded the 2020 Mexican American Bar Association (MABA) Federal Judicial Externship Scholarship! Andy and Chelsea were two of seven students selected for this competitive scholarship program from the greater Los Angeles area. 
They were presented with the scholarships and recognized at the Mexican American Bar Association's 60th Annual Installation of Officers & Awards Gala held on February 22nd, 2020, at the Millennium Biltmore Hotel.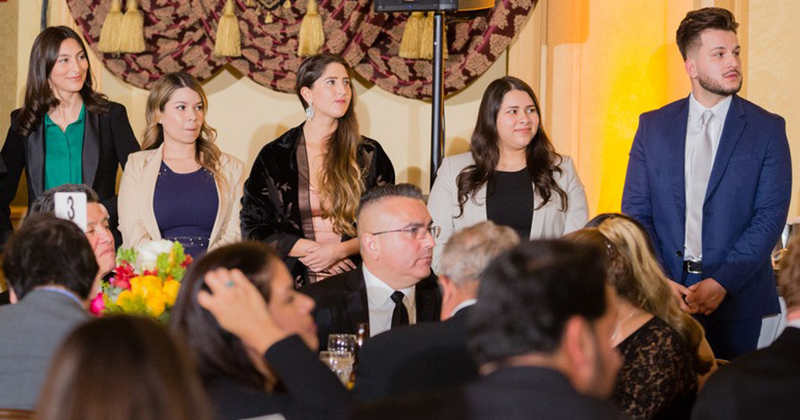 The MABA Federal Judicial Externship & Scholarship Program was established in 2013 to increase access to highly sought-after externship positions in federal appellate and district courts for Latino/a law students in Los Angeles. Andy and Chelsea received a $2,000 scholarship and were awarded judicial externships with participating judges. They were chosen in a rigorous selection process and then interviewed by the participating judges who decided where they would be placed for the summer. The MABA Federal Judicial Externship Scholarship program provides them with comprehensive training before the start of their externship. They will spend ten weeks in the summer conducting research, writing, and attending federal judicial proceedings.
Andy currently serves as the Section Representative for the Latino Law Students Association. He is the first in his family to pursue a law degree. Andy received his B.A. in Political Science from UCLA and will extern this summer for the Hon. Philip S. Gutierrez. 
He says, "I am excited and thankful to receive the 2020 MABA Federal Judicial Externship Scholarship. Being selected for this opportunity has made me realize how important foundations like MABA are for law students like myself. It is so motivating and encouraging to see fellow Latinos thriving as attorneys and judges. Being around these individuals pushes me to continue excelling at Southwestern and believing in my ability to succeed as a law student."
"I made it a goal to try and land a federal judicial externship during my 1L summer—thanks to MABA, that was made possible. I know that this experience will help me gain invaluable knowledge about the federal court system and foster my growth as a rising 2L. I am looking forward to sharpening my research and writing skills and having the unique opportunity to collaborate with the Hon. Philip S. Gutierrez and his law clerks."

- Andy De La Cruz, 1L
Chelsea is a member of La Raza and the Public Interest Law Committee. She is the first in her family to enlist in the military, graduate from college, and pursue a law degree. She received her B.A. in Sociology from California State University Northridge and will extern this summer for the Hon. André Birotte Jr.
She says, "I am humbled and excited to be a recipient of the MABA Federal Judicial Externship Scholarship. I realized that without MABA, I wouldn't be able to extern for a Federal District Court Judge during my 1L summer. With the encouragement and guidance of former MABA externs and my career counselor, Megan Evanich, I applied to this Program. I am grateful for Professor Campbell, my LAWS Professor, who taught me the fundamentals of legal writing and MABA for creating this opportunity for Latino law students. 
"I have witnessed the individual successes of MABA's accomplished attorneys and Judges and their collective efforts to pave the way for the current generation of Latino law students. MABA's efforts to provide law students, like me, with this opportunity has inspired me to further the advancement of Latino law students. I am not only excited to further develop my legal writing and research skills under the guidance of the Hon. André Birotte Jr. and his law clerks, but to also ensure that Latinos are represented in federal judicial externships."

- Chelsea Zaragoza, 1L 
Way to go, Andy and Chelsea!  We wish you the best of luck with your federal judicial externships this summer, and we look forward to seeing all that you achieve!