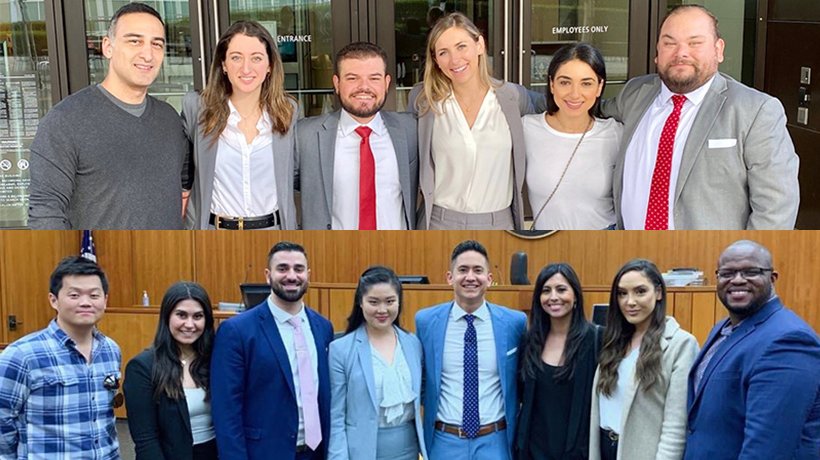 March 31, 2020
TAHP Makes Semi-Finals at Regional Competition (San Diego, CA)
Congratulations to TAHP-ers Andrew Figueras, Grace Khanlian, Catherine Knapp, Brandon Salumbides, Virginia Wong, and Levon Derkalousdian! They competed in a regional round of the Texas Young Lawyers Association National Trial Competition held in San Diego, CA, from February 26th to March 1st, 2020. 
Southwestern sent two teams to compete this year, and both teams finished strong as semi-finalists. All six advocates demonstrated an incredible performance in the courtroom, facing tough first and second-round matches.
"I am so fortunate to have been able to compete in NTC and make it to the semi-finals with my amazing partners, Virginia Wong and Brandon Salumbides, as well as Catherine Knapp, Andrew Figueras, and Grace Khanlian. A huge shoutout to my coaches throughout the years: Michael Morse, Negin Mostadim, Douglas Baek, Jahmy Graham, Jeremy Davis, Anet Badali, Esther Kim, Melissa Romo, Michelle Lewis, and Kevin Gres. I will take your lessons with me into the courtroom, and I am so lucky to have you as mentors in my life. I especially want to thank Professors Joseph Esposito and Bill Seki, who have made all of our accomplishments in TAHP possible--thank you."

– Levon Derkalousdian, 3L
Teams consisted of three individuals, with one advocate acting as a swing participant, advocating for both the plaintiff and defense.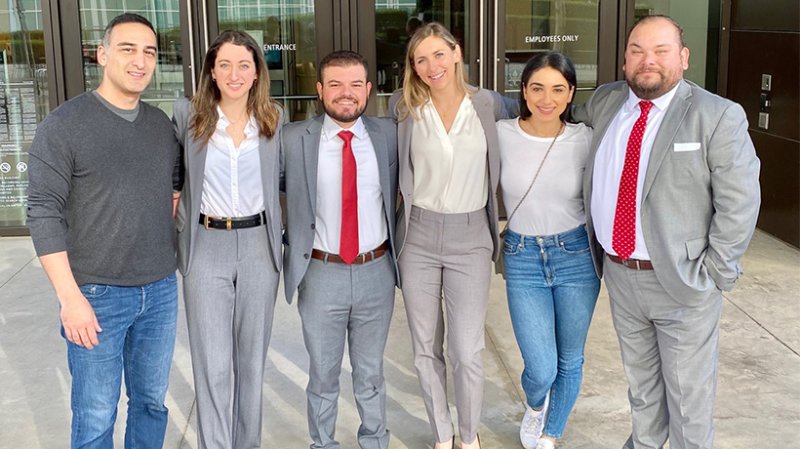 The first Southwestern team comprised of Andrew Figueras, Grace Khanlian, and Catherine Knapp was coached by Navid Nakhjavani, Negin Mostadim, Roger Wilkerson, and managed by Hossein Eshaghi.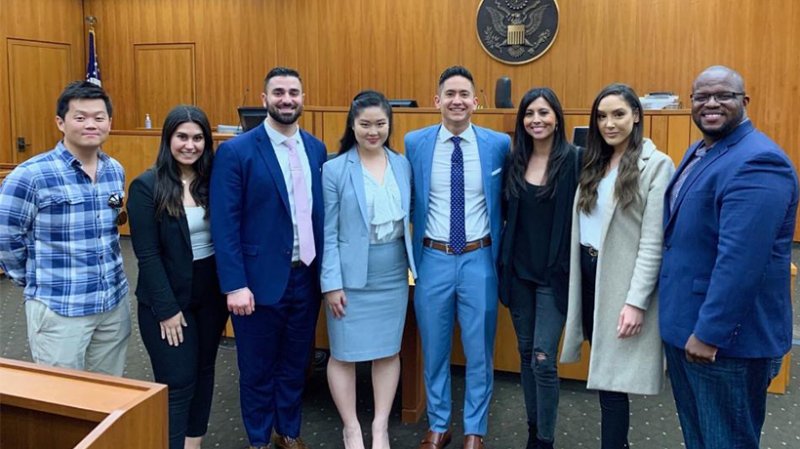 The second Southwestern team of Brandon Salumbides, Virginia Wong, and Levon Derkalousdian were coached by Doug Baek, Anet Badali, Jahmy Graham, Melissa Romo, and managed by Mary Fitilchyan. 
This year's competition focused on a civil case. The problem was a wrongful death action filed by the decedent's wife against an insurance company. The plaintiff and her husband had filed a claim for a fire that destroyed their business in February 2017. It took the insurance company nearly two years to complete their investigation and accept and pay the claim. The plaintiff alleged that the insurance company's delay was deliberate and caused her husband to commit suicide due to the intentional infliction of emotional distress. 
TAHP Chair, 3L Andrew Figueras, reflected on both teams' hard work in preparing for the competition and his experience in TAHP.
"This was a great competition. We worked really hard to adapt to the different format. I enjoyed learning how to be a better advocate and competing for Southwestern. My partners and fellow teammates, Grace, Cat, Brandon, Virginia, and Levon, helped tremendously in our amazing outcome. I am sad we did not take home a championship, but I am very proud of my colleagues and me for making it to the semi-finals! I am grateful to have had the opportunity to play the swing advocate and advocate for both the plaintiff and the defendant. It has been a great two years on TAHP. I will miss TAHP, my coaches, the professors, and my fellow TAHP advocates dearly."
Please join us in congratulating all the advocates and the coaches for their incredible work! 
Latest from the SW LAW BLOG