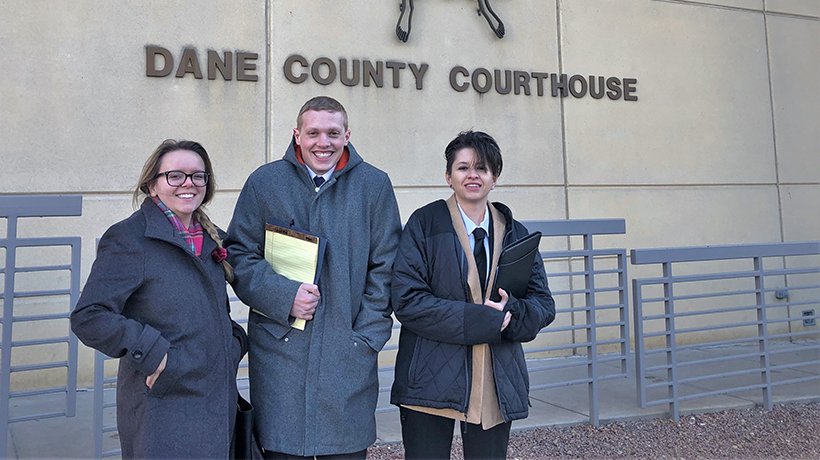 March 24, 2020
Moot Court Team Wisconsin Makes Top Four and Wins Best Petitioner's Brief (Madison, WI)
Congratulations to Hope Casella, Byron Lansford, and Nina Niedbalski on competing in the 2020 Evan A. Evans Constitutional Law Moot Court Competition in Madison, Wisconsin, on March 6-8, 2020. 
Moot Court Team Wisconsin showcased a brilliant performance, making it to the Top Four and winning Best Petitioner's Brief!  They beat out 18 other teams from all over the country, including NYU Law.
"Watching my team progress to the Semi-finals and the Top 4 was amazing. I am so proud of them and their achievement. Being a writer for my team was a dream come true, and winning the Best Petitioner's Brief in this constitutional law competition was just surreal. Without the support of my team, my Coach, the Moot Court Program, my professors and mentors, my friends and family, winning this award would not have been possible, and I would like to thank them all for supporting me during this process to achieve this."

- Nina Niedbalski, 2L
This year's competition centered around two interesting issues. First, whether the government unconstitutionally condemned private property in retaliation for protected speech. Second, for purposes of just compensation, whether condemned property should be valued before the date of a well-publicized, governmental precondemnation announcement of the project.
Their coach, Professor Alexandra D'Italia, was brimming with pride. She commended the team's impressive teamwork and understanding of the complexities of the problem. 
"Hope and Byron understood the problem and the complexities of it being on appeal. I am so proud I could burst. I wouldn't change their performance one bit. That they worked so well as a team is just icing on the cake."
Thank you to the entire Moot Court Honors Program, and their faculty advisors, Professor Alexandra D'Italia and Professor Carpenter, for helping this team prepare!
Latest from the SW LAW BLOG