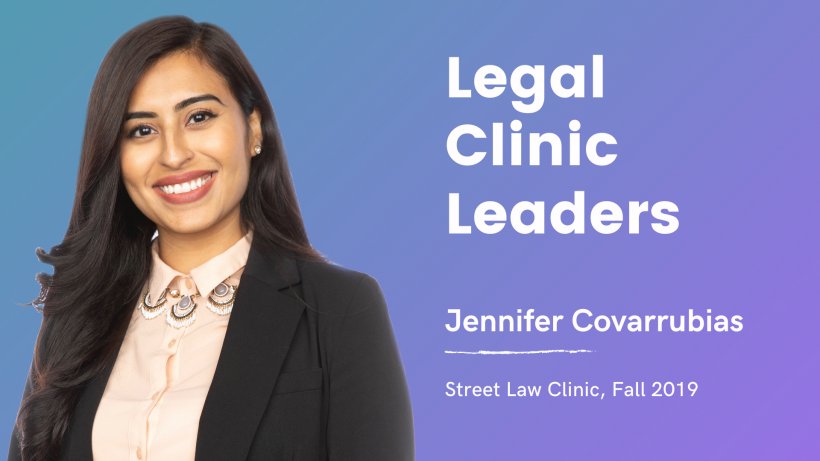 February 14, 2020
Introducing Our Legal Clinic Leaders Series
We are excited to introduce our bi-monthly feature of Legal Clinic Leaders. We're shining a spotlight on the students who work directly with and in the community. These students provide quality legal representation to under-served individuals and communities. They showcase the many different fields of law you can explore through the legal clinics and the wide range of opportunities available to students to gain practical lawyering skills.  We hope their experiences will inspire YOU to join a legal clinic. 
---
Meet 3L Jennifer Covarrubias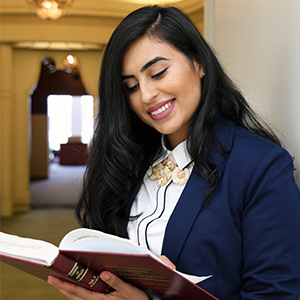 Street Law Clinic, Fall 2019
Why did you decide to participate in a clinic?
I wanted to work with a younger generation and be able to break down the law simply.
What stands out about your clinic experience?
I had the opportunity to work at two different schools and with different demographics of students. I learned about many of the limitations at both charter schools and youth rehabilitation programs.
What skills and knowledge did you learn from your clinic experience?
I learned to explain the law in simple terms and share practical life skills and legal resources to students.
What do you think helped take you from student to advocate?
Coming from a community of color and public school myself, I wanted other students to know of legal resources and understand the law and how it affects our daily lives.
What words of advice would you have for future clinic students?
Be ready to answer questions that you don't know the answer to. It is okay to research after your class.
Please provide an inspiring anecdote from your clinical work experience.
When my clinic partner and I presented our students with certificates for completing the street law clinic, our students surprised us with certificates of their own. They thanked us for "teaching them better ways to see the outside world."
---
Interested in learning more about the legal clinics? Join us at our info session on March 26th, 2020 in W311 or visit our website here.