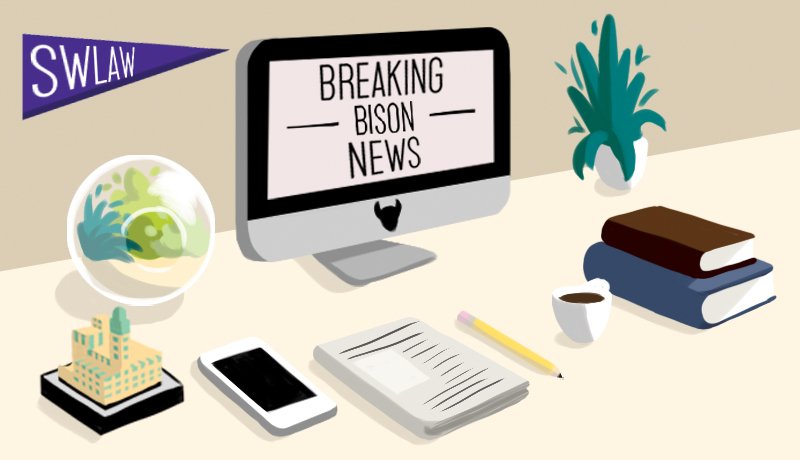 December 19, 2019
What not to do as an attorney; Prof. Epstein declares a win for the Fourth Amendment; and more!
Judge Wright Gives Civility Lesson to Profane Attorney 


Hon. Otis Wright Featured in Law.com
Judge Otis Wright II '80 demanded that a Los Angeles lawyer resign from the legal profession after his profanity-laced emails got national attention. "You just trashed your profession," U.S. District Judge told attorney Christopher Hook at a hearing on December 16th, 2019, before asking him to resign. At issue, were emails Hook wrote to his opposing counsel in an insurance dispute that you need to read to believe. 
Southwestern Student Advocates for Congress' Recognition of Armenian Genocide


Razmig Sarkissian quoted in the Los Angeles Times
Razmig Sarkissian, an Armenian American activist and student at Southwestern spoke with the Los Angeles Times about the importance of U.S. recognition of the Armenian genocide. "It's more than 'Yay, it passed' or 'No, it didn't.' It's important that countries around the world recognize injustice." 
California Cops Can't Search Vehicles for ID Without Warrant


Professor Michael M. Epstein quoted in Bloomberg Law
California police can't search inside a suspect's vehicle for identification if the driver refuses to produce a license and registration on demand, the state Supreme Court ruled Nov. 25 in a case of first impression.  Prof. Michael M. Epstein, director of the Amicus Project at Southwestern, calls this decision "a win." Read his thoughts about the case here.
Do Trump's Pardons Constitute a Betrayal to The Military?


Professor Rachel E. VanLandingham quoted in The Atlantic
Professor Rachel VanLandingham continues to be the go-to media expert in military justice, with virtually every major news outlet seeking her expertise on President Trump's recent military pardons. In a recent piece in The Atlantic, VanLandingham joins a chorus of former military officials who believe Trump's war-crimes pardons undermine "good order and discipline."
All-star Alum named Partner at O'Melveny 


Laurel Loomis Rimon '93 featured by The Bulletin
Congratulations to Laurel Loomis Rimon '93 for making partner at O'Melvany! Rimon, a former federal prosecutor and head of Litigation for the Department of Justice's Asset Forfeiture and Money Laundering Section, is a rising-star litigator who represents clients on a broad range of anti-money laundering and Fintech enforcement issues, as well as sensitive internal investigations and criminal and civil litigation. Read the announcement here.