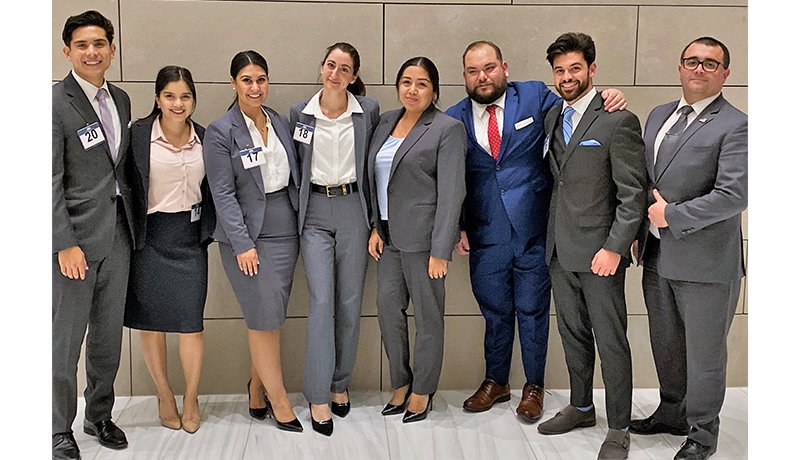 December 12, 2019
TAHP Team Makes Top Four at ABA Competition (Los Angeles, CA)
Congratulations to TAHP-ers Jonathon Perliss, Celeste Sanchez, Mary Fitilchyan, Grace Khanlian, Jasmine Chavez, Hossein Eshaghi, Adam Feldman, and Sean Halloran! They competed in the ABA Section of Labor and Employment Law's 16th Annual Law Student Trial Advocacy Competition on November 23rd to November 24th in Downtown Los Angeles. 
Southwestern sent two teams to compete this year. Out of the fourteen teams at the competition, Southwestern's team of Jonathon Perliss, Mary Fitilchyan, Grace Khanlian, and Adam Feldman made it to the semi-finals! 
"Finding out that we were one of only four teams to move straight from the preliminary rounds to the semi-finals was such a rewarding, exciting moment. The dedication, talent, and skill of my teammates and coaches made the competition preparation process a once-in-a-lifetime experience for me. I'm so lucky to not only have gotten to know my team members and work so closely with them but to also be directly coached by highly respected and skilled TAHP Alumni." 

- Mary Fitilchyan, 3L
The ABA Section of Labor and Employment Law founded the competition to introduce law students to the challenges and rewards of employment and labor litigation. This year's competition focused on an employment law issue with the Whistleblower Protection Provision of the Sarbanes Oxley Act. The problem was an SEC whistleblower case in which the plaintiff alleged that the defendant fired him after he reported inaccurate financial data within the company to his supervisors. 
3L Hossein Eshaghi reflected on both teams' hard work and dedication in preparing for the competition.
"The TAHP program strives to give us the experience we need to become future successful litigators, and these competitions play a pivotal role in furthering that mission. The several weeks leading up to the competition are very challenging and demanding as you, along with your teammates and coaches, attempt to put together the strongest case you can.  The entire process from the preparation stage to the culmination of all our hard work when we present at the competition is as close as we can get to a real-life trial. I'm thankful to be able to compete on behalf of our school as well as The TAHP program."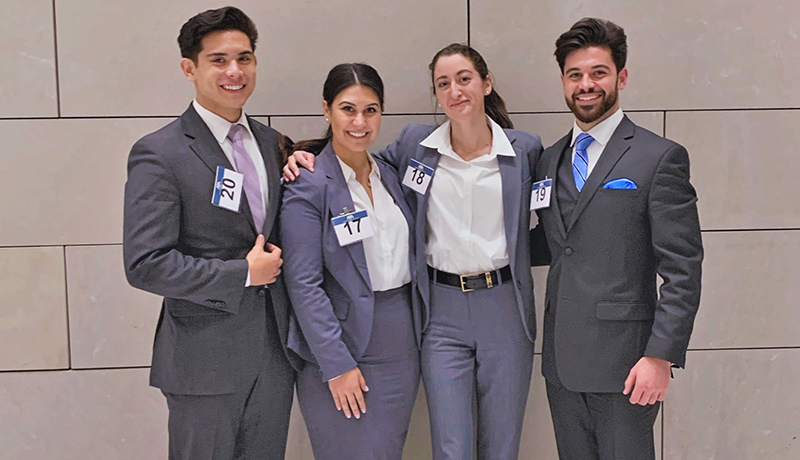 (L to R) The team comprised of Jonathon Perliss, Mary Fitilchyan, Grace Khanlian, and Adam Feldman were coached by BJ Abron, Parisa Saleki, Jennifer Turner, and Roger Wilkerson.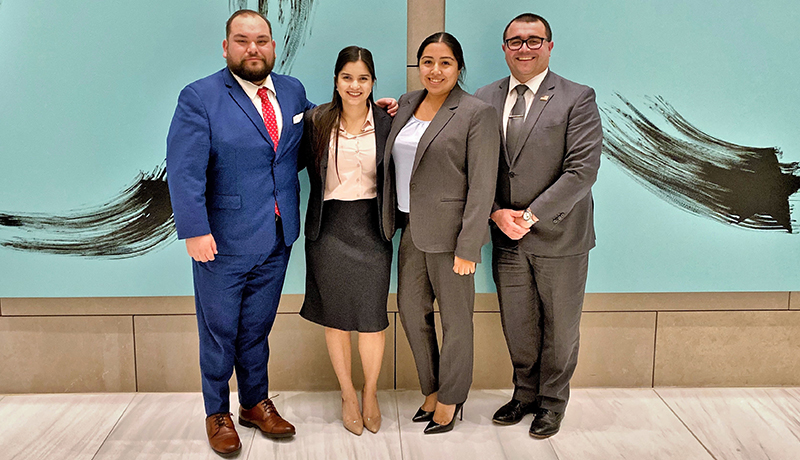 (L to R) The second Southwestern team of Hossein Eshaghi, Celeste Sanchez, Jasmine Chavez, and Sean Halloran were coached by Bahareh Aghajani, Elizabeth Cirelli, Ashley Rivkin, Vira Samouhi, and Brian Yasuzawa. 
Please join us in congratulating all the advocates and the coaches for their incredible work! We are so proud of our Trial Advocacy Honors Program teams and their accomplishments!