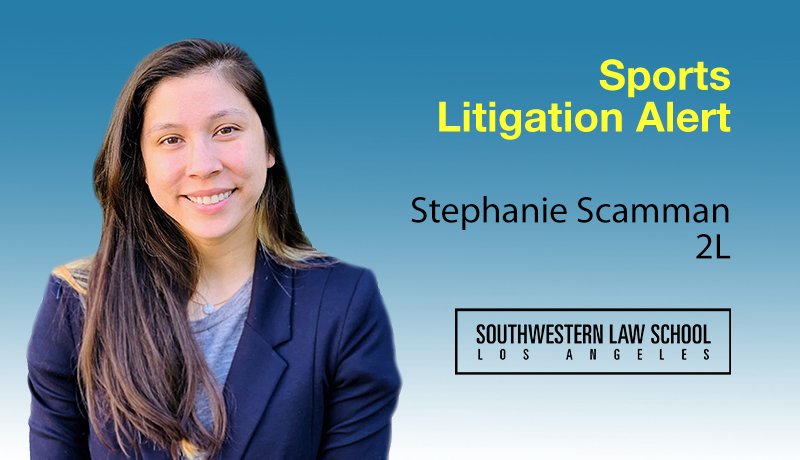 December 5, 2019
Stephanie Scamman Goes 2 for 2 in Her Sports Law Double Header
by Matthew Stein '21
Up and coming sports law aficionado, Stephanie Scamman, was able to pull off the remarkable feat of publishing TWO outstanding articles with Southwestern's sports law professor, Jeff Birren '85. Stephanie's articles are featured in Sports Litigation Alert and the Journal of NCAA Compliance.
Please enjoy a summary of both articles written by Stephanie:
"Court Tells Jets' PSL Holder to Sit Down,"  Sports Litigation Alert: 
The plaintiff purchased two personal seat licenses from the NFL team, the New York Jets. The licenses gave him exclusive rights to purchase two season tickets when the new stadium opened up. When the Jets later changed their policy to no longer requiring a personal seat license to purchase season tickets, the plaintiff sued the Jets for breach of contract. However, the plaintiff did not provide any evidence that the Jets denied him at any point his rights and obligation to buy the season tickets for his seats. The contract does not give the plaintiff the power to control how the Jets decide to sell its other season ticket seats. Thus, the court dismissed the case on the grounds that so long as the plaintiff's rights to these seats were unaffected, there is no breach.
Read the full article in Sports Litigation Alert, vol. 16, issue 18 (subscription required). 
---
"UNC-Greensboro Continues to Struggle With NCAA Rules,"  Journal of NCAA Compliance:
When it comes to sports gambling, the NCAA does not mess around. UNC-Greensboro has been put on probation for the next three years, after two of its athletic department employees admitted to sports betting, including wagering on the UNCG men's basketball team. Both staffers were fired and punished by the NCAA, given multi-year show-cause penalties. These penalties give the NCAA the ability to penalize any other collegiate institution that tries to hire them, effectively eliminating any chance of working in the collegiate world again. Further, UNCG's athletic department had at least six additional staffers who failed to disclose the misconduct.
Read the full article in the Journal of NCAA Compliance, September - October 2019 issue here.
---
Stephanie commented on how her experience working with Professor Birren helped her develop her writing skills. She says, "Writing with Professor Birren has been a great experience. I am grateful for the opportunity Professor Birren gave me to develop my writing skills in a new way!"
"Professor Birren has an incredible skill of taking heavy legal prose and turning it into an engaging story. Emulating this writing style made the writing experience very fun and interesting! "
Congrats Stephanie!!  Keep up the good work!