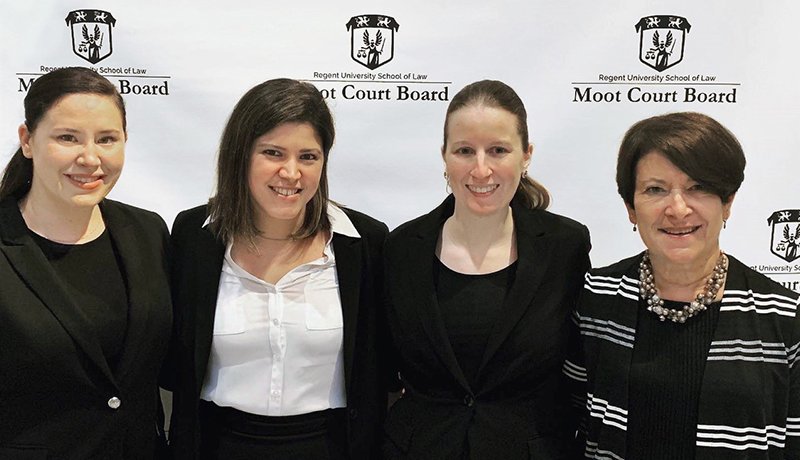 October 9, 2019
Star Mooters Impress Judges and Claim Semi-Finalist (Top 4) Status (Norfolk, VA)
Congratulations to Erica Jansson, Mariapaola Santacruz, and Lindsay Turoso, on competing in the Leroy R. Hassell, Sr. National Constitutional Law Moot Court Competition on October 4th and 5th, 2019.  The brief ranked third and the oralists went head to head against twenty-six schools nationally and made the semi-finals. Additionally, Erica Jansson came out victorious against fifty-two oralists in three preliminary rounds to bring home the Best Oral Advocate award. We are so incredibly proud of their achievements! 
"It is always an honor to represent my school on a national stage. Making it to the semi-finals and winning Best Oralist was an amazing accomplishment, but this kind of achievement only comes as a result of many different factors; incredible teammates that challenge and encourage one another, a thoughtful coach who knows exactly what to say to inspire our best performance, talented directors with firm and clear guidance, brilliant program members, and of course a supportive faculty, alumni, and student base, who are all willing to volunteer time out of their busy schedules to help us prepare."

- Erica Jansson, 3L Evening
This year's competition considered whether a paranoid schizophrenic knowingly and intelligently waived her Miranda rights; and whether abrogation of the insanity defense violates the Eighth and Fourteenth Amendments of the Constitution. The problem was extremely topical as the Supreme Court will be hearing real oral arguments on the Eighth and Fourteenth Amendment issue this week.
Their team coach, Professor Catherine Carpenter, had nothing but words of praise for them and their performance during the competition.
"Over two days of competition, Maria and Erica were fierce and fearless through six rounds – hopping from petitioner Linda Frost to respondent Commonwealth of East Virginia, sometimes with only a few moments of a break in the action. Lindsay, their writer, offered incredible support with her knowledge of the law and familiarity with the other teams' briefs...I am very proud of these warriors. GO MOOT."
Thank you to the entire Moot Court Honors Program and their faculty directors, Professor Alexandra D'Italia and Professor Catherine Carpenter, for helping this team prepare!
Latest from the SW LAW BLOG