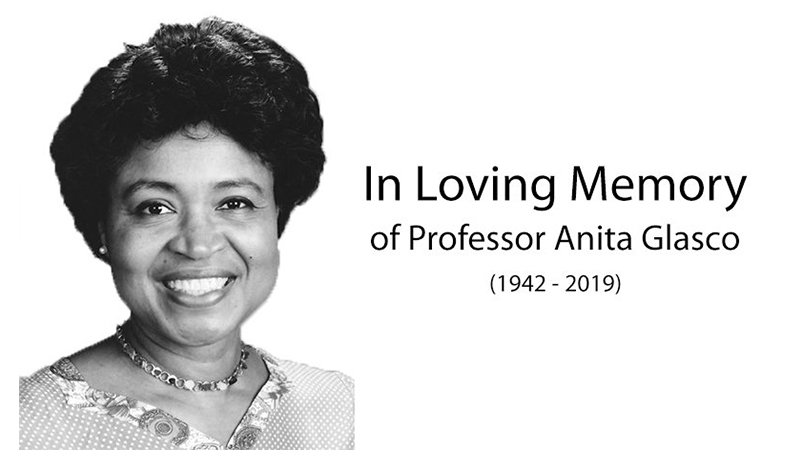 September 30, 2019
Remembering Professor Emerita Anita Glasco
It is with great sadness that we share with you the passing of Professor of Law Emerita Anita Glasco. Her memorial service was held on September 24th at the Harrison and Ross Mortuary in Los Angeles.  
Professor Glasco was a practitioner in the Los Angeles law firm of Smith & Glasco and served on the adjunct faculty at Southwestern before joining the full-time faculty in 1972. In 1997, Professor Glasco was named as the Irving D. and Florence Rosenberg Professor of Law and became Professor Emeritus in 1998.
Her professional affiliations included the executive committees of the Association of American Law Schools Section on International Legal Exchanges and the California State Bar's International Law Section, as well as the board of directors of the John M. Langston Bar Association. In 2004, she was inducted into the Langston Bar Association of Los Angeles Hall of Fame, and in 2010, she was honored as Outstanding Friend by the Southwestern Alumni Association.
The daughter of parents with over 80 years of combined teaching experience, Professor Glasco believed that one of the most important aspects of teaching is "communicating with the students and helping them discover and discuss the issues themselves by providing the framework."
---
Professor Glasco will be dearly missed. Our sincerest condolences to her family and friends during this difficult time.
Here are some tributes in her honor from her friends and colleagues at Southwestern.*
*edited for length and clarity
"Anita was a gentle and graceful force on the faculty. She was a strong advocate for the academic support program when it was proposed to the faculty in 1992, at a time when it was extremely rare at law schools. Hers was the voice that cut through the discussion to call for the vote. I'll certainly miss seeing her the occasional Southwestern event."

- Professor Paul Bateman
"It was sad to learn of Anita's passing.  Another important chapter in Southwestern's history quietly closing.  Before becoming her colleague, I was Anita's student in my second year of law school.  It was a time in Southwestern's history when Anita was only one of two women full-time faculty.  To the women law students at Southwestern, both professors served admirably as role models for us."
- Professor Catherine Carpenter
"I am sad to hear this news. Anita was a gentle and elegant person. She was a strong force at our institution and will be missed."

- Professor Norm Garland
"I take my hat off for Anita Glasco.  She was a kind and gentle soul, a passionate and dedicated teacher, and a wonderful role model for all of us, teacher and student alike." 
- Professor Warren Grimes
"She was a law professor—female and black—in the days when both were especially rare. She handled everything with dignity and grace. And yet when she retired—she went off on some of the more rugged adventure travels! She will be missed. May she rest in peace and power."

- Professor Isabelle Gunning
"I met Anita (and Paul Treusch) when I first interviewed to be an adjunct professor some years back. She was not only an intellectual and a respected teacher, but a woman of impeccable manners and charm. I also appreciated her sly wit. May she rest in peace."
- Professor Joerg Knipprath
"With heavy heart I learned of Anita's recent passing.    She was a wonderful, supportive colleague and a very effective teacher loved by many of her students.  

I very fondly remember Anita for her good humor, professionalism, curiosity about foreign legal cultures, and her many contributions to developing faculty and student gender equality in legal education.  With her passing, Southwestern also loses one of its early pioneers in providing racially diverse legal education." 

- Professor Robert E. Lutz
"Professor Anita Glasco was part of the core team of teachers when I arrived at Southwestern in July, 1978. She was poised, articulate, gracious and classy in her dealings with students and other members of the faculty.
It must always be remembered that Anita was a pioneer in diversity at Southwestern: an African-American female teaching a predominantly white student body. She must and will be remembered for her great contributions to this law school.
May she rest in peace."
- Professor Robert Pugsley
"It was so sad to learn of Anita's passing. I was a student at Southwestern as well and also had Anita as a professor. By the time I arrived, the women numbered about 30% of the class." 

- Dean Harriet Rolnick
"When I first began teaching at Southwestern in 1977, Anita was the first non-SCALE faculty member with whom I met. While she and I had our political and policy differences, she was always a polite, pleasant, and gracious person.  Perhaps it all had something to do with our U. of Chicago backgrounds."
- Professor Butler Shaffer
"She was a gentle and lovely fellow teacher.  I remember when I interviewed here, I could look out at the old parking lot from where I was sitting.  In came Anita, pulling her rolling bag.  She had such a beautiful expression on her face as she came to work.  I decided that Southwestern must be a good place to work if a professor looked like that on her way in! We were all ennobled by knowing Anita.  I will miss her so much!"

- Professor Judy Sloan
---
And we leave you here with these words from a eulogy written by Dean Susan Prager, and delivered by Professor Judy Sloan, at Professor Glasco's memorial: 
"Anita Glasco did so much, and with such gracefulness. My only regret is that Anita left law teaching 21 years ago. Her last class was held in the spring of 1998 -- it was  April 27th. That Monday, members of the Southwestern community entered Anita's classroom and presented her with what she described as 'an exquisite lei.'  
I find myself now thinking of Professor Anita Glasco,  holding an everlasting lei--treasured by colleagues and generations of her students."