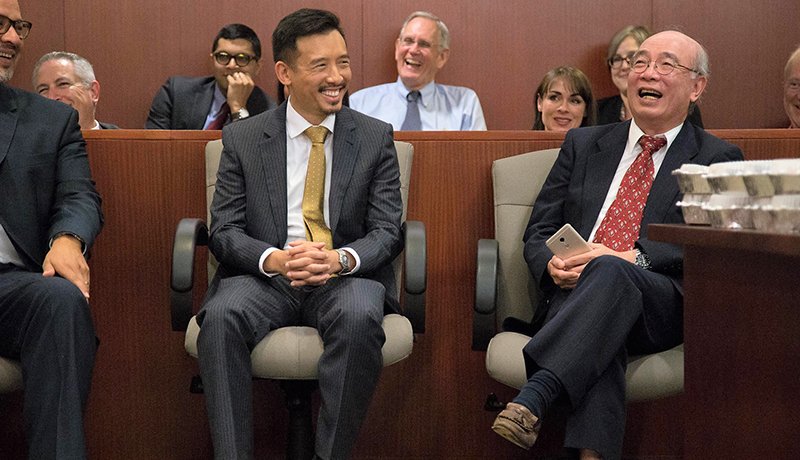 May 31, 2019
A Letter from Judge Chu '05
Wrapping up Asian American and Pacific Islander Heritage Month, we want to recognize the many Asian American alumni that blazed trails for future generations to follow. To celebrate, we asked a distinguished Asian American alum to share his legal journey and law school experience. 
Meet the Hon. Robert G. Chu '05. In Fall 2018, he was sworn in as a Los Angeles County Superior Court Judge. Prior to taking the bench, the Hon. Chu served as a deputy public defender and supervising deputy public defender at the Los Angeles County Public Defender's Office. He was also an associate at Masry and Vititoe in 2006.
In his words: 
I will never forget the date of June 27, 2018, when I got the telephone call informing me that I had just been appointed by Governor Brown to be a Superior Court Judge at the age of 38.
It seemed not so long ago when I was 18 years old, walking into court for the first time for getting into a fist fight at a local high school. I remember how it felt to make a mistake that I deeply regret and walking into a courtroom at one of the lowest points in my life, not knowing what to expect from the legal system.
I remember the judge in my case saying to me that it is people who overcome challenges and obstacles in their lives who can use those experiences to have a positive impact on others. Those few words gave me hope and made me passionate about the criminal justice system. It was my dream from that moment to become an attorney and then someday becoming a Superior Court Judge. I worked hard and dedicated my life to trying to have a positive impact on others around me. I graduated from UCLA and then attended Southwestern Law School. Attending Professor Carpenter's criminal law class reaffirmed my passion for the criminal justice system.
During law school, I was a member of the Interscholastic Trial Advocacy Honors Program and attended a competition where I was coached by a Southwestern alumni, Neetu Badhan-Smith, who is now also a Superior Court Judge. Judge Neetu Badhan-Smith helped me tremendously in preparing for the judicial appointment process.
As an Asian American, I was always taught that you can't demand respect from others. I was taught that in order to gain respect, you have to earn respect by giving it to others. Throughout my career, I have been respectful to everyone around me regardless of what their background, experience, or views were.
"Despite mistakes I made in the past, I am a perfect example that through hard work and determination, anything is possible."
It has been such an honor to be appointed to be a Superior Court Judge. I hope I can make the community proud by working hard to promote justice, making the safety of our communities a priority, being fair and treating everyone who comes into the courtroom with respect and dignity as many other Southwestern Alumni who have been appointed to judgeships have done before me. 
#GoBison