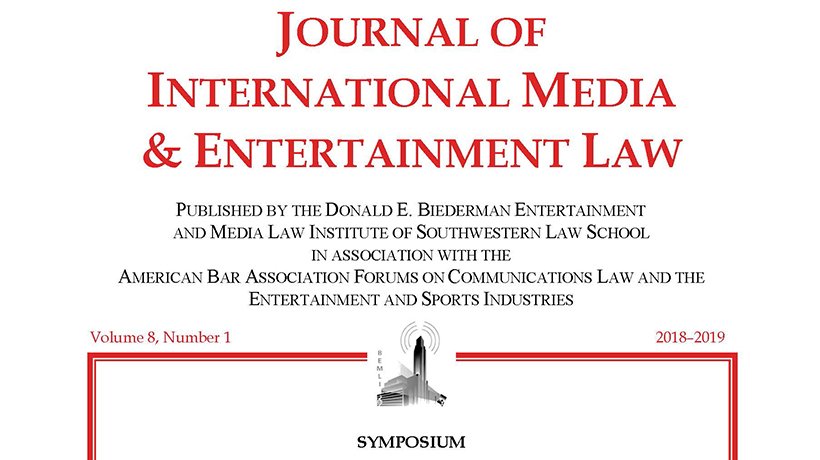 April 5, 2019
New Issue of JIMEL Volume 8, No. 1 Released
The Journal of International Media & Entertainment Law ("JIMEL") is pleased to announce the publication of Volume 8, Issue 1, the first of three issues devoted to fake news and "weaponized defamation."  
According to Southwestern Professor Michael Epstein, JIMEL's supervising editor, the notion of "fake news" has gained great currency in global popular culture in the wake of contentious, social media-fueled elections in the United States and Europe.  Although often associated with the rise of extremist voices in political discourse and, specifically, an agenda to "deconstruct" the power of government, institutional media, and the scientific establishment, fake news is "new wine in old bottles," a phenomenon that has long historical roots in government propaganda, jingoistic newspapers, and business-controlled public relations.  This broad conception of fake news not only acts to repress evidence-based inquiry of government, scientists, and the press; but it also diminishes the power of populations to seek informed consensus on policies such as climate change, healthcare, race and gender equality, religious tolerance, national security, drug abuse, poverty, homophobia, and government corruption, among others.
As described by Professor Epstein, "weaponized defamation" refers to the invocation, and increasing use, of defamation and privacy torts by people in power to threaten press investigations, despite laws protecting responsible or non-reckless reporting.   In the United States, for example, some politicians, including the current president, invoke defamation as both a sword and shield. Armed with litigation power that individuals—and most news organizations—cannot match, politicians and celebrities, wealthy or backed by the wealth of others, can threaten press watchdogs with resource-sapping litigation; at the same time, some leaders appear to leverage their "lawyered-up" legal teams to make knowingly false attacks—or recklessly repeat the false attacks of others—with impunity. 
Volume 8, Issue 1 contains four very timely articles by Dr. Andrei Richter, the current Representative on Freedom of the Media at the Organization of Security and Co-operation in Europe; Professor Anthony Fargo, a specialist in journalist rights who directs the Center for International Media Law and Policy Studies at Indiana University; trailblazing international media law professor Monroe Price and pro bono media law practitioner Adam Barry; and Jelena Surculija Milojevic,  a professor at the University of Belgrade.  
Find the latest issue of Southwestern's Journal of International Media and Entertainment Law posted on our website on the JIMEL page. A link to the full issue can be found here.
---
The Journal of International Media & Entertainment Law is published by the Donald E. Biederman Entertainment and Media Law Institute of Southwestern Law School, in association with the American Bar Association Forums on Communications Law and the Entertainment and Sports Industries.