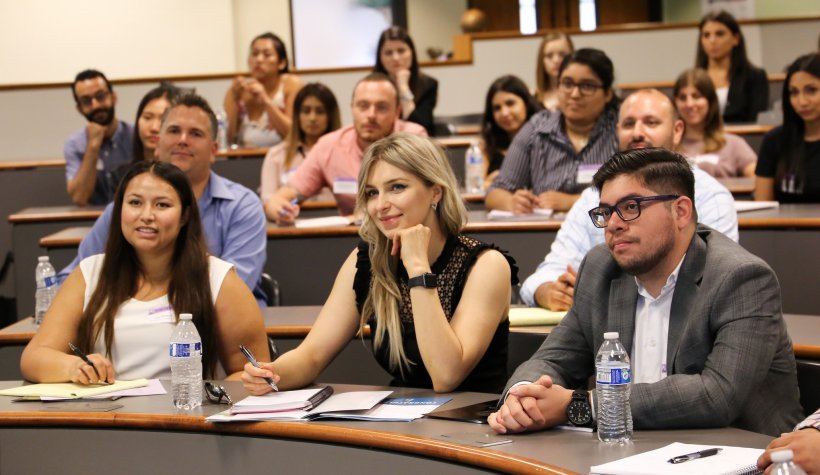 November 16, 2018
Future law students, join our Mock Admissions Committee Presentation & Panel!
Wednesday, December 5th, 2018
5:00 p.m. to 7:30 p.m.
Southwestern Law School Campus
3050 Wilshire Blvd., Los Angeles, CA 90010
In one night, learn what law school admissions committees discuss during a committee meeting, and get the insider's perspective on the law school experience.
What do law schools look for in an applicant? How are different components of an application assessed? What does "holistic review" mean anyway? We cover these questions and more at our Mock Admissions Committee Workshop presented by Lisa Gear, Assistant Dean for Admissions at Southwestern Law School. During the workshop, Dean Gear will examine how an admissions committee reviews and evaluates an applicant's letters of recommendation, personal statement, addenda, LSAT score(s), and GPA. If that is not enough, at this interactive workshop, you get to be on the committee!
Understanding how law school is unlike any other academic environment is a critical step toward a career in law. Therefore, preceding the Mock Admissions Committee Workshop, a panel composed of Southwestern Law School alums explore this topic- the law school experience – with a focus on achieving success inside the classroom and learning opportunities outside the classroom. Law School 360: A Complete View of the Law Student Experience is your chance to ask everything you wanted to know about law school and how it prepares students for the legal profession.
Event Schedule:
5:00 p.m. – Check-in at the historic Bullocks Wilshire Building. Includes a brief meet and mingle session with faculty and admissions staff.
5:30 p.m. – Law School 360: A Complete View of the Law Student Experience,  Panel
Law school is unlike any other academic environment. It demands the best of out of students every day and it offers unique opportunities for professional growth inside and outside the classroom. At this panel, Southwestern alums explore this dynamic, discuss the rigors and rewards of the law school experience, and share insights on achieving success in the classroom. Additionally, the panelists will discuss how honors programs, clinics, and student organizations build important lawyering and advocacy skills fundamental to legal practice.
6:15 p.m. – Mock Admissions Committee Workshop with Assistant Dean for Admissions, Lisa Gear.
This interactive mock admissions committee meeting will demonstrate the intricacies of how a law school application is reviewed. Southwestern's dean for admissions will provide an in-depth perspective on how to put together the best possible law school application. The presentation will highlight tips for writing your personal statement and provide advice on how to solicit strong and compelling letters of recommendation. 
*Parking is free and application fee waivers are available for all attendees.