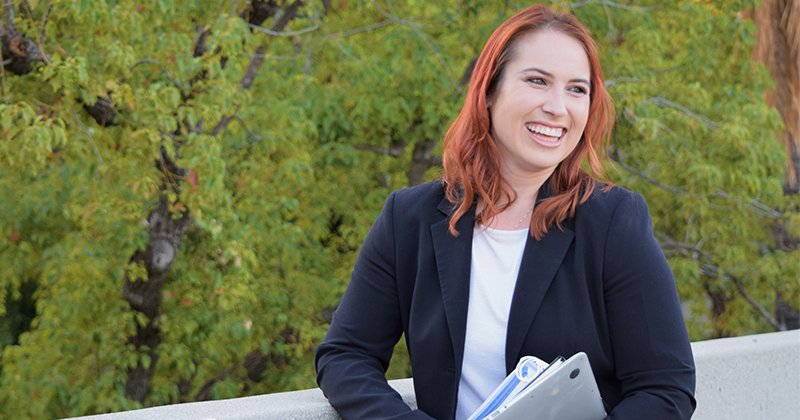 November 2, 2018
2L Kelsey Finn Wins Prestigious Judge Barry Russell Federal Practice Award
Congratulations to Kelsey Finn on receiving the Judge Barry Russell Federal Practice Award!  
The award is presented each year by the Los Angeles chapter of the Federal Bar Association to a student from each of the five Los Angeles-area ABA-approved law schools to honor their achievement in federal courts or practice courses. Ms. Finn was nominated this year by her Civil Procedure Professors, William Wood and Christopher David Ruiz Cameron.
As a 1L, Ms. Finn received CALI Excellence for the Future Awards in Legal Analysis, Writing, Contracts, and Civil Procedure; and a Witkin Award for Academic Excellence in Civil Procedure. She also earned the Intramural Trial Advocacy Best Brief Award.
Currently, Ms. Finn is externing, for the Honorable Dean Pregerson of the Central District Court of California, as well as serving as a Teaching & Research Assistant to Professors Kathryn Campbell, Christopher David Ruiz Cameron, and Danielle Hart. Additionally, Ms. Finn is a staff member of the Southwestern Law Review.  
She says, "It is an honor to be a recipient of the Judge Barry Russell Federal Practice Award, and be further recognized for my interest in federal law. Civil Procedure remains one of my favorite doctrinal classes thus far in law school."
 

"As a judicial extern, I am learning how effective forms of advocacy take shape from a Judge's perspective. As a future litigator, this experience is invaluable, and makes me cognizant of how to be a better advocate for my client. I am so grateful for this award and opportunity."

 

- Kelsey Finn, 2L
 Great job, Kelsey Finn! An award well-deserved!
Latest from the SW LAW BLOG