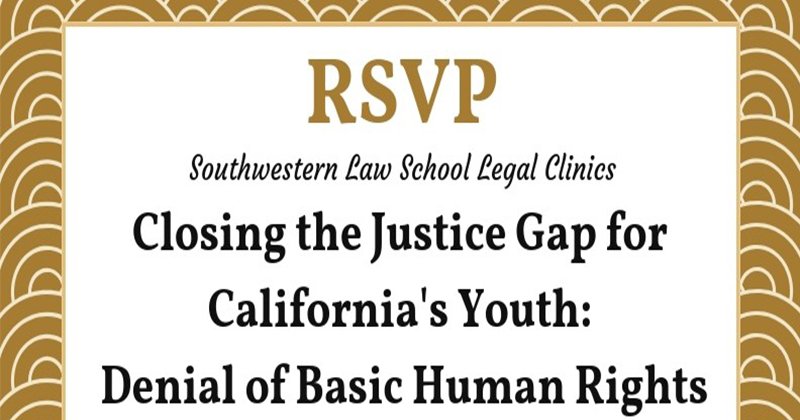 September 28, 2018
Southwestern's 3rd Annual Clinical Conference on October 18th, 2018
Closing the Justice Gap for California's Youth: Denial of Basic Human Rights
Join us for our third annual Clinical Conference!  This year's conference will take place on Thursday, October 18th at 2:00 P.M. in Bullocks Wilshire, 2nd Floor, Louis XVI room. 
Complimentary attendance and 2.5 CLE Credits. Guest parking will be available, but public transit is always encouraged. 
Schedule:
Welcome & Keynote Speaker  - 2:00 P.M.

Herb J. Wesson, Jr. - President of the Los Angeles City Council

Panel 1 - Access to Courts 2:30 P.M. - 3:30 P.M.

Liz Gonzalez - Bet Tzedek
Carlos Holguín - Center for Human Rights & Constitutional Law
Jed Minoff - Los Angeles County Probation Department
Carlos Torres - Los Angeles County DCFS

Break - 3:30 P.M. - 3:45 P.M.
Street Poets Inc. Performance - 3:45 P.M. - 4:00 P.M.
Panel 2 - Access to Services 4:00 P.M. - 4:45 P.M.

Meg Barclay - Office of the City Administrative Officer
Janae Hubbard - Los Angeles LGBT Center
Carol Sobel - Civil Rights Attorney

Closing and Awards 5:00 P.M.
Reception 5:30 P.M.
Seats are limited! RSVP to reserve your spot today. 
Click here to support our Legal Clinics!