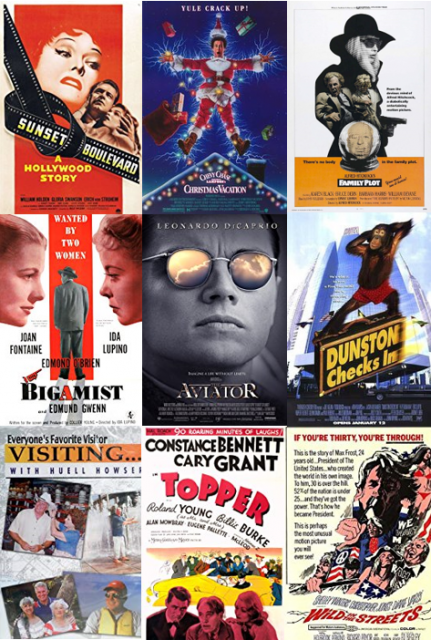 September 17, 2018
And the Oscar goes to: Bullocks Wilshire
By Matthew J. Downen '20
Entertainment Beat
The Hollywood Reporter has ranked Southwestern in the top ten of "America's Top Entertainment Law Schools" seven years in a row.
However, the true Hollywood celebrity on campus, is the infamous Bullocks Wilshire Building. 
The Bullocks Wilshire upon its creation in 1929, catered to the rich and famous of Los Angeles housing a luxurious specialty store. Given its extravagant design and aesthetics, it was only a matter of time before Bullocks Wilshire was cast on the big screen.
The Bullocks Wilshire made its debut in Norman McLeod's 1937 film "Topper." From there on, the Bullocks Wilshire was a hot commodity in Los Angeles and has been featured in productions as recent as 2011, boasting an impressive and consistent career in Hollywood.
Any "Family Vacation" fans on campus? You will be delighted to know the Bullocks Wilshire was the setting of Clark Griswald's cringe-worthy department store scene in "Christmas Vacation."  
Leonardo DiCaprio's captivating presence can still be felt as the building's lobby was used as an elegant entrance to a nightclub in Martin Scorsese's 2004 film "The Aviator."
And if you find yourself in the elevators humming the tune "Love in an Elevator," that's probably because Aerosmith's voice is still lingering in the air. Yes, the elevator that Aerosmith refers to happens to be that of the Bullocks Wilshire. The music video opens with Steven Tyler strolling gracefully through the lobby until he locks eyes with his lustful counterpart in the elevator. Don't worry, there was no actual "shagging in the elevator"…..as far as we know.  
Finally, any die-hard Conan O'Brien fan should have recognized that in 2009 the Bullocks entrance ceiling mural was apart of the opening night-sky background of the show. 
Today the Bullocks Wilshire has shifted its interest to providing a sound setting for students to cultivate their legal minds. However, a star can only stay away from the limelight so long, we have heard rumblings in the walls of a return to the big screen.
Can't get enough of the Bullocks Wilshire? Here is the complete list of appearances - stalk away:
Movies
"The Aviator" -  "Bugsy" -  "National Lampoon's Christmas Vacation" - "Dunston Checks In" - "Family Plot" - "Fist of the North Star" - "Night of the Comet" - "Nobody Lives Forever" - "On Deadly Ground" - "Rough Magic" - "Smell of Success" - "Sunset Boulevard" - "Tarzan's New York Adventure" - "Topper" - "The Bigamist" - "The Informant" - "Wild in the Streets" - "The Red Coat" Short - "Live from Baghdad" TV Movie - "White Mile" TV Movie - "Barbarians at the Gate" TV Movie - "Los Angeles: Wonder City of the West" Documentary - "Things That Aren't Here Anymore"
Television Series
"The Incredible Hulk" - "Murder She Wrote" 2 episodes - "The Agency" - "Judging Amy" - "Moonlighting" - "3 lbs." - "The Ties That Bind" Pilot - "Strong Medicine" -  "Dirty, Sexy Money" - "My So Called Life" - "Visiting…with Huell Howser" - "Bullocks Tea Room" Episode
Music Videos
Aerosmith "Love in an Elevator" - "You'll Be Back for More" Japanese Music Video
Commercials
Cover Girl with Queen Latifah - Fifth Third Bank Commercial - TJ Maxx Holiday Commercial - Rexona Commercial - Cap'n Crunch Commercial - Chase Commercial - JC Penney Commercial - Verizon Commercial - Sims Commercial -Taco Bell Commercial