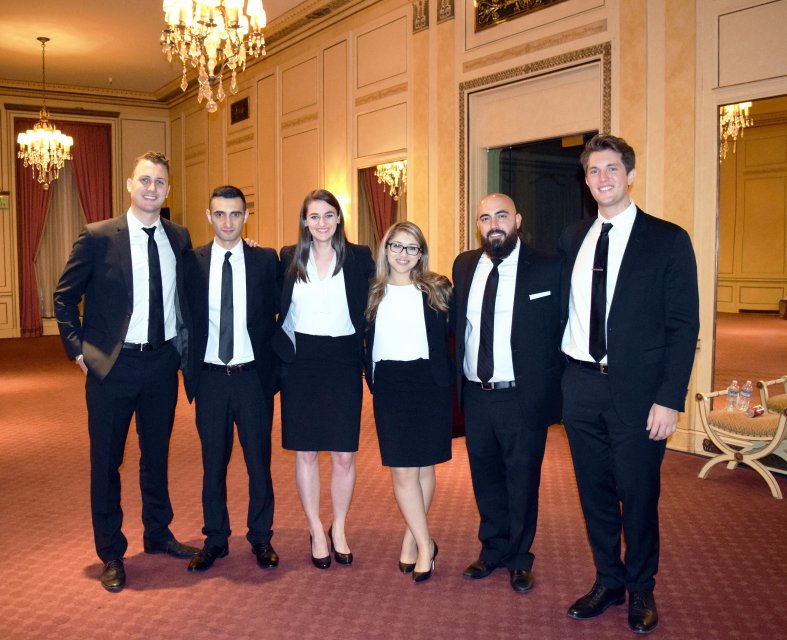 November 21, 2017
While You Were Watching the Big Game - Southwestern Negotiation Teams Swept the ABA Regionals
This past weekend, three Southwestern Law School teams entered the ABA Regional Negotiation competition in Los Angeles. Southwestern took the top three spots in the competition.    
First Place - Nolan Scarr and Dylan Sydneysmith
Second Place* - Rudolf Petrosyan and Jenny Volatni
Third Place* - Blanca Martinez and Asa Sasoonyasha
*These two Southwestern teams initially tied for second place. 
"This group of students worked tirelessly to ensure they represented their client, themselves, and Southwestern to the absolute best of their ability," said Amanda Figueroa, Southwestern alumnus, and coach of the three teams.
"They are tremendously intelligent and quick thinking, which made them unstoppable in competition. Their ability to think through each problem and truly understand each client's interests was pivotal in their success. It was a pleasure coaching students who were truly eager to learn."

Coach Amada Figueroa '16  

The teams participated in three negotiations over the course of the weekend, all involving national security. The first negotiation involved the creation of a sniffing device for a government drone. The second negotiation involved a breach of security in a circuit utilized by the government. The final negotiation involved implementing security systems for a popular concert venue.
"You never know what idiosyncratic issues are going to come up in a negotiation or what style the pair across the table is going to have in approaching the problem," Sydneysmith said. " I think that is why all the preparation and sparring the Southwestern team and coaches did over the past five weeks paid off so well.
"At the end of the day, any one of us finishing first would have been a great win for the whole team. So going 1, 2, 3 is really something special."

Dylan Sydneysmith (Regional Champion)
The three Southwestern teams defeated schools from across the nation, including Liberty University, Northwestern University, Emory University, and Pepperdine University.  Twenty-four total teams competed in the competition and four teams advanced to the final round, including  Southwestern's three.
"The ABA competition was a long and challenging weekend, but it was worth it when we got first place," Scarr said. "Dylan and I couldn't have been this successful without the support and help of the Southwestern Negotiation Team. The team stepped up and helped us practice for weeks. This is truly a win for us all and I'm honored to be able to represent Southwestern at the National Competition in February."
Needless to say, the entire Southwestern community is extremely proud of this incredible accomplishment. We believe it to be a first in the competition's history. We are excited about Nationals in February!!
#GOBISONS