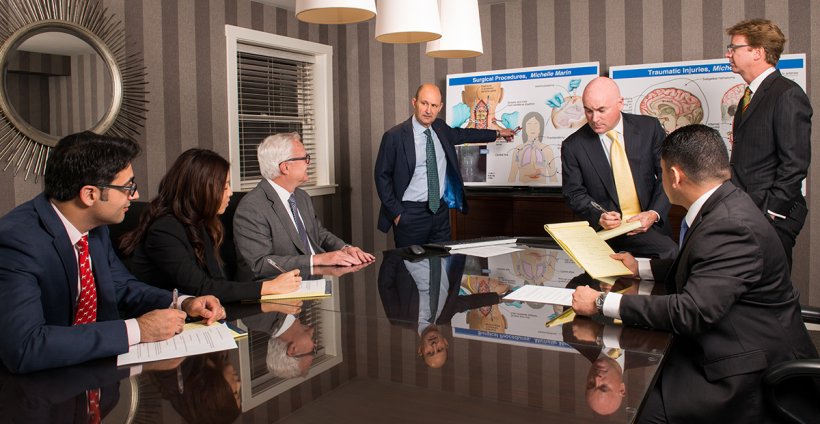 November 2, 2017
Southwestern's GAP Associate Program answers legal industry's call for practice-ready attorneys
As law firms continue to send new attorneys to practical skills training boot camps, Southwestern is doing the work for the small and medium-sized law firms that participate in the GAP Associate Program. 
The Career Services Office launched the Graduate Associate Program (GAP) in 2016 against the backdrop of a changing legal market. The program matches trained recent graduates with employers that do not typically hire first-year associates. GAP Associates commit to working for a year in full-time, paid positions at salaries similar to those of post-graduate legal fellowships. 
"As an employer, I specifically wanted to hire from the GAP Associate Program because it trained recent law school grads on the day-to-day aspects of being an attorney. I wanted to promote a program that helps new attorneys shorten his or her learning curve during the first years of practice."
-Thomas Ledbetter, Esq. - Ledbetter Law Firm 
The GAP Associate Program arose as the recruitment arm to the skills-building workshop which the Career Services Office has been offering to recent graduates for the past five years. The workshop picks up where traditional law school courses leave off by providing hands-on experience with topics including discovery and depositions, law and motion, the pre-trial process and client relations. Grads who have completed the workshop in previous years report a better understanding of how the rules of civil procedure work in practice and more confidence in their work product. 
The 2017 GAP workshop will be led by litigator Catherine L. Carlisle of Yukevich Cavanaugh. Ms. Carlisle received her J.D. from Northwestern University School of Law and has since worked at three major international law firms.  She has an extensive background in complex litigation and has represented high-profile clients in federal, state and international matters.  In recent years, she has also become known as an inspiring and effective instructor amongst the new attorneys who seek to learn the ropes of litigation and advocacy under her tutelage.  Ms. Carlisle has taught Pretrial Advocacy and The Art of Taking and Defending Effective Depositions at UC Irvine School of Law since 2014. 
Ms. Carlisle's highly interactive teaching style is exactly what Career Services Assistant Dean, Shar Poormosleh envisioned for the 2017 workshops, which will support the robust recruitment projected for the second year of the GAP Associate Program.  The 2016 GAP Associate employers, who have provided favorable feedback on associate performance with accompanying offers of permanent employment, have been telling their friends about Southwestern's innovative program.
"Based on our experience, Southwestern graduates have proven to be uniquely suited to our law firm's business model. They arrive ready to work hard with an entrepreneurial spirit. If they want to take the lead and be involved in 10 or 12 cases, we want to encourage that. We encourage young attorneys to promote themselves and their own name because we want them to develop the trial and client acquisition skills they need to start their own practice." - Ernest P. Algorri, DeWitt Algorri & Algorri
The GAP Associate Program is part of a series of Career Services Office initiatives recently launched to provide students and graduates with specialized skills-based learning opportunities.  In addition to connecting recent graduates to the legal community, The GAP Associate Program provides a special opportunity for small firms by allowing them to tap Southwestern's talent pipeline in a low-commitment way. 
Southwestern is more committed than ever to helping recent graduates find employment.  In 2016, the Career Services Office brought on an additional advisor specifically dedicated to helping graduating students find jobs. Catalina Saldana, a litigation attorney with a recent master's degree in Human Resource Development from Xavier University, is the GAP Associate Program director and will work alongside Ms. Carlisle. With expertise in adult education, Ms. Saldana has strengthened the GAP workshop by incorporating new curriculum focused on active learning.  To that end, Southwestern's Senior Reference Librarian David McFadden will teach a course on practice guides and will coach GAP participants as they learn to leverage these instrumental resources for a successful first year of practice.  Mr. McFadden has over 30 years of experience as a law librarian and was recently recognized as the 2017 Member of the Year by the California Library Association.
"I participated in the GAP Associate Program to give back and to help the school; the program helps prepare students to go into [the practice of law]."

"I had the expectation that the [GAP Associates] were going to work hard, and they did – so I hired them." 
- George Woolverton, Stockwell, Harris, Woolverton & Muehl
GAP classes for 2017 will take place over the first two weeks in December, with recruitment via the GAP Associate Program beginning immediately thereafter.  Employer registration for 2017 is now open.  For more information, click here or contact the Career Services Office at careerservices@swlaw.edu.