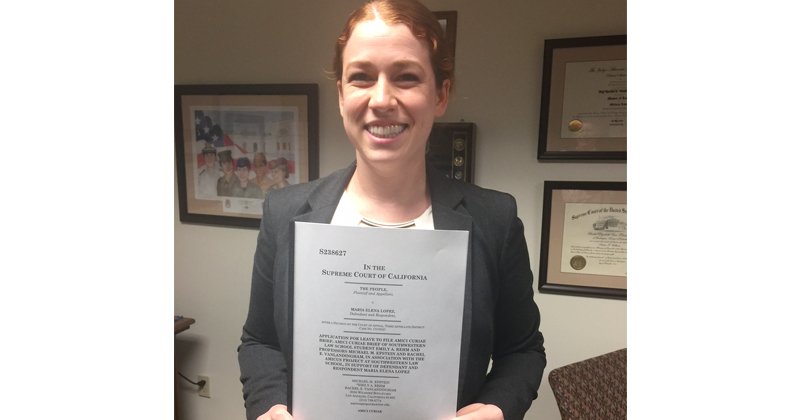 November 20, 2017
Southwestern Student Prepares Amicus Brief for California Supreme Court
On October 20, 2017, the Amicus Project of Southwestern Law School filed its first amicus brief in the Supreme Court of California, in State v. Maria Elena Lopez.   The brief was researched and written in Spring 2017 by Emily A. Rehm, when she was a graduating student in the Amicus Project Practicum. Rehm is now clerking for a judge in the Federal District Court for the Central District of California.
The case involved the warrantless search of a container within the automobile of Ms. Lopez. After Lopez admitted to not having a driver's license, a police officer conducted a search of her purse, still inside the vehicle, in an attempt to obtain alternative identification.  During this search, the officer found methamphetamine, which he had no probable cause to search for prior to its unexpected discovery.
Professor Michael Epstein, the Director of the Amicus Project, selected Rehm to craft an amicus brief under the supervision of Professor Rachel VanLandingham.  "I am very proud of what Emily Rehm has been able to achieve in this brief," Professor Epstein said.  "Her work speaks for itself—she provides the Court with an analysis of a search and seizure issue that is authoritative and nuanced.  If Emily can advocate at this level as a student, I can only wonder what great things await her as a practitioner."
"Participating in the Amicus Project was one of my long-time law school goals," Rehm said.   "I am grateful that Professor Epstein allowed me to choose a case and write in support of a legal issue that was of great interest to me." 
Substantively, the brief examines the justifications behind exceptions to the Fourth Amendment's search protections articulated by the Supreme Court of the United States.  It argues that the search in this case does not follow the rationale that would support an exception to the U.S. Constitution's protections against unreasonable search and seizure.  For the complete text of Rehm's brief, click here.
Rehm was also thrilled to work with Professor VanLandingham. "She has such an impressive background and is extremely knowledgeable in this field. She was an amazing mentor. I am so thankful to Southwestern for providing this opportunity to students."
For her part, Professor VanLandingham had praise for Rehm, too. "Emily took this case and ran with it, adroitly and clearly highlighting the issues the Court should consider when determining the appellant's Fourth Amendment rights. With this brief she proved her amazing appellate capabilities, and I doubt this will be her last time persuading our state Supreme Court to take a fresh look at an issue."
The Amicus Project at Southwestern Law School is a first-of-its-kind professional outreach program, enabling Southwestern law students to gain practical experience by preparing amicus - or "friend of the court" - briefs on a pro bono basis for cases in which one is needed. Case selection is based on a variety of considerations, including legal significance, social significance, inquiry by an interested party (including students), jurisdiction, service to the profession, as well as faculty interest and expertise.  Since the Amicus Project was founded in 2013, Southwestern students have prepared briefs for the Appellate Division of the California courts, the United States Court of Appeals for the Ninth Circuit, and the Supreme Court of the United States.