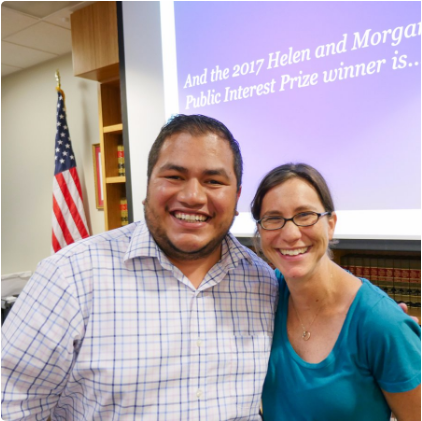 September 12, 2017
Southwestern's Yeison Soto-Valdez Receives Public Counsel Top Honor
Yeison Soto-Valdez set himself apart from 45 Public Counsel interns and received the Morgan Chu Public Interest Prize for his work as a summer extern.
Public Counsel Senior Staff Attorney, Talia Inlender, (pictured with Yeison above) had this to say about this model summer law clerk. 
"Yeison Soto Valdez was a model law clerk this summer. Yeison had the experience necessary to be a real asset to the Immigrant Rights Team and was not shy about asking for additional opportunities to expand his knowledge. Yeison was also up for any task, be it translating for a pro bono meeting at the Adelanto detention center (hours away), translating for a client at a merits hearing in Los Angeles, or conducting an intake for a potential U visa client. Working with individuals in immigration proceedings and people who have been victims of severe crimes is not easy, but Yeison put the clients at ease and was able to elicit needed information while being sensitive to their experiences.
Yeison's real-life experiences as an immigrant from Guatemala also informed his work and enabled him to understand his clients. Even though Yeison was taking summer courses in order to try and offset his loan costs during the school year, his commitment to the work kept him in the office for every hour that was necessary, a true feat!"
About the Award: Four years ago, in recognition of the critical importance of Public Counsel's summer intern program, Public Counsel Board Member Morgan Chu and his wife Helen did something truly extraordinary. Together they decided to endow a once-a-year scholarship prize, to be awarded to an exceptional Public Counsel summer clerk who has committed themselves to a public interest career. More specifically, this award, known as the Morgan and Helen Chu Public Interest Prize, is to be given to: a top student, who has worked hard, accomplished much, has not necessarily sought attention but is a superstar nonetheless. This year, the Prize amount was increased to $5,000.
Yeison is also a student "lawyer" in the new Community Lawyering Clinic on the California State, Northridge campus.  
Congratulations Yeison!!! You truly embody Southwestern's ethos with your passion and commitment to public service.
Click here to learn more about Southwestern's Public Interest Programs.
Latest from the SW LAW BLOG