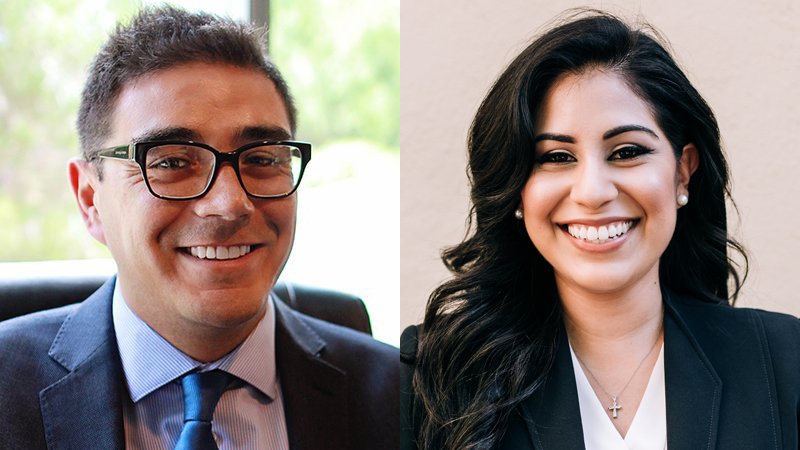 August 10, 2017
Southwestern Law's Public Service Graduate Program: December 2016 Grad Spotlight
Alejandro "Alex" Mares '16
As a Public Service Graduate Program (PSPG) award recipient, Alex Mares '16 served out his post-bar clerkship in the Riverside County Public Defender's Office misdemeanor unit receiving practical education and training in criminal defense law.  Mares had previously clerked with the Public Defender's Office domestic violence unit that built on his experience in Southwestern's Immigration Clinic assisting victims of domestic violence through family-based immigration practice. In describing his PSGP and post-bar experience at the Public Defender's Office, Mares said, "the word advocate is often thrown around in law school, but until you are on the record speaking for another, protecting their Constitutional rights, it's not real. It is a unique and special place to be when you help others understand the law and their rights. [It] takes on more gravitas and force as … an advocate places the interests of the client before all else." 
Mares learned firsthand that there are many misconceptions of what a Public Defender does. "I've learned how important it is to be sensitive and patient in order to extract all the information I could to help make better decisions." In one of Mares' DUI cases, the client had blown a 0.07 on an alcohol breathalyzer. Mares explained that from a student point of view, "this would have been a great case … however, the client was in the midst of a custody battle and the children had been in the car when the client was pulled over and [the client did not want to create issues that would have been raised in family court] …. it is firsthand experiences such as this that provide practical education on what being an advocate means. [Law students] need to understand that our actions matter and that they have an impact on someone else's life." 
Mares gives credit to his time with Southwestern Law's Immigration Clinic for the practical lawyering skills that he uses at the Public Defender's Office, such as English-Spanish legal translation, conducting client interviews and, most importantly, asking the tougher questions to get better results for his clients.  Mares also learned practical non-legal skills as an evening student juggling work life, school commitments, and unexpected personal circumstances.  Mares referenced the Japanese proverb "nana korobi ya oki" as being especially meaningful to him during his time at Southwestern.  "Being an evening student taught me that if I fall down seven times, then I get up eight times."  Midway through his legal program, Mares suffered an accident that resulted in serious cerebral injuries. In the two years of recovery following, Mares challenged himself physically and mentally to return to Southwestern to complete the program and credits the support he received, from not only friends and family, but also from the Southwestern community as critical to his successful recovery and triumphant success on passing the California Bar on his first attempt in February 2017.
Mares noted that the accident and the lessons learned continue to impact his work as a young lawyer when he shared that "the accident gave perspective on humanizing the cases I worked on…they are not cases on paper, but real people who we are representing. The reason we are all here, at law school, is to be of service to others and to be an advocate for others. If not for the PSGP award, I would not have been able to return to the Public Defender's Office where they are in need of the most help, but unable to pay law clerks. Yet, these opportunities offer so much more than money.  The PSGP award allowed me to deepen my legal knowledge and expand my view of what it means to be an advocate."
Genovpetry "Geno" Calderon, '16
Another Public Service Graduate Program (PSPG) award recipient, Geno Calderon '16, served out her post-bar clerkship at the Immigration Center for Women and Children (ICWC) in Downtown Los Angeles.  ICWC is a legal aid organization providing immigration legal services to underrepresented immigrants in California, specifically women, and children victims of domestic violence, sexual assault, and violent crimes.
Calderon attributes her success at ICWC to the training received through Southwestern Law's Immigration Clinic and the supervision provided by Professors Andrea Ramos and Julia Vazquez in developing practical lawyering skills that would be so valuable to the legal staff at ICWC during her post-bar clerkship. "[Southwestern's Immigration] Clinic was immensely beneficial to be able to hit the ground running at ICWC.  [At the Clinic], I worked on Special Immigrant Juvenile Status (SIJS) cases and prepared guardianship cases for child victims of abuse, abandonment, or neglect.  I also assisted victims of domestic violence through U-Visa cases." Calderon supplemented her clinic work with a law clerk position at Fragomen, Del Rey, Bernsen & Loewy, LLP supporting attorneys in immigrant deportation defense. "At Fragomen, I wrote appeal memoranda which enhanced my legal writing skills that were of value to my position at ICWC."
When asked if there is a particular client or case that motivates her continued work and commitment to immigration issues, Calderon credits the supervising attorneys that she works closely with as providing continued inspiration for her work. "There has been one constant factor that all of the attorneys I work with share, and that is the passion for the work they do. Each and every one of them has a deep motivation for the legal aid they render to some of the most vulnerable people in our community, and I hope to keep that passion and inspiration alive as I transition into my legal career."
"I would also like to thank Southwestern's Clinical Faculty, Public Service Program and Career Services for their efforts in working with me and for supporting me as a PSGP award recipient at ICWC. The experience gained has added to my legal knowledge and has connected me to even more attorneys that share the same passion I have for immigration work. Their collective support has led me to my first job out of law school as I will be joining ICWC in August 2017 as a full-time staff attorney. I am so appreciative of the support that the Southwestern community continues to give me and to others."
Southwestern's Public Service Graduate Program ("PSGP") provides an opportunity for Southwestern graduates interested in careers in the public interest or public service sector to work at organizations that would not otherwise be able to hire them. The PSGP was created to help recent graduates gain valuable experience, which is critical to employment in the public sector, while also responding to the legal need in underserved communities. December or May graduates interested in working with a nonprofit organization providing free or low-cost legal assistance to low-income or marginalized individuals or underserved communities who seek to work with a local, state or federal government agency are encouraged to apply for funding. A total of $50,000 in funding was awarded to twenty 2016 graduates in connection with work for a wide range of agencies, such as Bet Tzedek Legal Services, Public Counsel, Children's Law Center, Ventura County Public Defender's Office, Los Angeles Public Defender's Office, Eviction Defense Network, Immigration Center for Women & Children, and Kids in Need of Defense. Review of PSGP applications, interviews, and placement with the various organizations are managed by the Career Services Office and the Director of Public Service Programs.
Latest from the SW LAW BLOG