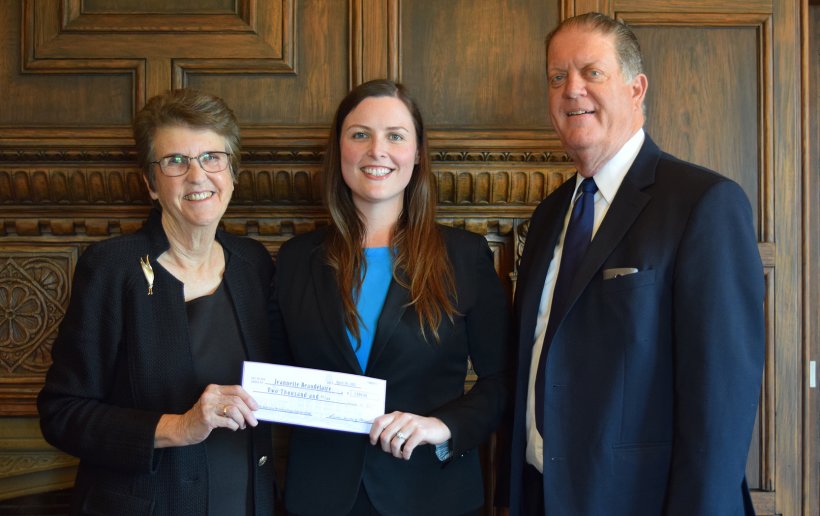 August 4, 2017
$50K Donation Funds Southwestern Law School's Public Interest Summer Grant Program
Morris S. Smith Foundation creates an endowment in legal trailblazer Susan Westerberg Prager's name.
Southwestern Law School announced the establishment of the Dean Susan Westerberg Prager Endowment Fund to Benefit the Southwestern Law School Summer Public Interest Law Grant Program which is supported through fundraising efforts of the Public Interest Law Committee (PILC). Sterling Franklin, trustee of Morris S. Smith Foundation and a friend of Dean Prager, established the Fund with a $50,000 gift.  The endowment will generate an annual $2,000 Prager Summer Grant to support one student doing public interest law work.  The Fund's 2017 awardee is Ms. Jeannette Beaudelaire '18.
Susan Westerberg Prager is Southwestern Law School's 11th, and first female, Dean.  Considered a legal education trailblazer, she joined Southwestern in November of 2013.  Throughout her life and career, Dean Prager has tirelessly advocated for intellectual, gender, cultural and racial diversity.  This endowment is very personal to Dean Prager because it emphasizes the importance of practicing law in a way that makes a difference in the lives of the at-risk and the underserved:  "From its inception in 1911, public interest has been a central component of Southwestern's mission.  The Summer Public Interest Law Grant Program provides qualified students demonstrating a commitment to public interest law with a unique opportunity to make a difference in the community and to cultivate invaluable lawyering skills."
Ms. Jeannette Beaudelaire is working on the Industrial Stormwater Campaign for the Los Angeles Waterkeeper.  The Campaign seeks enforcement of National Pollutant Discharge Elimination System permits against violating industrial facilities.  It enforces compliance through consent decrees enforcing the California Environmental Quality Act and environmental laws related to storm water run-off.  Also, Beaudelaire is assisting the development of educational efforts to protect coastal waters.  "It is an honor to be the first recipient of the Prager Summer Grant," she said.  "I am thankful for this support in achieving my goal to work in public interest and to help society." Further, she is planning to remain connected with the organization to create volunteer opportunities for fellow students in Southwestern's Environmental Law Society during the fall semester. Because of this summer work, she has confirmed her desire to practice environmental justice.
About Sterling Franklin.  Sterling Franklin earned his B.A. in Political Science at Stanford in 1968; taught high school in Inglewood, CA from 1970 to 1972; earned his Master of Science in Secondary Education degree (MSEd.) in 1970 from USC; received his JD from Loyola Law School in 1975; and earned his Master's of Public Administration degree from USC in 1976.  He was a personal friend of Morris S. Smith (1910-1993), who graduated with his LL.B. degree from Southwestern Law School in 1933.  He has been a Trustee of the Morris S. Smith Foundation since the Foundation was established by Morris S. Smith in 1993.
About PILC.  Southwestern Law School's Public Interest Law Committee is a student-run and faculty advised organization that helps to raise funding through its annual auction and other events to provide Summer Grants for approximately  40 students who work as summer law clerks for public interest nonprofit organizations and public service placements.  The students are not paid by the non-profit groups but are paid through fundraising efforts and by funds generated by several endowment funds similar to the Prager Fund.  Students serve as hands-on legal staff for non-profit organizations such as the Alliance for Children's Rights, Bet Tzedek Legal Services, Children's Law Center, Coalition to Abolish Slavery and Trafficking, Inner City Law Center, Legal Aid Foundation of Los Angeles, Neighborhood Legal Services, and Public Counsel.
Those with questions about how to participate in, or start an endowment are encouraged to contact DLeathers@SWLaw.edu.