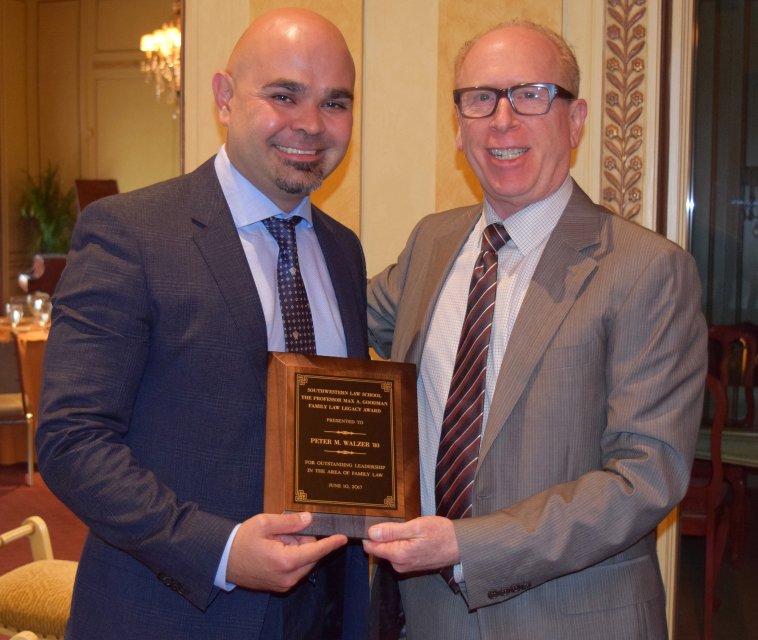 June 22, 2017
3rd Annual Family Law MCLE Event & Award Ceremony
On June 10, the Southwestern Alumni Association presented the third annual Signing on the Dotted Line: A Family Law MCLE Event & Award Ceremony. Chaired by Patrick Baghdaserians '07, the program featured prominent panels of experts from the bench and bar discussing best strategies in family law for business valuation, discovery and witness preparation. During the lunchtime presentation, Peter M. Walzer, a distinguished family law specialist, received the 2017 Max Goodman Family Law Legacy Award. Additionally, Class of 2017 graduates Cynthia Ponce and Marianna Akopian received the Family Law Bridge Scholarship sponsored by Neal R. Hersh '76 and Steven A. Kolodny.
The Max Goodman Family Law Legacy Award was created to recognize an exceptional attorney or judicial officer who has made outstanding contributions in the area of family law. The award honors the memory of longtime family law expert and Southwestern Professor Max Goodman, who taught at Southwestern for over 40 years. He passed away in 2009 but not without leaving a legacy of brilliant teaching and mentoring which produced multiple generations of great family lawyers.
A founding partner at Walzer Melcher LLP, Mr. Walzer has been a Certified Family Law Specialist for 23 years. He was named one of the top 100 lawyers in Southern California by Super Lawyers in 2015. Mr. Walzer is a former chair of the executive committee of the State Bar Family Law Section, and a former president of the Association of Certified Family Law Specialist. He is currently a vice president of the SoCal chapter of the American Academy of Matrimonial Lawyers (as well as a past president of AAML) and the chair of the Los Angeles County Bar Association Family Law Section.
Ms. Ponce and Ms. Akopian, the recipients of the Family Law Bridge Scholarships were selected based on demonstrated academic excellence in Family Law or Community Property courses, strong interest in pursuing a career in Family Law, and financial need. Ms. Ponce's commitment to the field of family law was cemented after taking, and receiving an A in, Southwestern's Family Law Procedure and Practice course taught by The Hon. Amy Pellman. She volunteered for the L.A. County Bar Association's Domestic Violence Clinic; helping victims of domestic violence obtain restraining orders against their abuser. Ms. Ponce's goal is to specialize in international child abduction cases governed by the Hague Convention. Ms. Akopian entered law school knowing that she wanted to pursue a career in family law. On a family courtroom visit with her 1L LAWS Class, she met Judge Harvey Silberman. She was so impressed with him, she dedicated her efforts to securing an externship with him – which she achieved in the fall of 2015. She continued volunteering in his courtroom through the spring and summer, all while pregnant with her daughter, Julia. Judge Silberman proved to be a strong mentor, and presented Ms. Akopian with the opportunity to become a published writer for the Association of Family Law and Conciliation Courts newsletter.
Mr. Hersh was last year's recipient of the Max Goodman Family Law Legacy award. He is a founding partner at Hersh Mannis, LLP, and a certified Specialist in Family Law by the State Bar of California Board of Legal Specialization. Mr. Hersh has over 36 years of experience in the area of Family Law. He was named a Southern California Super Lawyer each year since 2003. Mr. Hersh is a member of the American Academy of Matrimonial Lawyers (AAML) and the International Academy of Matrimonial Lawyers. Mr. Kolodny is one of the most prominent Family Law practitioners in California. He has been handling complex, high-conflict, and high-asset cases for 50 years. Mr. Kolodny was named the 2015 American Academy of Matrimonial Lawyers Southern California Chapter's Family Law Person of the Year and was the recipient of the 2009 LACBA Family Law Section's Spencer Brandeis Award for Outstanding Contribution to the Practice of Family Law.
A photo album from the event is available on Southwestern's Flickr page.
Latest from the SW LAW BLOG