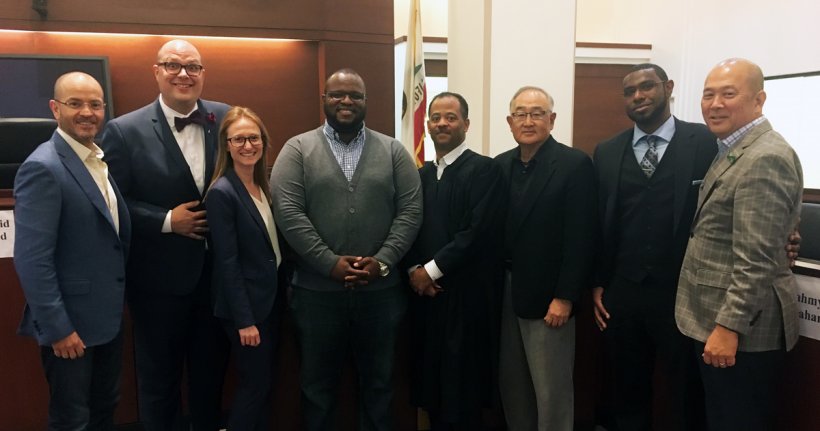 May 11, 2017
Southwestern Hosts the First Annual JEBS Competition
In April, Southwestern hosted the first annual JEBS Competition, an intramural trial competition formally known as the John G. Bonelli Competition. Recently, the Junior Advocates of the Trial Advocacy Honors Program completed their final assignment by putting on two full trials on Wednesday and Saturday mornings.
Partners Ashley Rivkin and D.J. Tiejerina, both 2L full-time students, advanced to the Final Round against TAHP student Roger Wilkerson representing the Plaintiff by himself. After an intense and closely scored round, Rivkin and Tiejerina took home the trophy winning the first Annual JEBS Competition. Roger Wilkerson received Best Advocate, winning the title by a margin of 40 points above the runner-up.
Rivkin praised TAHP's sense of community, even in the heat of competition. "When people say that TAHP is one big family, every word of that is true. This includes the Professors. They are the backbone of this program and I am so thankful for all of the time, hard work, effort, and knowledge that they have given to us." She also spoke highly of her partnership with Tiejerina. In the course of preparing for the competition they supported and challenged one another to deliver their best possible work. "In terms of JEBS, I can confidently say that I could not have done any of this without DJ. We worked hard, learned from each other, and had an absolute blast, even though we didn't know what time or day it was half the time."
The case involved a defamation suit between two partners of a major plaintiff litigation law firm. A younger partner of the firm filed suit after he, along with the other firm members, received a mass email claiming the younger partner had been engaged in an adulterous relationship with another partner's wife of the firm.
The competition was re-named JEBS in recognition of the dedicated and tremendously hardworking TAHP directors Jospeh Esposito and Bill Seki, both who look forward to continuing the success of the program and competition.