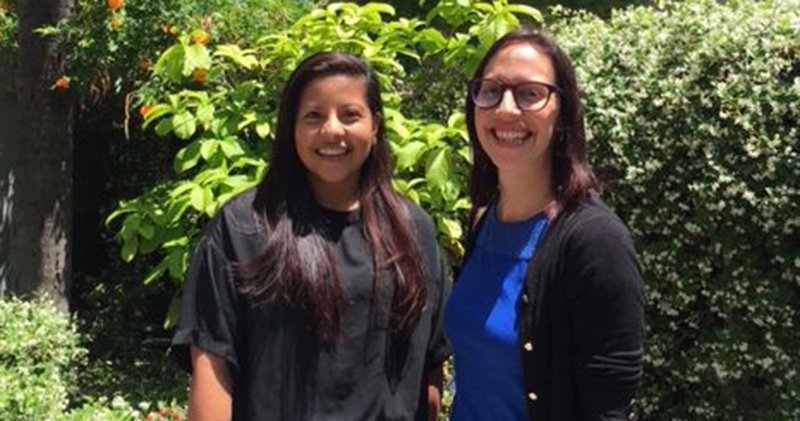 May 31, 2017
Southwestern Establishes a Public Interest Postgraduate Fellowship Program
Southwestern has established a Public Interest Postgraduate Fellowship program. It will offer recent graduates committed to pursuing a public interest law career exposure to direct legal services under the mentorship and supervision of staff attorneys at designated non-profit, public interest firms and legal aid agencies serving underrepresented, low-income client populations in the Los Angeles community.
The first two fellowship recipients, Natasha Roland '16 and Damaris Santamaria '16, are continuing to uphold the legacy of Southwestern's dedication to public service through their continued work in providing legal access to underserved communities as yearlong postgraduate fellows hosted by Inner City Law Center and the Los Angeles Center for Law and Justice.
Roland, hosted by Inner City Law Center (ICLC), provides direct legal services and affirmative litigation representation to client populations in Downtown Los Angeles's Skid Row. As an ICLC staff attorney and Southwestern fellow, Roland furthers ICLC's mission in being the sole legal service provider to Skid Row's working poor, disabled, people living with HIV/AIDS and veterans while combatting slum housing and developing strategies for homelessness prevention.
As part of ICLC's ongoing efforts in providing access to legal services through strategic community outreach, Roland partners with animal organizations, such as, Downtown Dog Rescue and Home Dog Los Angeles in identifying low-income clients facing eviction action or other legal barriers in finding or keeping housing due to relying on and/or living with service/support animals—an issue common to low-income veterans and disabled tenants.
In addition to establishing on-site client intake at county animal shelters staffed by volunteers from both agencies, every Wednesday, ICLC hosts a free clinic to distribute needed supplies, such as food, leashes, vaccinations, and spay and neuter services. Roland states, "Most people won't reach out for help if it's for themselves, but if it's for their dogs? Their pet? That's family, and they will show up to the office without fail for them. This way, we are able to spread the word about our services to a population that is usually very difficult to reach."
Across town in the East Los Angeles headquarters of the Los Angeles Center for Law and Justice (LACLJ) is LACLJ staff attorney and Southwestern fellow, Damaris Santamaria. Santamaria, through family-based immigration practice, represents low-income parents, youth, immigrants, and survivors of human trafficking, sexual assault, and domestic violence.
On describing her role and scope of service with LACLJ, Santamaria said, "[LACLJ] is comprised of both lawyers and social workers and we provide a very holistic approach in terms of client relief. For example, when taking a declaration, many of our clients have a hard time describing a traumatic event. When this happens, we will refer them to a social worker who can give them safety training, talk to them about their issues and counsel them in a way lawyers are not trained to do. Our clients leave with their legal issues resolved, and also with some therapeutic relief." In addition to representing family and immigration matters, Santamaria also engages in community outreach, education and advocacy.
While at Southwestern, both Roland and Santamaria were highly involved in public service programming. Roland credits her time with Southwestern's Homelessness Prevention Law Project and clerkships with Public Counsel and the Department of Fair Employment and Housing with gaining valuable insight in seeing firsthand how the laws she studied in class are used to advocate for her clients. "I realized that any field of law can be public interest law. I didn't think of myself as a lawyer yet, because I didn't go to law school to be a lawyer. I went to law school to gain another tool with which to help others."
Similarly, Santamaria credits her time with the American Civil Liberties Union, the Small Claims Clinic and the Homelessness Prevention Law Project as key in developing the lawyering skills she continues to rely on at LACLJ. "Client interaction is huge in our office. We have to truly understand our clients in order to meet their needs [and] find the best form of relief possible," she said. "The Small Claims Clinic and the Homelessness Prevention Program really helped me with [client interaction and interviewing] clients with sensitive issues."
Santamaria also shares, "I am thankful that Southwestern put their trust in me to represent them as a school and as an example of what a recent grad is capable of. I am also grateful they were able to place me in an agency that combines so many of my legal interests and experiences, while at the same time challenging me with legal issues I have never encountered before. It is a wonderful setting in which to gain experience as a new attorney. I am also grateful to everyone at Southwestern who [saw an opportunity] to create this fellowship and for their faith in me to help the public."