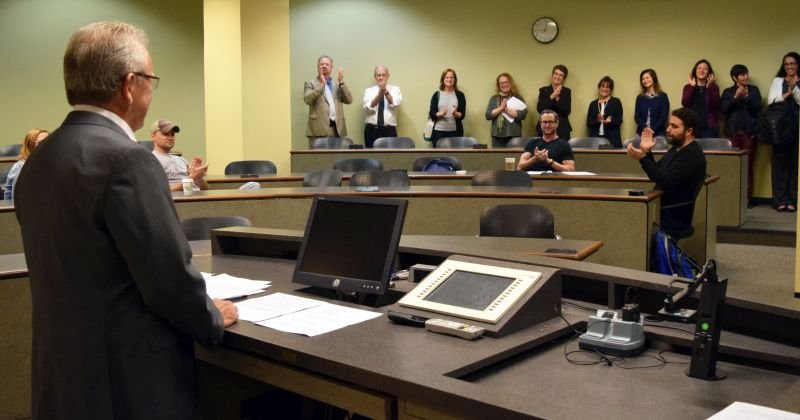 May 8, 2017
Professor Michael Frost Retires
After nearly 40 years as a member of the Southwestern faculty, Professor Michael Frost has retired and taken emeritus-in-residence status. Administrators, fellow faculty, and students gave him a round of applause at the beginning of his last class.
During his tenure at Southwestern, Professor Frost taught Law and Rhetoric, Legal Analysis and Writing Skills (LAWS I & II) and Appellate Advocacy. He is the author of books and numerous articles on modern judicial rhetoric. Most recently, the Legal Writing Institute selected his Introduction to Classical Legal Rhetoric: A Lost Heritage, for inclusion in its Monograph Series devoted to foundational essays on legal rhetoric.
"I cannot imagine a better professional or more energizing experience than the one I've had at Southwestern while teaching all my bright, creative and resourceful students," Professor Frost said. "And I will be forever indebted to my faculty colleagues for making my time at Southwestern a welcoming, interesting and ongoing learning experience. I will miss them all."
Professor Frost joined the Southwestern faculty in 1979 after teaching at the State University of New York for several years. As a teacher of legal writing, legal rhetoric, and as a long time advisor to the Southwestern Law Review, Professor Frost emphasized the close relationship between legal writing and legal analysis. In 2006, he was named Southwestern's Irwin R. Buchalter Professor.
Professor Frost also served as a legal writing consultant to the National Judicial College, where he taught judicial opinion writing for nearly 20 years. During that period he also taught opinion writing to judges in Arkansas, California, Idaho, Massachusetts, Oregon, Nevada, Washington, West Virginia and elsewhere. He has been a featured speaker at the Legal Writing Institute, the annual Conference of the Modern Language Association and the Conference on College Composition and Communication. He earned his B.A. in English from the University of California, Davis; his M.A. in English from California State University, Sacramento; and his Ph.D. in English from State University of New York at Binghamton.