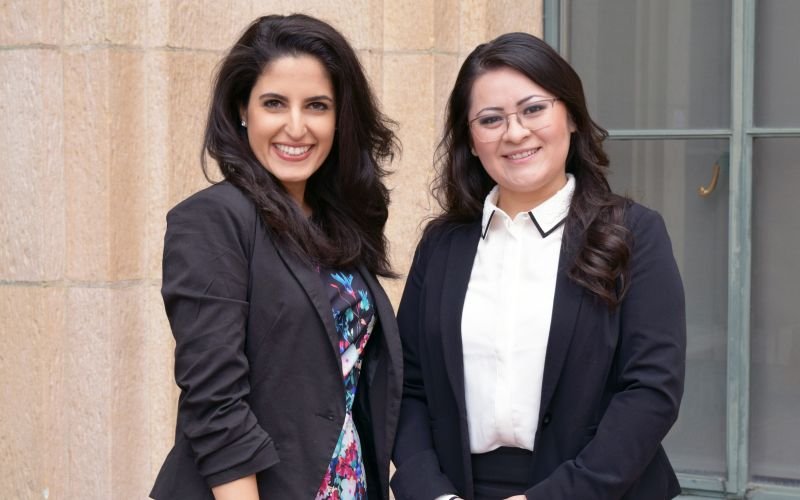 May 10, 2017
Commencement 2017 Student Speaker and Singer Selected
At Southwestern's 102nd Commencement Ceremony on May 21 at the Shrine Auditorium, evening student Jackee E. Montano (pictured above right) will deliver the student commencement address, and SCALE student Julie Pajuheshfar (pictured above left) will sing the national anthem.
Montano, who plans to practice employment law, began working at The Mirroknian Law Firm in the Spring, which focuses primarily on employment discrimination. She hopes to enter the Equal Employment Opportunity Commission and continue advocating for workers' and employees' rights in the workplace.
"I wanted to share words that would express what it means to be a law student and a legal professional-in-the-making," Montano said. "I also wanted to impart words to highlight the important work that staff and faculty do to help students be successful in the classroom and beyond. It truly takes a 'village' to raise a person. None of us have been successful in this journey by ourselves; it took a collective of people to help us realize our potential, whether inside or outside of Southwestern. I had to take this opportunity and be a part of spreading a message of endless thanks, fearlessness, and connectedness."
Pajuheshfar has been singing for 20 years. Last summer, she was a soloist with Legal Voices and performed at Walt Disney Concert Hall with the Los Angeles Lawyers Philharmonic. Throughout her childhood, she sang in choral programs and studied voice and piano at Chapman University, where she graduated with a Bachelor of Arts in Music and a minor in Business Administration. After she completes her final classes at Southwestern in the Fall, she plans to take the February bar exam and hopes to work as an entertainment attorney in the music industry.
"It feels so wonderful to be selected as the singer for commencement," Pajuheshfar said. "The brief time that I've spent at Southwestern, as a SCALE student, has been quite the whirlwind, but I am so glad I was able to find time to share my love for music, whether it was through the bi-annual showcases organized by the Music Law Society, the Society's monthly jam sessions with students and faculty, or via a quick performance in front of my SCALE classmates. So, being selected as the singer for commencement is definitely the cherry on the top of many fun musical experiences I have gotten to share with my fellow Bison."