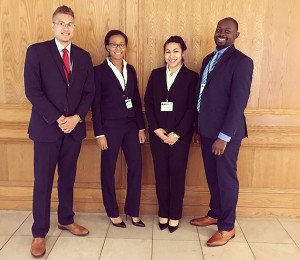 March 17, 2017
BLSA Teams Excel at National Competition
At the 49th Annual National Black Law Students Association convention held March 7 to 12 in Houston, Texas, two teams representing Southwestern performed very well.
Venessa Simpson and Jasmine Ortega competed in the Frederick Douglass Moot Court Competition. They were one of 12 competing teams to win the Excellence in Leadership award by the US Marines Corps JAG for their demonstrated teamwork during the competition.  The award, given to the moot court team who demonstrated an exceptional showing of collaboration, an ability to work together effectively, and overall team unity, was separate from the competition but based on it.
"Jasmine and I felt incredibly honored to be recognized for our strong showing of teamwork during Nationals," Simpson said. 'We feel a great level of respect, reliability, and support from one another and it was amazing to have that acknowledged. Together, we achieved well beyond what either of us could have individually."
Robert Ford and Yanick Saila-Ngita competed in the Nelson Mandela International Negotiations Competition, defeating teams from the University of Alabama School of Law & University of Hawaii School of Law in early rounds. Saila-Ngita was awarded National Best Negotiator of the First Preliminary Round, which goes to the student advocate with the highest individual average score from the first preliminary round.
"I am so grateful to my teammate Robert," Saila-Ngita said. "We spent weeks researching Brexit and the European Union and devised strategy together to make sure we ended up with the best deal for our side. We were incredibly supportive of one another. Also, we benefited from practice sessions where we sparred against and received feedback from members of the Negotiations Honors Program: Rudolf Petrosyan, Ricci Sergienko, Bridgette Windham, and Lauren McGee."